MILLER, Shannon
Inducted: 1998 – Member of 1996 Olympic Gold Medal Team
Individually Inducted: 2003
Inducted: U.S. Olympic Hall of Fame – Individual (2006), Team (2008)
Inducted:  International Gymnastics Hall of Fame–(2006)
Inducted: Women's International Sports Hall of Fame (2008)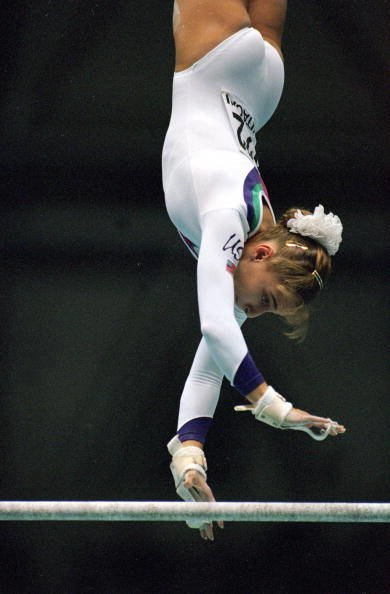 Miller is the most decorated American gymnast of all time and the only American during her time to be in the top ten in the world.
Olympic Games: Only American to qualify for all four event finals and the AA, Silver-AA, UB, Bronze-Team, FX, BB, Barcelona, (1992); Gold-BB, 1st American to win Olympic gold on BB, Atlanta, USA, (1996); World Championships: Silver-Team, UB, Indianapolis, USA, (1991); Gold-AA, UB, FX, Birmingham, England, (1993); Gold-AA, BB, Brisbane, Aus.-Individual, (1994); Silver-Team, Dortmund, Germany, (1994); Bronze-Team, Sabae, Japan, (1995). Shannon garnered 7 Olympic & 9 World Championship Medals and had a career total of 58 international and 49 national medals (50%+ Gold). She was the only American to win AA World Titles back to back, (1993-'94).  Other International Competitions: Pan American Games: (1995)-(Mar del Plata)-Gold Team, AA, UB and FX, Silver-V. World University Games-Gold AA, 4th-UB (1997);   American Cup-(Bronze-AA, 1992); (1993)-Gold-AA. Goodwill Games (1994)-Silver-AA. USA National Championship Competitions: (1990)-5th FX, 6th BB, 8th AA; (1991)-7th AA, Bronze-V, Gold-BB, 6th FX, (1993)-Gold-AA, Silver-V, Gold-UB, Bronze-BB, Gold-FX; (1994)-Silver-AA, V, UB, BB and FX; (1995)-Silver-AA, Gold-V, Bronze-FX; (1996)-Gold AA.  American Classic Championships: (1990)-Silver-AA, (1995)-Gold AA.
Sports Honors: Miller was honored by being designated a "Centurion" by gymnastic historian, A. B. Frederick, Ph.D. Frederick who described a "Centurion" as "those who command our attention".  Oklahoma Sports HOF, Youngest Inductee, (2002-1992), Henry P. Iba Citizen Athlete Award (1st recipient), (1992 & '94), "Jim Thorpe Award", Oklahoma AAU (1st Recipient); 4-Time Nominee for "James E. Sullivan Award"; AAU, Presidential Medallion-USA Gymnastics; Steve Reeves Award, 1st woman recipient, (1992); Oklahoma Ambassador of Goodwill-Governor David Walters, et al., (1992). Member of 8 Halls of Fame.  Overall Medal Tally: 59 International Medals – over half gold, 49 National Medals – over half gold,  7 Olympic Medals – 2 gold (1996), 2 silver (1992), bronze (1992),  9 World Championship Medals – over half gold 1991, 1993, 1994, 1995;  Only American to win consecutive world All-Around titles (1993, 1994); 1994-USOC Athlete of the Year. General:  Received Juris Doctor from Boston College Law School, (2007).  Analyst: Men's and Women's artistic gymnastics at NCAA events & national and international competitions, including the 2000, 2004, & 2012 Olympic Games. President of Shannon Miller Foundation to fight childhood obesity. President of Shannon Miller Lifestyle; a company dedicated to women's health and fitness. Author, Motivational Speaker, Mother and Cancer Survivor.  Websites:  .  . Family: Husband: John Falconetti, Children:  Son-Rocco, Daughter-Sterling.
Sources: Miller's personal resume, Interviews, plus additional information courtesy of A. Bruce Frederick, the late author of Who's Who and Who Was in American Gymnastics.   Original introduction, commentary, and formatting by Larry Banner, Web Manager.  Jerry Wright updated Miller's USGHOF bio and photos, (2013). Shannon requested the update since she has continued her wonderful work through numerous years.  Photo with medal display supplied by Shannon Miller.