VDOVETS, Irina
Inducted: 2007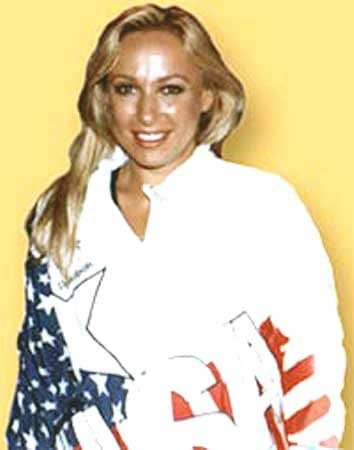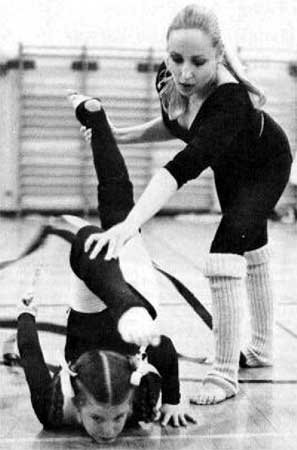 Prelude to Rhythmic Gymnastics
The history of Rhythmic Gymnastics can be traced as far back as 1814 by Per Henrik Ling. Ling promoted aesthetic gymnastics in which students expressed their feelings and emotions through bodily movement but it was still calisthenics without apparatus. Then it 1864 proponents of the activity began utilizing wooden hoops, light dumbbells, and Indian clubs. Indian clubs became a favorite exercise tool with entire books being written for club exercises. A rope was first used by a Swedish group around the 1930's. The Hoop became more popular after a demonstration at the 1936 Olympic Games.
Ellen Nyemcsik was kind enough to also furnish the following: "The Floor event was called Exercise without Implement. It was a Rhythmic Gymnastics dance routine performed to music without using the apparatus. Exercise without Implement was part of FIG All Around competition years ago. But as the sport developed, the FIG eventually changed the program to 4 events using all 4 of the apparatus. All of our current USA Gymnastics Junior Olympic program competitors (in Levels 3-8) have this floor event as part of the regular All-Around competition today. Our USA gymnasts compete in the Floor event until they reach the FIG level (Levels 9-10). Then they compete only with the apparatus at these high levels." http://eliterg.com/history.html (Elite RG.com)
Irina Vdovets may be thought of as the little lost girl who became one of the finest rhythmic coaches with whom the U.S. has been honored. At about age 12, Irina and a friend of about the same age were sent by train to Budapest, Hungary for a rhythmic gymnastic event. No one was there to meet them, and Irina states, "It was a bit scary." Fortunately, their ride arrived, and Irina went on to become a strong rhythmic gymnast and, eventually a strong rhythmic coach for the U.S.
Olympic Games: Head Coach, Women's Rhythmic Gymnastics Team, Seoul, Korea, (1988); Head Coach, Women's Rhythmic Gymnastic Team, Barcelona, Spain, (1992). Vdovets is the only two-time U.S. Olympic rhythmic gymnastics coach. She was a personal coach for Olympians Michele Berube, Jenifer Lovell and Diane Simpson-Bundy. World Championships: Head Coach U.S. Women's Rhythmic Team, Valladolid, Spain, (1985), Varna, Bulgaria, (1987), Sarajevo, Yugoslavia, (1989), and Athens, Greece, (1991). Irina was the U.S. national rhythmic team coach from 1985-95. Honors: Irina was honored as the U.S. Rhythmic Coach of the Year, (1986 & '87). Vdovets has been reportedly a program director at a Gymnastics Training Center since 1988; however, due to her busy schedule, she has been unable to respond to telephone and email inquiries.
Sources: USAG Press Release-5/09/07, official records, and a short personal interview. Appreciation is extended to Jerry Wright, author of Gymnastics Who's Who, 2005 for photos. Introduction and formatting by Dr. Larry Banner, Web Manager.