KAROLYI, Bela & Marta
Bela:  Inducted – IGHOF, 1979
Bela & Marta Coaching Team: Inducted – USGHOF, 2000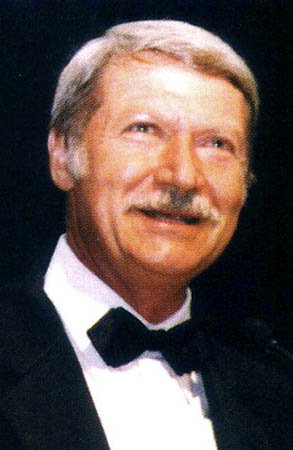 On a national and international level, Bela and Marta have become the most successful women's national and international gymnastic coaches in the history of America. Their overall coaching efforts have produced 28 Olympians, nine Olympic Champions, 15 World Champions, 12 European medalists and six U.S. National Champions, in 30 years of coaching in both their native Romania and in the U.S. Those who watched the Olympic gymnastics women's team in Atlanta, GA, 1996, will not soon forget seeing Kerri Strug limping back from the vault apparatus after injuring her leg and receiving a low score. Bela was beside her, and few if any persons except Bela and Kerri will know exactly what they discussed. In any case, Kerri gritted her teeth and made her second jump, landing perfectly on one leg. Whatever was said in the Bela-Kerri meeting at the end of the runway, it capped a Longines "Perfect 10 Moments in Time".
Bela and Marta Karolyi defected from their native Romania to the U.S. during an exhibition tour in 1981. At first, Bela worked at a series of menial jobs to support them, but within a year they were coaching gymnastics in Oklahoma. It wasn't long before they became owners of a private gymnastics club in Houston, TX and began their rise to prominence in the world of U.S. gymnastics. They have shared one another's successes on an equal basis; hence, they were inducted as a coaching team. Among the athletes they coached were Dominique Dawes, Phoebe Mills, Betty Okino, Kerri Strug, Mary Lou Retton, and Kim Zmeskal, all of which have been inducted into the U.S. Gymnastics Hall of Fame. Nadia Comaneci is an inductee into the International Gymnastics Hall of Fame. They coached Nadia Comaneci who was inducted into the International Gymnastic Hall of Fame. Olympic Games: Bela: 2000 USA Gymnastics Women's National Olympic Team Coordinator, Atlanta, Georgia, (1996); USA Women's Olympic Team Head Coach;, Barcelona, Spain, (1992); U.S. Women's Olympic Gymnastic Team Head Coach;, Seoul, South Korea, (1988); U.S. Woman's Olympic Gymnastic Team Head Coach, Los Angeles, Calif. USA, (1984); Head Coach of Romanian Woman's Gymnastic Team, (1980), Moscow, USSR); Head Coach of Romanian Woman's Gymnastic Team, Montreal, Canada, (1976).  Head Coach of women's 1992 medal winning performances. This was the first U.S. medal in eight years, and it was the first U.S. Olympic Gymnastic medal in a non-boycotted Olympics since 1948. Olympic Games: Marta: Head Coach of the U.S. Women's Gymnastic Team, Sydney, Australia (2000).  World Championships: Bela coached the U.S. to its first ever medal, and his gymnast, Kim Zmeskal, won the AA, also a first for the U.S., Indianapolis, IN, (1991); Head Coach of the Gold Medal U.S. Women's Team, Sabae, Japan, (1995). In 2001, on the recommendation of the US national team coaches, the position of Women's National Team Coordinator was handed over to Márta (Bela held the office previously). While she maintained some of aspects of Béla's original program, her approach has been different (some felt that  Bela was a little harsh), and more acceptable, to the gymnasts and their coaches. It has also yielded more impressive competitive results: between 2001 and 2005, American women won a combined total of twenty-four medals in World Championship and Olympic competition. As coordinator, Márta was to oversee all aspects of the women's national team. Among her duties were selecting athletes for competitions, determining apparatus lineups at the meets, and making recommendations about skills and routine compositions.  According to Wright* Bela tried to retire after the 1992 Olympics, but the USAG keeps bringing him out of retirement, and each time, his teams have been successful.  Bela and Marta were both born in 1942, Bela was born in Cluj, Romania. In addition to Karolyi's World of Gymnastics, Bela and Martha own a 500-acre ranch outside of Houston which has been used as a summer training camp. They have one daughter, Andrea.
Source: *Jerry Wright, author of Gymnastics Who's Who, 2005 courteously provided data and commentary as well as photos. Introduction and formatting by Dr. Larry Banner, Web Manager.