TANAC-SCHROEDER, Joyce
Inducted: 1990 Born: Seattle, Washington-USA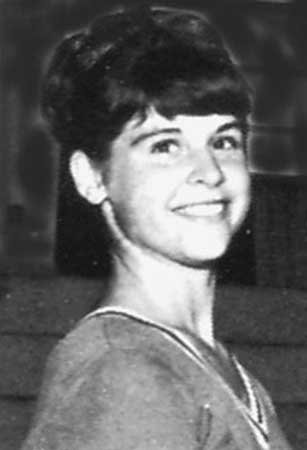 Joyce Tanac-Schroeder has a unique record under her belt. She has won all five events in a single competition more than once. These meet "scoops" began during her Jr. Gymnastics days, and culminated in the 1969 National AAU Championships. That's a lot of gymnastics' medals for only one competition, especially at the elite level. This lady likes gold, and in 1969, had to be considered an international medal contender. She had the skills and over-all talent to be one of the first to bring home an Olympic or World Championship medal for the United States.
Joyce Tanac began tumbling at age 10 at the Seattle, Washington-USA YMCA with coach George Lewis. An additional coach, Frank Hailand, was also an early influence. Joyce holds titles in AAU, USGF, and YMCA competitions as well as in international competition. Pan American Games: Gold-Team, Silver-AA & FX, Winnipeg, Manitoba, Canada, (1967). National YMCA Championships: Gold-AA, (1965); Gold-Team, AA, BB, V, FX, & UB, (1966). World Championships: Team member, Dortmund, Germany, (1966). Olympic Games: Team member, Mexico City, Mexico, (1968). AAU National Championships: Bronze-AA, & FX, (1967); Gold-V, Silver-AA & BB, (1968); Gold-AA, BB, FX, UB, & V, (1969). Tanac's clean sweep of the AA events was a major accomplishment. Few, if any, have equaled this standard. USGF World Cup: Bronze-AA in the first World Cup Championship, (1969). Pacific Coast Invitational: Gold-AA, (1969). USAG National Championships: Gold-AA, UB, & V, (1969); Gold-BB, (1970). Japanese Invitational Gymnastic Competition & Tour: Tanac participated in this series of events that was a precursor to the Chunichi Cup Championships, (1969). General: Joyce Tanac competed for the Seattle Downtown YMCA and the University of Washington, (1971-'72). She developed a unique dismount, for the day, from the UB. "Tanac started her UB dismount from a support position on the high bar. She took a small cast, straddled over the bar, and bounced off the back of her thighs to a back Somi finish." The move is called a "Whipsalto-Tanac", and it, along with several variations is listed as such in the Code of Points, p. 125. (See Insert I).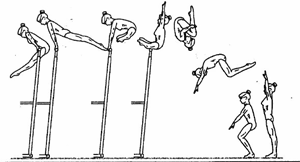 Insert I-Basic Tanac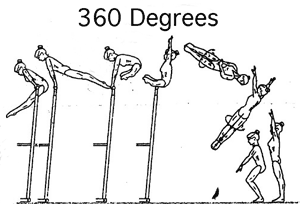 Insert II-Tanac 1/1
Another variation of the Tanac may be tucked or straight with 1/1 (360 degrees) or 1.5 (540 degree) twist. See Insert II. She also had a one-arm handstand included in her BB routine. It was held for the required 3 seconds, but it would be difficult to attribute this move to Joyce alone. After retiring from competition, Joyce graduated from the University of Washington's School of Pharmacy, (1974), and shortly thereafter met her husband to be while in Hawaii on vacation. She has been working as a pharmacist through the years, but now, living in Spokane, Washington, she works part time at a community pharmacy and plays tennis. Honors: Tanac was 5th in the final voting for the James E. Sullivan Award considered the highest award in sports and older than the Heisman Trophy, (1969). Named member of the U.S. Collegiate All Star Gymnastics Team; Inducted into the USAG Gymnastics Hall of Fame, (1990); Inducted into U. of Washington Athletic Hall of Fame, (1998). Family: (m) George Schroeder is a Surety Bonding Specialist. Children: Nathan who is currently (2007) attending Washington State U. and Julie, who is serving as a member of Harvard's Athletic Department as of this writing, (2007).
Sources: Interview and correspondence with Joyce Tanac-Schroeder, official result records of Pan American Games, AAU, and the USAG. The primary research was accomplished by Jerry Wright, author of Gymnastics Who's Who, 2005, and the Tanac dismount description was described by Abie Grossfeld, 1979 GHOF Inductee. Introduction, commentary and formatting by Dr. Larry Banner, Web Manager.