SCHIFANO-SJURSEN, Helen (1922-2007)
Inducted: 1974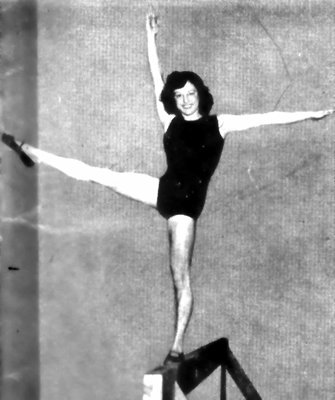 Jerry Wright writes, "Helen Schifano-Sjursen was competing at a national level after only three years in the sport.  She was so good . . . that her coach would not put her in some meets for fear of discouraging other gymnasts."  It appears that Helen had a great deal of natural talent to combine with pure courageousness, a wonderful combination for any gymnast.
Olympic Games: Bronze-Team, 2nd V, but no event medals awarded, London, England, (1948). National AAU Championships: 4th-AA, (1939); Gold-PB, (1941); Silver-PB, (1946); Gold-V, (1947-'48) and medaled in AA, FX, & BB the same years. Schifano-Sjursen won seven national AAU gold medals, an amazing run of performances. Helen was named an honorary member of the 1940 & 1944 Olympic team by the National Collegiate Gymnastics Alumni Association (NCGAA) Magazine. Honors: Inducted by the World Acrobatic Society into their Gallery of Legends.   General: Helen wrote a regular column for Glenn Sundby's Modern Gymnast, continued to train in the gym and, although not confirmed, was still working out into her '60s, even working the UB in a milk commercial at age 62.  She published several gymnastics learning, teaching books: Girl's Gymnastic Workbook for Physical Educators, Elementary and Secondary Schools: BeginnersIntermediate, (1966); Educational Gymnastics Balance Beam for Physical Educators and Competitors, (1966); Uneven Bars for Physical Educators and Competitors: Beginners to Advanced, (1967).
Source: Information courtesy of A. Bruce Fredrick, author of Who's Who and Who Was Who in American Gymnastics, Abie Grossfeld's private archives for information and his editing services, Jerry Wright, author of Gymnastics Who's Who, 2005, , & . Formatted by Larry Banner, Web Manager.