MEADE, William "Bill" (1925-2004)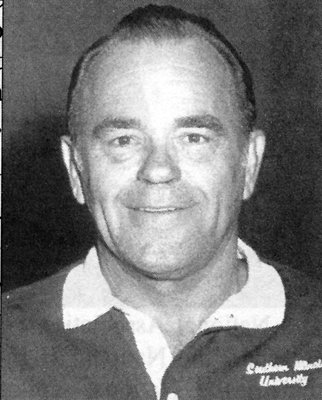 It was my pleasure to know the "brash" but jovial and "lovable" knowledgeable coach, Bill Meade.  Even though he was coaching his team at national competitions, he willingly helped me and others.  He was an institution in the gymnastic world, and I was also privileged to be an Olympic teammate of at least two of the four Olympians he coached.  He, along with his Penn St. teammate, Harold Frey, and coach, Gene Whettstone, was a leader in a world of people whose presence in U.S. gymnastics activities was mandatory for the U.S. to progress in the international arena.
Competition Experience: Bill Meade won gold in Tu & PB as a senior at Warren High School, PA, (1941). Bill entered the military, (1943-'46) even though he had enrolled as a freshman at Penn State U.; however, he returned after the war to compete under Gene Whetstone, coach of the Nittany Lions, (1947-'49). Bill won gold twice as the EIGL Tu champion, (1948-'49) and Silver-Tu, (1949). Coaching: Meade graduated and went to the U. of North Carolina where he started a gymnastics program and coached for seven years, (1949-'56). Meade then took the gymnastic coaching position at So. Illinois U. at Carbondale to re-start a gymnastics program. He remained at SIU for 33 years where he coached three teams that won NCAA silver, (1961, '62, & '63) and four NCAA Team gold medals, (1964, '66, '67 & '72).  He coached 15 NCAA individual event winners, 55 All Americans, two Nissen Award winners, 4 Olympians, 4 World Championship team members and 6 Pan American Games team members. He was manager of the 1968 Men's Olympic Team under Coach Jack Beckner. His gymnastic teams set a winning streak for all SIU teams that still stands at 68 consecutive wins. As a coach, he had a major influence on the career choices of his charges.  Olympian (1964) Rusty Mitchell coached at new Mexico, Chuck Ehrlich at No. Illinois, Hutch Dvorak at Houston Baptist, Bruno Klaus at E. Stroudsburg, and Olympian, 1964, Fred Orlofsky at W. Michigan.  Another charge, Roger council became USGF President. Honors/Activities: Bill Meade was a coach or administrator for six Olympic Games.  He was also coach or administrator for dozens of Pan Am Games, World Championships and other major international competitions. After Bill retired from coaching, he was retained by the NGB to serve as a supervisor of podium construction for some 40 international events including the 1996 Olympics in Atlanta. He is also an inductee into the SIU Sports Hall of Fame.
Sources: Courtesy of Jerry Wright author of Gymnastics Who's Who, 2005, news, 11-29-04, "A Celebratiion in Carbondale William T. Meade" by A. Bruce Frederick, noted gymnastic historian and author of Who's Who and Was Who in American Gymnastics. Introduction, commentary, & formatting by Larry Banner, Web Manager.