McKEE, Helm
Inducted: 1993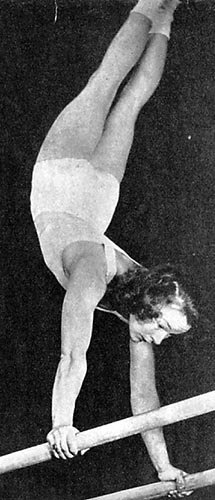 Had it not been for politics and WWII Helm McKee may well have been on three Olympic Teams, (1936, 1940, & 1944).  The Olympic Games of 1936 in Berlin, Germany marked the first entry of an American women's gymnastics team into Olympic competition. Helm McKee, one of the top USA women, was not permitted by her coach to try out for the 1936 Olympic team due to personal political conflicts between the AAU and her coach. This ruled out the 1936 Olympics. The Games were not held during the war years, so no team was convened, but an "Honorary U.S. Team" was selected, and Helm was voted worthy of joining the membership of both these never to compete Olympic Teams. Regardless of what must have been great disappointments, Helm McKee continued to train and win in every competition she entered, and she entered just about every competition she could.
Olympic Games: In 2002, at the request of the editor of the National Collegiate Gymnastic Alumni Association Magazine, 13 Hall of Fame members (many from the 1940's era) were asked to select honorary team members for the 1940 and 1944 Olympic Teams. McKee was selected for both teams. Most competitors during this era were members of Turner or Sokol clubs. It was very unusual for women gymnasts to compete for other teams; however, Helm competed for the Loyal Order of Moose in Pennsylvania. What this means to us today is that not all of her records are available to indicate the entire strength of Helm's accomplishments prior to 1940; however, the records presented herein are impressive. National AAU Championships: Gold-AA, (1938); Silver-AA, V, Clubs, Bronze-PB, BB, FR, (1941); Silver-PB, Bronze-AA, BB, Clubs, (1943); Gold AA, FR, PB, Silver-FX, BB, Bronze-V, Clubs, (1944); Gold-FR, Silver-FX, Bronze-V, Clubs, (1945); Silver-FR, Bronze-FX, (1946); Bronze-FR, Clubs, (1947); Bronze-PB, Clubs, 4th AA, (1948); Silver-Clubs, Bronze-FR, 4th AA, (1950); Silver-FR, FX, Clubs, Bronze-AA, (1951). Middle Atlantic AAU Regional Championships: Helm McKee won numerous first places and seldom finished lower than third in any event in any of her 16 years of competition. Silver-Vault, Bronze-FR, (1942); Gold-Vault, Silver-PB, AA, and Bronze-FX and FR, (1943). Gold-PB and AA, Silver-Clubs, and Bronze-BB, (1944). Gold-AA, PB and FR, Silver-Clubs, BB & V, (1945); Bronze-PB, AA (1946); Silver-Clubs, Bronze-PB, (1947); Silver AA, Clubs, Bronze-PB, BB, (1948); Silver-FR, Bronze-BB, V, FX, PB, AA, (1950); Silver-BB, FX, Bronze-AA, FR, PB, V, (1951). At the 1952 NAAU she placed 9th AA. This was probably her last year of competition.  It is truly obvious that she was a genuine champion who was competing during a bad time to garner the international medals that may have been hers for the taking.  She was generally the best U.S. woman's gymnast from 1936 'til the beginning of the 1950's. It is fortunate that the officials, judges, and USHOF members who voted to elect Helm McKee to the U.S. 1941 & '44 Honorary Olympic Team saw her gymnastic genius. Amazing, she maintained her excellence for over 16 years.  The next generation of women gymnasts had to see what it took to be a champion, and Helm McKee showed them just what it would take.
Sources: Introduction, data, and commentary is a collaboration between Jerry Wright, author of Gymnastics Who's Who, 2005 and Dr. Larry Banner, Web Manager. Much of the data was confirmed from records available in the NCGAA Newsletter dated April 2002 and recovered AAU records.