FREY, Harold
Inducted: 1970
Born: June 7, 1924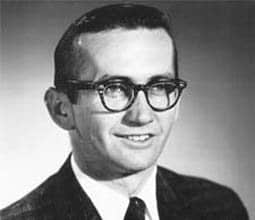 "I wish everyone could experience the joy of winning a national individual championship, but nothing compares to being part of a team that wins a national championship where the thrills, the disappointments, and the difficult journey to team gold are all shared," Hal expressed this wish that may be the deepest desire of every coach in every sport.
Competitor: Hal's competition began in a club program at High Lehighton High School, PA. It continued during his four years at Penn State University where he was team captain for three years. At Penn State U. "Hal" competed on two National Amateur Athletic Union (NAAU) championship teams, one Eastern Intercollegiate Gymnastic League (EIGL) championship team and won gold in tumbling at the NAAU competition in 1944. He won three additional medals in tumbling at NAAU competitions. In the vaulting event Hal won three NAAU medals. During his college career, Hal won EIGL, Gold-AA. An all-around athlete, Hal was a member of the Penn St. wrestling team and placed 3rd in his weight class in the EIWL Championships. Hal also was a pole-vaulter and placed 2nd or 3rd in every meet.  Education: B.S., M.S., Ph.D. (Proudest moment for Hal and his family, especially his mother). Olympic Teams:  There was no Olympic competition in 1944 due to WWII, but Hal was selected as an Honorary 1944 Olympic Team member by the National Collegiate Gymnastics Alumni Association (NCGAA) based on his 4th place AA performances at the National AAU competitions in 1944 & 1945. Other Honorary team members were Lou Bordo, Frank Cumiskey, George Wheeler, Paul Fina, Edward Scrobe, Joe Kotys, et al. (Reference NCGAA Newsletter, April, 2002). Of special note is that Hal performed what today is called the "Yamashita" vault at least 10 years before Mr. Yamashita performed it in international competition.  Coaching: Coached at U. of Illinois, Chicago (UIC), a two year school, for 10 years leading his men to team gold three times in the Midwest Open Championships, the NAAU Championships, (1949), and four undefeated seasons.  Hal coached William Roetzheim, Jr. who became the US's National AA champion, the 1st collegiate gymnast to accomplish this title.   Roetzheim also became an Olympian, London, (1948) while competing and training at UIC.  Frey also coached Irv Bedard who won two NAAU Tumbling titles and was considered to be one of the finest tumblers ever.  A versatile coach, Hal coached soccer at UIC for three years only losing two games total. His UIC soccer team was undefeated and won the Midwest Soccer Championship (1956) with two players acquiring 1st team NCAA All American recognition; Taught as a full professor, administered activity classes, and coached without remuneration at U.C., Berkeley, (1957-1984).  He led the gymnastics team to 13 undefeated seasons including 89 straight wins over a nine-year period without a loss.  Then he coached his team to a 2nd streak of 56 straight wins while winning 13 Pacific Coast Conference Team Championships, two NCAA Team Championships, & placed in the top five NCAA Championships 13 times; Hal's teams had many NCAA All Americans and NCAA event champions, two who became national champions, and one a world champion. Judging: Dr. Frey judged and was involved in the judging process for 58 years; He judged local high school meets, Jr. Olympic competitions, college dual meets, NCAA & NAAU Championships, Olympic trials, international meets such as the Goodwill Games, Pacific Alliance Games, & the American Cup Championships. To improve and refine his judging skills, Hal took the certification test annually after its introduction. He holds a Brevet judge level certificate.  He served as Chair of NCAA Rules Committee effecting many changes that have persisted into the present; President of No. Cal. Gymnastics Judges Association for two terms; Technical Director for several years; Assignment Chairman for several years, and was elected West Region Director of the National Gymnastics Judges Association (NGJA) and the Jr. Olympic Vice-president of the NGJA where he served for four years. Honors: Designated a "Centurion" by gymnastic historian, A. B. Frederick, Ph.D. Frederick described a "Centurion" as " . . . those who command our attention"; U. of Illinois, Chicago HOF, Pennsylvania sports HOF (Carbon County Division); World Acrobatic Society's Gallery of Honor award; Received Distinguished Service Judges Award from NCJO Coaches; Exemplary Service Award-College Coaches' Association; Star Award from USAG for contributions to gymnastics; U.C., Berkeley award for contributions to Cal gymnastics as well as inducting Hal into the U.C Berkeley, Hall of Fame. Contributions: Hal Frey was instrumental in helping to galvanize college coaches and administrators who eventually replaced the Amateur Athletic Union (AAU) with the US Gymnastics Federation (USGF) when the Federation International Gymnastic (FIG) recognized the USGF as the national governing body for U.S.A. gymnastics.  The USGF later changed its name to U.S.A. Gymnastics.  This change was more aligned with other sports' Hall of Fame identities. U.S.A. Gymnastics is currently the national governing body of gymnastics (NGBG) in the USA. With Frank Comiskey, Hal convinced the USGF to develop a Jr. Program, and he served as the program's West Director for the first 12 years after it formed.  Personal: Larry Banner, website manager, suggests that Winston Churchill wrote that "Opportunity, wherewithal, & encouragement" must be present for success. Hal has ten brothers and two sisters and grew up on a dairy farm in Pennsylvania Dutch country during the great depression.  Finding the three ingredients for such outstanding success would seem difficult under such circumstances. I suggest that the Genesis of Hal Frey's marvelous contribution to our sport was found in a nurturing family environment that encouraged him to continue moving forward and upward. His loving family appears to have had encouragement ingrained in their structure as witnessed by the large annual family gatherings that continue to this day. Jobs became available, additional encouragement, training, and gymnastic apparatus (wherewithal) were provided at Penn State U. by Coach Gene Whettstone as time progressed. So, the encouragement, wherewithal, and opportunity for Harold Frey to be a smashing success and aide in the success of so many others was established.  The gymnastics family is fortunate to have a Hal Frey who provided so many young people with the ingredients for success. Family: m. Wilma Heiple. Born: January 27, 1928. Two sons. One daughter.
Sources: Frey's resume Courtesy of Dr. Frey, interviews, NCGAA Newsletter, 2002, p. 13, Courtesy of Jerry Wright, author of Gymnastics Who's Who, 2005, and noted Gymnastic historian, A. B. Frederick, author of Who's Who and Was Who in American Gymnastics. Gratitude is also extended to Abie Grossfeld for his editing services.  Introduction, commentary, and formatting by Larry Banner, Web Manager.