ENDO, Frank
Japanese Gymnastics Association Ko-ro-sho (Hall of Fame) Honoree: 1990
Born: 1923, Wilmington, CA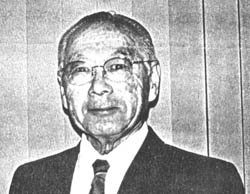 Unofficial Gymnastics Ambassador to Japan and one of the most versatile individuals ever to serve the sport of gymnastics.
BACKGROUND: Frank was a gymnast, soldier, judge, guide, and interpreter. He started in gymnastics at 14 when he saw a high school student doing a handstand on the parallel bars.  This experience created a lifetime career in the service of gymnastics in many capacities. After demonstrating his enthusiasm for gymnastics at San Pedro HS in L.A. as a 10th grader, he became a team member and an important point winner for the team as his AA skills improved.  In his high school league finals, Frank won Gold-FX & PB. L.A. City HS Championships: (42 schools)-FX & PB.
On December 7, 1941, he and his family were detained, held, and interred. By 1942 the family arrived at the Amachi Relocation Center in Colorado where he taught gymnastic classes.  After 27 months, he and his family were relocated to Chicago.  He managed to continue his gymnastic weightlifting (Illinois Weightlifting runner up, 132, lb division, 1945) training, and competed at the Jr. Gymnastic Championships at the U. of Chicago: Gold-AA. In 1945, Frank was drafted in the U.S. Military Service where he studied Japanese military terminology and language finally being assigned to the War Criminal Investigation Division in Osaka, Japan.
He met Mr. Takashi Kondo, a 1932 Japanese gymnastic Olympian.  This meeting resulted in Frank becoming a catalyst for Japan to enter the Olympic Games.  He began to be a major interface between U.S.A. and Japanese Gymnastics even arranging for the U.S.A. team to meet with General Douglas MacArthur who was the USA Delegation Chief to the 1928 Olympic Games in Amsterdam.  Frank's oldest son is named after the general.  Overcoming many obstacles, Frank returned to the U.S. with his Japanese wife, perhaps the first Japanese sanctioned permission to bring a wife from Japan since the Peace Treaty ending the war in the Pacific had not yet been signed (Under provisions of the Special Private Law sponsored by Congressman Sidney R. Yates).
Judging/Services: Promoted gymnastics to the Japan Gymnastics Association, 1947-1950; Promoted 1st international gymnastic exhibition and competition between Japan and the U.S. Men's Olympic Team in Japan, 1950; Introduced the modern trampoline with the Nissen Team touring Japan with 14 exhibitions; Interpreter and guide to the Japanese Olympic men and women gymnastic teams touring America, 1961; USA tour leader to Tokyo Olympic Games, 1964; Started gymnastic supply business still in operation, 1966; Assisted Japanese Men's Olympic training in Los Angeles prior to Mexico Olympic Games, 1968; Assisted Japanese at 1st World Cup Gymnastic Championship, 1969; Assisted Japanese Olympic Gold Medalists during their U.S. tour, 1971; Guide and leader for the All-Japan High School boy's gymnastic team, 1973; Vaulting official, Olympic Games in Los Angeles and was primary announcer for the Japanese Olympic gymnastic team exhibitions in Southern CA, 1984; Assisted Japanese Women's college of Physical Education rhythmic team (50 members) on exhibition tour in Southern California, 1981, '85, '89; Board member, International Gymnastic Hall of Fame (IGHOF), 1993; Nominated and inducted Misters Masao Takemoto, Takashi Ono, Yukio Endo, Haruhiro Yamashita Matsuda into IGHOF, 1997, '98, '99 '00, respectively; Completed 50 years as gymnastic judge at local, national, and international levels, 2000.
HONORS/AWARDS: Life Membership Award, So. Calif. Gymnastics Judges Assoc.; Honored with the Japan Gymnastics Association's level of recognition, the Ko-ro-sho (Hall-of-Fame Induction), 1990; Inaugurated and was 1st recipient of Frank Endo Judge of the Year Award by the So. Calif. Gymnastic Judges' Association, 1998; Awarded Western USA Judge of the Year by National Gymnastics Judges Association, 1998. m. Mieko Nishitsuru. 2 Children, 1 Grandchild.
Sources: Endo's personal letters and interviews