CUMISKEY, Frank (1912-2004)
Inducted: 1959 – Among the Original class of Honorees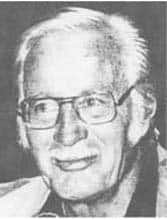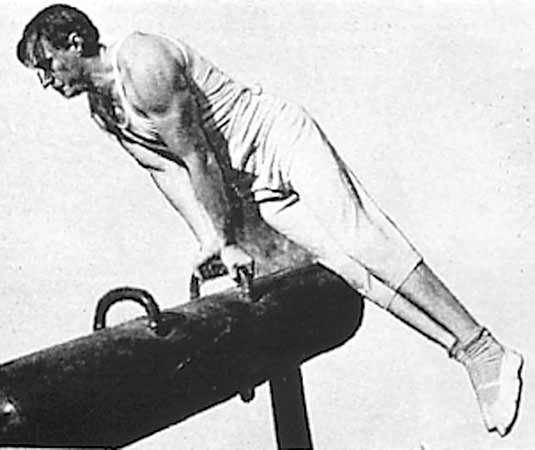 Cumiskey was a three time Olympian and, but for WWII, would probably have been a five time Olympian.  He was a gymnastic archivist and a true friend to the athletes.  What better praise can be given a great leader?
Olympic Games: Silver-Team, 6th PH, Los Angeles, CA, (1932); PH-4th, Berlin, Germany, (1936); London, England, (1948). National Championships: Gold-AA, 1934, 1936, 1945, 1946, & 1947; PH-1932, 1936, 1937, 1942, 1945, 1946, & 1947; HB-1934, 1935, 1936, 1944, 1945, 1946, & 1948; PB-1944 & 1945; FX-1935; V-1945; R-1944. Frank garnered a total of 24 national gold medals. His first meet was in at age 14, (1926), and his first Olympic Team was at age 19, (1932). Frank had a natural talent and combined it with hard training. He served as the USA Team Manager at the 1952 Olympics in Helsinki. Coach/Judge: After graduating from high school where was also a pole-vaulter, he joined and later coached the Swiss Turnverein in Hudson County, NJ; He became an AAU (National Governing Body for Gymnastics) Administrator; Frank served as Technical Director for the USGF; He was President of the National Gymnastics Judges Association. Honors: Chosen to accompany the color guard as part of the opening ceremonies in Helsinki, (1952); Received "Honor Coach Award" considered by many to be the most prestigious of all gymnastics coaches' awards, (1975).  Named among Sports Illustrated "50 Greatest New Jersey Sports Figures of the 20th Century" (December 27, 1999), joining celebrity sports figures like Carl Lewis, Amos Alonzo Stagg, Bill Parcells, Joe Theismann, et al.  Cumiskey is listed by Frederick as a "Centurian" defined as " . . . those that should command our attention." Received national governing body's (NGB) Master of Sport Award, (1973). Publication: Developed first Who's Who in American Gymnastics, published in 1973 by the USGF, later to be re-named USA Gymnastics, the current (NGB) for gymnastics in the US. Personal: In 1958, the final trials for the Moscow World Championships were held at the West Point Military Academy.  A six-man team was chosen through two days of heavy compulsories and optional exercises; however, after the team was selected, it was found that the budget only accommodated five team members to make the trip.  I, Larry Banner, was privy first hand to the conversation between the late misters Frank Cumiskey, George Gulack, the AAU Chairman, and Tom Maloney, the 1958 World Championship team coach. Mr. Cumiskey convinced the Chairman that the additional funding could be found through private sources. In turn, the Chairman solicited a wealthy gymnastic supporter who just wrote a check saying, in effect, "These boys worked so hard for so long, they deserve to compete in Moscow".  A full six-man team went to Moscow.  No one was happier about this than me, the number six qualifier, and bore out Frank's designation as a true  "Centurian."
Sources: General research sources plus appreciation is noted for information supplied at , , , and the private archives and editing of Abie Grossfeld, 1979 Gymnastics HOF Honoree. The photo of Frank on the PH is of rare vintage. Notice the rather unusual uniform. The photo provided courtesy of Jerry Wright, author of Gymnastics Who's Who, 2005 with a 2010 updated edition in progress. Introduction, commentary, and formatting by Larry Banner, Web Manager.