GAGNIER, Edward "Ed"
Inducted: 1982
Born: Windsor, Canada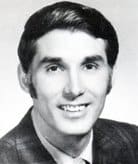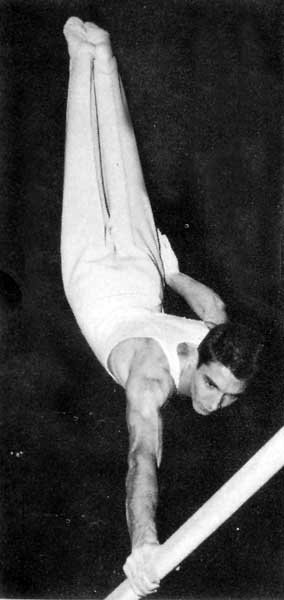 Ed Gagnier is another of the many unsung athletes and coaches who devoted a career to help our sport progress. If he wasn't in the gym, he was contributing in all the administrative ways he could. One of the great pleasures that come to coaches who produce elite gymnasts is that they can retire and continue to witness the continued development of their former charges. Gymnastics has deep gratitude for men like Ed, and it is hoped that his example continues to produces more athletes and mentors like him.
Ed Gagnier first came into the competitive gymnastic scene as a competitor in the National YMCA Gymnastics Championships at the Brooklyn Central YMCA. He placed 4th or 5th competing against strong opponents such as Abie Grossfeld who won the AA at this competition. Along with Ernie Russell, he represented Canada in the Olympic Games in Melbourne, Australia, (1956). He graduated from Michigan University where he won gold in the AA in the 1957 Big 10 Championships. By 1961, he had been recruited by Iowa State University (ISU) and started their gymnastic program. The accomplishments of the gymnasts that he coached made ISU gymnastics a force to be reckoned with in the Big Eight Conference and the National Collegiate Athletic Association (NCAA) Championships. During the 22 years he coached at ISU, his team won the Big Eight Conference title eight times, and they continued their winning ways with three NCAA team titles. Individuals coached by Gagnier scored event gold medals 16 times and 53 were selected to All American status. Several of the gymnasts he coached include Jerry Fontana, Doug Fitzjarrell, Mike Jacki-USGF Executive Director, Dave Butzman, Russ Hoffman, three time NCAA PH champion, Brent Simmons, as well as a 1970 World Championship Team member, Jim Stephenson who also competed in the World University Games, and Ron Galimore, a 1980 Olympian. Ed was named Head Coach of the U.S. World University Games Team that won bronze, Torino, Italy, (1970). This was the first time since 1924 that an American team medaled in a meet in Europe with all major countries represented. Honors/Contributions: Ed was named Coach of the Year three times, served on the Olympic Gymnastic Committee, was Chairman of the NCAA Gymnastic Rules Committee, and served as President of the National Association of Collegiate Gymnastic Coaches, (NACGC).  He advanced at ISU to become Director of Athletic Development. Ed Gagnier was selected to receive the NACGC Honor Coach Award, one of the highest awards for gymnastic coaching, (1985). Family: m. Carolyn. Children: Bonnie & Becky Gagnier.
Sources: General information courtesy of Jerry Wright, author of Gymnastics Who's Who, 2005. Thanks are also due Bruce Davis, author of numerous gymnastic articles and other publications, who courteously shared details of Gagnier's coaching accomplishments and the accomplishments of some of Gagnier gymnasts and to Abie Grossfeld, 1979 HOF Inductee who is always able to refine the bios. of HOF Honorees.  Introduction, commentary, and formatting by Dr. Larry Banner, Web Manager, and 1993 USGHOF Inductee.