GALLEHER-Tonry, Barbara
Inducted: 1986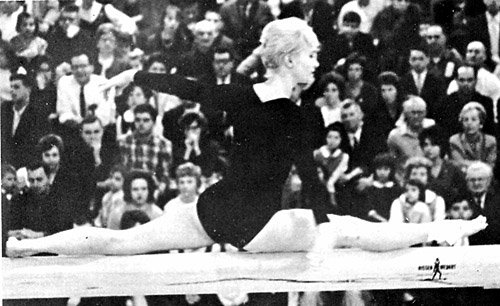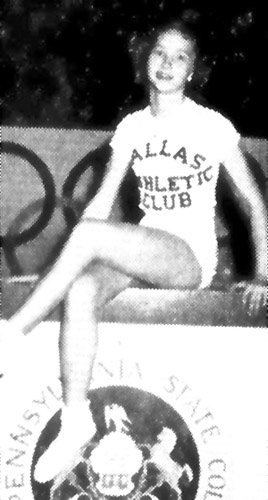 Barbara Galleher-Tonry has been Yale University's Head Women's Gymnastic Coach since its beginnings. Originally, a few female students came to men's coach Don Tonry, a former Olympian and National AAU champion.  He was willing to help, but he needed support and called on Barbara Galleher. Galleher had been a tumbling and trampoline champion in the 50's. She, among other HOF Honorees, continues the multiple sports theme among gymnastic HOF Honorees as a champion tennis player and diver as well as a champion gymnast. At the time Don recruited Barbara to help with the women gymnasts, he probably didn't know he was recruiting a wife as well. The first choice was perfect, the second a wonderful bonus.
National AAU Trampoline & Tumbling Championships: 1st Place but not Gold since Barbara was at an age where she was only allowed to participate in exhibitions into which she certainly must have made this competition; Gold-TU & TR, (1954); Gold-Nine times competing for the Dallas Athletic Club, (1954-'63). Olympics: Member of the U.S. Olympic training squad in the AA, (1964). World Trampoline & Tumbling Championships: Silver-Ladies TU & 6th-TR, Class A Ladies. Texas Championships: Gold-Mixed Doubles in tennis; Gold-3-meter diving. Coaching: Assistant Coach U.S. Team, World Gymnaestrada, (1963). Since 1973, the year the team won the first intercollegiate meet against Connecticut College, Barbara has molded Yale's women's teams into one of the most successful teams in Yale's history. The Bulldog women have amassed a record of 162 wins against only 57 losses in dual meets, and they are 61 and 6 against Ivy League opponents. As of this writing, her teams have won Bulldog Gold in 13 Ivy League's Classic Championships that includes two of the last four and placed no lower than second in the history of the championship.  The first league meet began in 1977. Numerous of her gymnasts have continued to the NCAA Championships where they have performed well. General: Through the 70's, Galleher's teams had to contend with the dwindling athletic budget, and at one point were downgraded to Tier II, which translated to less funding. The women's team and Galleher rallied.  They contended that they were one of Yale's winningest teams, and their arguments were correct and strong. The downgrade was quickly reversed. Education: B.S. @ North Texas, (1961); M.S. Southern Connecticut U. Honors: Elected to Helms Hall of Fame, (1965); Named a finalist two times for the prestigious Sullivan Award, presented each year to the nation's top amateur athlete, (1954 & '58); Presented with the Texas Heritage Award that is made to persons who have contributed significantly to the growth of gymnastics in Texas without direct service in any position that includes remuneration.  It's the second highest award the Texas Gymnastics Association sponsors. The citation reads that Barbara's achievements are meritorious and her outstanding competition record is a symbol of another era in Texas Gymnastics even though she hadn't been active in Texas gymnastics after 1963. Family: m. Don Tonry, 1980 U.S.A. Gymnastics HOF Honoree.
Sources: , , photos and information courtesy of Jerry Wright author of Gymnastics Who's Who, 2005. Introduction, commentary, and formatting by Larry Banner, Web Manager.