Inducted: 1982
Born: June 11, 1938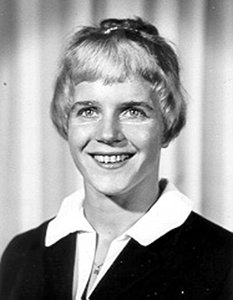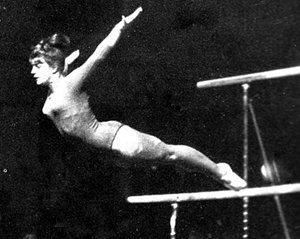 I, Larry Banner, 1993 HOF Honoree, met Doris in Rochester, NY in 1958. I was competing in my first National AAU meet, and from the start, I sensed that Doris was a champion in the making.  To this day, there are several three time Olympians and only one four time Olympic gymnast, Al "Dutch" Joachim, all of whom competed. I consider Doris Fuchs the single female to become a four time Olympian, but although she placed 5th in the final trials in 1964 and 6th in the 1968 final trials, she did not compete in Tokyo or Mexico City. I will speculate as I "Go Figure".  She was among the best. On the UB, her dismount was high, graceful, supremely difficult, and she always stuck it well.  She, along with a few other gymnastic champions, exhibited the essence of the qualities inscribed on the Nissen Award.  Doris became a true champion, one who " . . . seeks excellence physically, mentally, socially, and morally."  These special qualities of character surfaced and maintained her as she was faced with numerous career disappointments.
What follows is a UTUBE film of Doris' routine. Note that her flowing style and flawless style was underscored in numerous world competitions. Here's the UTUBE link to Doris's routine: .
Olympic Games: Competing Team Member, Melbourne, Australia, (1956). Doris and her sister, Inge competed for the Rochester Turners and became teammates on the 1956 team; Competing Team Member, Rome, Italy, (1960), Team Member – (A), Tokyo, Japan, (1964). As mentioned, Doris actually made the 1964 team in 5th position, but she was relegated to the alternate position by an inexperienced team coach and manager. The coach replaced Doris with his own gymnast who had qualified as the alternate. The replacement gymnast was younger, and it may have been thought that giving her the experience of Olympic competition was a good move for the future. While the world will never know whether the decision to keep Doris off the apparatus faired well for the U.S. Team and a medal possibility or not, we do know that Doris had earned her position by having the higher scores in the trials. In 1964 the alternate was considered a stand-by in case of injury to a team member prior to the competition. Unfortunately, Doris' demotion also denied her the honor of being one of the few women to compete in a 3rd Olympics. In hindsight, it was an unfortunate decision since the women's replacement gymnast retired from gymnastics the next year to become a cheerleader. For the men in 1964, Armando Vega was the alternate. He trained righteously ready to replace an injured teammate if necessary. Admirably, he was as ready as possible should he be needed; however, he did not need to replace anyone since the team remained healthy. To her credit, Doris served as the team "spotter" at the apparatus in Tokyo since the male coach was not allowed on the competition floor.  Doris' life was gymnastics, so her experience in Tokyo must have been what for others would have been a career ending experience.   But Doris' special character prevailed and she became a team member for the 4th time four years later by placing in the 6th position at the final trials for the Women's Gymnastic Team to compete in Mexico City, Mexico, (1968). Once again, normally, her 6th position could have made her a 3 time Olympian or our 1st 4-time woman's Olympian barring the fiasco in Tokyo; however, once again, in a close 3 to 2 vote, she was eliminated from the team at the Olympic preparation training camp and, thus, did not attend the Mexico City games and never joined the few who became three-time Women's Olympic gymnasts. General: Doris was also an accomplished Track & Field athlete specializing in the Javelin and Triple Jump.  She could also perform circles and scissors on the pommel horse and giants on the HB. Manager's Note: The 1968 training procedures and team final selection process for the men appear to be controversial according to Steven Cohen. His article "United States Olympic Gymnastic Team Analysis" appeared in the Modern Gymnast after the Olympics in Mexico City. While it isn't appropriate to transfer his comments directly to the women's side of the gym, it seems highly likely that Doris' removal from the team followed the guidelines set forth or explained in Cohen's article. World Championships: Team member, Prague, Czechoslovakia, (1962); Pan American Games: Gold-Team, AA, UB, & V, Sao Paulo, Brazil, (1963). National AAU Championships: Gold-FR, (1955); Gold-UB, (1961); Gold-UB, (1964); Gold-AA, (1965); Bronze-AA, (1966). Again, disappointment found Doris at the 1966 World Championships.  Her performance on the UB was underscored at 9.866 that caused the audience to explode into thunderous and continuous noise halting the competition for one hour and fifteen minutes; however, the gymnasticswise audience was unable to influence her score. It was not changed. Many in the world's gymnastic community feel that it was this performance that revolutionized the future of uneven bar routines with its continuous movement and daring elements such as a between the bars salto also known as a Radochia salto according to Wright or a "Brause" according to Doris.  Honors: A. Bruce Frederick, noted gymnastic historian, deemed Doris a "Centurion".  He defined a "Centurion as " . . . those who command our attention."  Doris certainly constantly commanded everyone's attention as she approached the UBs and moved from one combination to another and finally to her flying finish and solid landing. In addition, she was one of only three women to appear on the cover of Life magazine. Whatever the crests and troughs of Doris' long gymnastic career, she should be honored in light of having been the only woman to qualify as a USA Olympic Gymnastic competitor by virtue of finishing in the top six in the final trials four times even though she was allowed to compete only twice. In this context, Doris Fuchs should be placed in the annals of gymnastics as one of the USA's greatest female gymnasts ever.
Sources: Courtesy of Jerry Wright, author of Gymnastics Who's Who, 2005, A. Bruce Frederick, author of Who's Who and Was Who in American Gymnastics, Bruce Davis for his editing services, and Doris Fuchs for her personal resume, Abie Grossfeld for biographical information from his private archives and his editing services, and Steve Cohen's Modern Gymnast article.  Introduction, commentary, & formatting by Larry Banner, Web Manager.