DAWES, Dominique
Inducted: 1998-Olympic Gold medal team, (1996) Individually Inducted: 2005 Born 1976, Silver Spring, MD.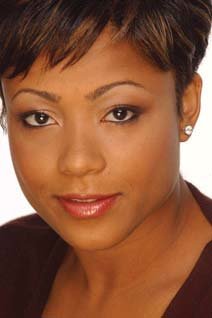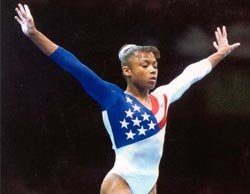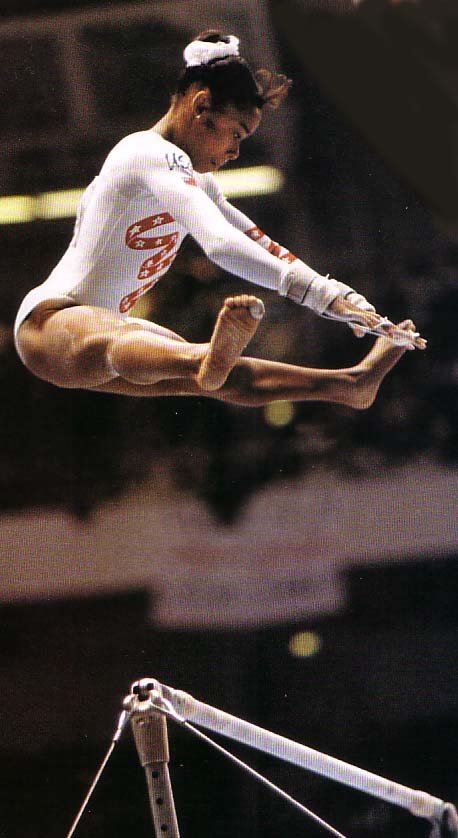 Affectionately known by her coach and teammates as "Awesome Dawesome", Dominique became a three-time Olympian & first African American Olympic gymnast, winning numerous national medals as well as multiple World Championship medals.
Dominique started in the sport of gymnastics at the age of 6.  Her first and only coach, Kelli Hill, head coach and owner of Hill's Gymnastics, quickly realized her potential.  She burst into the international spotlight in the 1992 Olympics in Barcelona, Spain.  At these Games she and her teammates captured a bronze medal. One of Dominique's greatest accomplishments came when she swept all four events and won the All Around title at the 1994 U. S. National Championships.  At the 1996 Olympic games in Atlanta, Georgia, Dominique and the United States Gymnastics Team stole the hearts of Americans with their team gold medal.  This was the first-ever team Gold in the sport of gymnastics.  At those same Games, she became the first African-American to win an individual gymnastics medal with her bronze on the floor exercise. Finally, to top off her competitive career Dominique qualified for a third Olympic games in 2000 (Sydney, Australia) after having retired from the sport for over a year and a half.  This feat of retirement and return had not been achieved in today's era of women's gymnastics. Following her Olympics triumphs, Dominique appeared on a Wheaties cereal box with her teammates, performed in a music video by Prince (Betcha by Golly Wow), and appeared on Broadway in the hit musical Grease, where she played the part of Patty Simcox.   With her competitive days completed, Dawes, a graduate of the University of Maryland, College Park, dedicates her time to promoting and becoming an active spokesperson for multiple campaigns.  Her passion lies in inspiring others to live their best life, educating the public on youth and women's health issues and enhancing one's life through sports involvement and physical fitness. In 2003, Dominique ventured into the world of coaching.  Through her company, Dominique Dawes, LLC, she offers private lessons to young athletes at Hill's Gymnastics, the gym at which she started.  The private lessons range from strength training, flexibility, gymnastics, to mental toughness training.  During the lessons Dominique offers valuable advice to her pupils that is not limited to sports achievement but includes advice about believing in themselves and realizing their full potential. Personal: President of the Women's Sports Foundation, non-profit (NY) with a stated mission " . . . to enhance and better the lives of young girls and women through sports participation," (2004); Spokesperson for Girl Scout's/Unilever Self-Esteem Program "Uniquely Me!" National spokesperson for the Girl Power campaign sponsored by the Clinton administration (6 Years). Special Note: Currently, one of Dominique's Olympic leotards and a piece of gymnastic equipment are displayed among the notable sports memorabilia at the Smithsonian Museum in Washington, D. C.; Dominique was the principal in a national commercial campaign for Chili's presented on major networks during the 2004 Athens Olympic Games and is currently writing a non-fiction book.  Dominique currently devotes much of her time to motivational speaking and serving as spokesperson for worthy campaigns.  Website: .
Source: Dawes' personal resume and interviews. Special thanks are due Abie Grossfeld for his editing services and suggestions. Introduction, commentary, & formatting by Larry Banner, Web Manager.