POND, Charlie (1915-2003)
Inducted: 1966
Born: November 28, 1915. Dallas, TX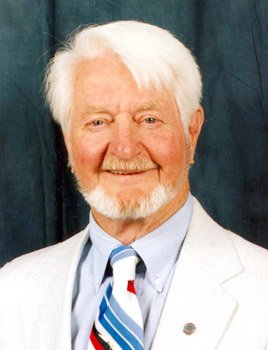 "At age 12, I sneaked into . . . a gym and saw a guy tumbling.  I asked him how he learned.  It looked like fun." And so began the tumbling, twisting, turning, coaching, inventing, and gymnastic service life of Charlie Pond.
Olympic Games: Associate Men's Coach & Assistant to the Women's team, U.S. Judge for FX, Melbourne, Australia, (1956); Represented USA at Mexico City Olympics as judging observer & critiqued judging; Olympic gymnastic researcher, Munich, Germany, (1972). National AAU Tumbling Championships: Gold-Tu, (1938) while a student at Hardin Simmons U. As a student, Charlie was a versatile athlete.  He was a cheerleader, won Gold in the Golden gloves welterweight Division, (1938), and played on the Hardin-Simmons U. football team. Coaching:  Assistant gymnastic coach at U. of Illinois for his first year and continued as Head Coach for the next 25 years. Charlie's teams won 11 consecutive Big Ten titles and four NCAA titles. He coached over 107 boys and girls to national, Olympic, & world titles. Six men & four women Olympians were Pond coached. Education: B.S, (1939), M.S., (1947). Personal: Pond was always safety conscience and there were no serious injuries during his days at the U. of Illinois.  This safety mental set probably led to his patented Pond Twisting Belt that was one of the finest developments in gymnastics, and there's a story to it.  Charlie Pond was commissioned a Second Lieutenant, U.S. Marine Corps, 1943.  He served as a parachute platoon commander with the First Marine Parachute Regiment.  He saw serious combat action in the British Solomon Islands at Guadalcanal, Vella la Vella, & Bougainville. At some time during this dangerous tour of duty, Charlie was responsible for setting up a base security perimeter.  He did so by having two concentric circles of Marines "walking" the perimeter, each in the opposite direction-one clockwise and one counter clockwise.  Eventually, this experience morphed into the Pond Twisting Belt with its concentric circles turning in different directions by virtue of strategically placed ball bearings. This story was word-of-mouth, but this writer heard the story first hand from the person most likely to know its truth, Mrs. Pamela Pond, Charlie's widow. The Pond Twisting Belt was one of the most valuable pieces of gymnastic equipment ever developed. Judge: FIG Certified, (1968 & '71) Summary of Experiences/Honors: Woodward Wilson HS, scholarship at the Dallas Athletic Club, Dallas, TX, (1930-1933); Superintendent of Recreation, Abilene, TX, (1939-1941); Major, U. S. Marine Corps Paratroops, (1942-1946), U.S. M.C. Reserve-Retired, (1968); Meet Director & coached the winner of the 1st Trampoline Championships, Dallas Athletic club, (1946); Ass't. Athletic Director & gymnastic coach, Dallas Athletic Club, Dallas, TX, (1945-1947); Fulbright Scholarship/International Exchange Program-coach & teacher at the National Physical Education College, Colombia, So. America, (1961-1962); Initiated 1st Illinois HS gymnastics competition, (1952; Visiting Professor, U.C., Santa Barbara, CA, (1967); Certified for international and Olympic judging by Federation International Gymnastic (FIG), (1968); Member Pan American Games committee, 1959-'61); Inducted into Helms Hall of Fame, (1966); National Association of College Gymnastic Coaches Award, (1977); National US Trampoline Association Award, (1981); U.S. Olympic Gymnastics Committee, Munich, Germany, (1972); Member of USOC representing gymnastics, (1956-'72); Instructor, researcher, and coach at U. of Illinois, Retired-Professor Emeritus, (1947-1973); U.S. National Freestyle Snow Skiing Coach for national team, (1976-1977); Chairman, Special Air Certification Committee-certified performers to satisfy skill and safety standards before performing skills on snow, (1977); Executive Director, U.S. Freestyle Skiing Federation Aerial Snow Acrobatics (1978-1979); Helped form the USGF and secure appointment of Frank Bare (Former national gymnastics champion and Charlie's team captain) as its 1st Executive Director; Awarded MASTER OF SPORT by U.S. Gymnastic Federation (USGF), (1976); President, Board of Directors, Utah Academy of Gymnastics, (1973-1984); Seminar for U.S. Junior Gymnastics Team, Topic: "Handling & Lookin' Twisting," Atlanta, GA, (1989); Assisted Frank Bare II to market "Bare AcroBunge System", a training & safety device using the Pond Twisting Belt, (1989); Received 1st Heritage Award presented for distinctive and significant contributions to gymnastics by the Gymnastics Association of Texas, Austin, TX, (1993); Presented with the "Boar's Head Award," by Russian tumbling coach, Vladimir Kouries. This award is the highest Russian award and was given due to Pond's contributions to gymnastics in all phases, including the Pond Twisting Belt; Developed and presented "Cross-pad Command Drill" procedure to Gymnastics Association of Texas, (1995); Elected Vice-President of the World Acrobatic Society, (1996); Invited by Queensland, Australia State Gymnastics Coach to teach "Look-In Twisting" at National Training Center. Australian, Russian, & Chinese diving coaches studied tapes of Charlie's teaching, Brisbane, Queensland Australia, (1997); World Acrobatic Society's 1st Charlie Pond Service Award presented to Glenn Sundby by Pamela Pond, Las Vegas, NV, (2005). Publications/Organizations Summary: Charlie Pond was incredibly active in many elements of gymnastics.  He published eight or more major articles or books featured in such publications as Parade Magazine, a nationally syndicated Sunday Supplement, "Gymnastics" in Time, New York, NY, and almost all the major magazines and newspapers that featured Dick Browning of Dallas, TX tumbling backward over the high jump cross-bar at 8 ft. 2 in. Charlie was a member and administrator in numerous professional organizations and committees such as Delta Chi, a National Social Fraternity, (1952); The American College of Sports Medicine, the National Collegiate Athletic Association (NCAA), the Amateur Athletic Union (AAU), and the National Association of College Gymnastics Coaches (NACGC), and many others. Family: Survived by his widow, Pamela Pond. Four children. Four grandchildren.
Sources: Charlie Pond's personal resume & Mrs. Pamela Pond who edited and gave permission to write elements of Charlie Pond's biographical sketch. Credit and appreciation are also extended to the World Acrobatic Society's "The Charlie Pond Story" for elements of information used with permission, and to A. Bruce Frederick, author of Who's Who and Was Who in American Gymnastics. Introduction, commentary, and formatting by Larry Banner, Web Manager.