THOMAS, Kurt Bilteaux
Inducted: 1990
Born: Miami, Florida-USA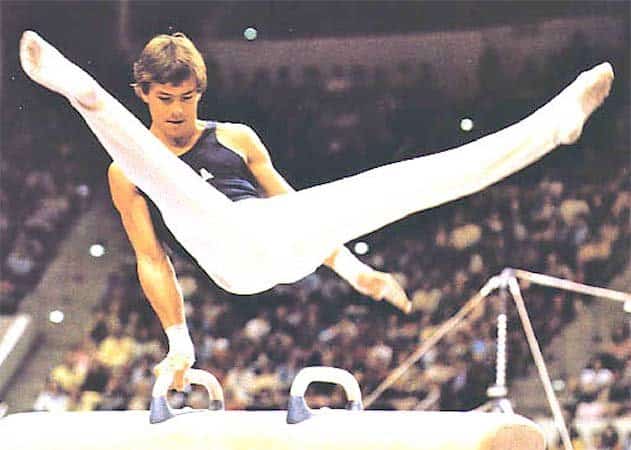 Kurt Thomas began gymnastics at age 14 at Miami Central High School.  He was a quick learner and by 1976 he made the U.S. Olympic Team that competed in Montreal and would have been a two-time Olympian had politics not interfered.  Thomas ranks as one of Indiana State University and America's greatest gymnasts.  The 1970's became the Thomas era just as there was a Beckner era during the '50's and early '60's. If the USA was fielding a team, Kurt Thomas was there to give the world a show.
Kurt Thomas created movement combinations that are still being used by elite international gymnasts. The Thomas Flair on PH and its counterpart on FX are the most well known. The "flair" was actually first performed by someone else but first used by Thomas in international competition, (See Insert I).
Insert I: Flair on PH & FX
It was an instant sensation on the PH. Kurt also was the first to execute the Thomas spin or twist that was recognized by the FIG. The "Spin" consisted of a release-full twist-re-grasp over the top of the HB. Greater Miami High School Championships: Gold-AA, FX, PH, SR and PB, (1973). U.S. Jr. Olympics:  Gold-AA, (1973). NCAA Championships:  Gold-Team, competing for Indiana State University, AA, & PB, Bronze-FX & PH, (1977); Gold-AA,  PB, & HB, Silver-SR & PH, (1979). USGF National Championships: Silver-FX, Bronze-V & PB, (1975); Gold-AA, FX, & HB, Silver-SR & PB, Bronze-PH, (1977); Gold-AA, FX, & HB, Silver-SR, & PB, Bronze-PH, (1978). Olympic Games: Team member, Montreal, Canada, (1976). Kurt was primed to participate in the 1980 Olympics when the U.S. boycotted the Games due to Soviet Aggression in Afghanistan, an ironic twist in light of today's world events. World Championships: Gold-FX, Strausbourg, France, (1978); Gold-FX & HB, Silver-AA, PH, & PB, Bronze-Team, Fort Worth, Texas-USA, (1979). Kurt's medals in this world competition made him the only American to win a medal in international competition in 46 years.  Pan American Games: Gold-Team, Silver-PH & V, Bronze-AA & HB, Mexico City, Mexico, (1975); Additional International Competitions: Blume Memorial-Bronze-AA, (1975); Gold-AA, (1977); Champions All Competition: Gold-AA, (1978);  American Cup Championships: Silver-AA, (1977), Gold-AA, (1978-'79); World Cup Competition: Gold-FX + Silver in three event finals, (1977); Mardi Gras Invitational: Gold-1977 & '79); Pacific Championships: Gold-AA, (1979); USA vs. Romania, Hungary, France, & Germany: Gold-AA, (1976), Silver-AA, (1977); USA vs. Sweden & Norway: Gold-Team & AA, (1978). Honors: Thomas earned All-America honors 13 times during his career. A. Bruce Frederick selected Kurt as a gymnastic "Centurion". A Centurion was a Roman soldier who commanded 100 men. A gymnastic Centurion is defined as one who commands our attention because they have had the greatest impact on gymnastics in the U.S. In addition, Kurt is only one of two gymnasts to be awarded the James E. Sullivan Award, (1979). The other is Paul Hamm, (2004). The James E. Sullivan Award is awarded annually by the AAU to the most outstanding amateur athlete in the United States. It was first awarded in 1930, making it older than the Heisman Trophy. The award is named for the AAU's founder and past president, James E. Sullivan. (1979); Selected for induction into the Indiana State University Athletic Hall of Fame (1999); International Gymnastics Hall of Fame (2003); USA Gymnastics Hall of Fame, (1990). Thomas missed his Olympic dream of a 2nd Olympics because of President Carter's boycott of the 1980 Summer Olympics in Moscow, and he retired shortly thereafter. After Thomas retired from competitive gymnastics he stayed involved in the sport, performing in a professional gymnastics show and doing commentary for ABC Sports.  Thomas made an unsuccessful attempt at a comeback (1991) in an effort to make the '92 Barcelona Olympics at the age of 35. Thomas also starred in the 1985 film Gymkata, playing the part of an athlete sent by the US Government to compete in a deadly competition called "The Game." Unfortunately the film was not a quality production and failed to attract much attention. He now runs the Kurt Thomas Training Center in Frisco, TX.  Family: (m) Children: Hunter and Kassidy.
Source: Data and Line Drawings courtesy of Jerry Wright, author of Gymnastics Who's Who, 2005 with introduction and formatting by Dr. Larry Banner, Web Manager.