ORLOFSKY, Fred
Inducted: 1985
Born: April 8, 1937, Jersey City, NJ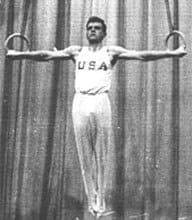 Since 1996 the Nissen Award has been considered the "Heisman Trophy of Gymnastics." It is given annually and is inscribed with this motto: "The true champion seeks excellence physically, mentally, socially, and morally." The award didn't exist during Fred's competitive time, but the motto describes Fred Orlofsky perfectly.
Fred Orlofsky began gymnastics at Dickinson HS in Jersey City, NJ, (Bob Miles, Coach); He simultaneously trained at the Swiss Turners in nearby Union City, NJ, (1953), Frank, Cumiskey & Vince D'Autorio, Coaches; He continued by competing at So. Illinois U. (1959-'63), Bill Meade, Coach.  Olympic Games: Rome, Italy (1960); World Championships: Prague, Czech. (1962); Pan American Games: Gold-Team, Sao Paulo, Brazil; National USA Team Competitions: USA vs. Finland (1961); USA vs. Japan (1961); USA vs. Germany  (1962). NCAA Championships: Gold-R, Silver-AA (1961), Silver-AA & PH (1962), Silver-AA (1963); National AAU Championships: Gold-AA, R, PB, Silver-HB, Bronze-PH (1960); Education: B.S. (1963), M.S., (1966) @ U. of So. Illinois. Coaching: Western Michigan U. (WMU) (1966-1996), 1st and only gymnastics coach of varsity program at WMU until the program was disbanded in 1966; Fred coached 11 conference championship teams (1974-1996); 67 individual conference champions (1966-1996); 25 NCAA Division I qualifiers (1968-1996); a National Independent Team Championship was garnered (1996); Orlofsky coached 10 exhibition tours, conducting clinics & workshops in England, Germany, Switzerland, Austria, Holland, Denmark, Norway, Sweden, & New Zealand (1976-1996); Awards/Honors: "Athlete of the Year" at SIU (1960); FIG Insignia of Merit (1960); Western Michigan U. (WMU) Teaching Excellence Award (1976); SIU Athletic Hall of Fame (1980); WMU Athletic Hall of Fame (1991); NACGC Honor Coach Award (2002); Frank Cumiskey NGJA Judges Hall of Fame (2003). Judging: National & International Judge (1964-2000); Judged nine NCAA Championships, the 1st in 1964; Judged numerous Big 10, Division II, National AAU, Olympic, World & Pan American Games final tryouts. Judged at the World University Games, Moscow, USSR (1973); American Cup (1976); Golden Sands Championships, Varna, Bulgaria (1978); International Invitational, Fort Worth (1980); Chunichi Cup, Nagoya, Japan (1981 & 1988); Pan American Games, Puerto Rico (1983); Goodwill Games, Seattle, WA (1990); Pacific Alliance Games, Seoul, Republic of So. Korea (1992); Fred judged dual meets as well: USA vs. France, USA vs. East Germany, VISA Challenge International (1995, '97, & '98); He judged the Winter Cup & the U.S. Championships; Fred served as a Technical Assistant at the Ring event at the Olympic Team tryouts (1996 & 2000) & as a Line Judge at the FX event, Atlanta, GA, Olympics, (1996).  Family: m. Holly Dee Brown. Born April 2, 1943. Three children. Four grandchildren. Freddy is currently retired and residing in Florida as close as possible to a golf course.
Sources: Introduction, commentary, and formating by Larry Banner, Web Manager.