PITT, Author E. "Artie" (1924-2002)
Inducted: 1959 – Among Original class of Honorees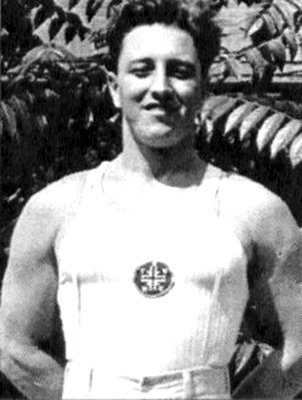 Herman Schmidt, writing a University of Iowa news release prior to the 1936 Olympic Games, stated in an article titled "Greatest Gymnast in History" that Gymnastic Coach Albert Baumgartner said, "That boy (Pitt) is the greatest gymnastic prospect ever to enroll in a mid-western university."
Baumgartner's prediction was highly accurate since Pitt went on to win a total of 15 National AAU Championships that included at least one win on every event. He also competed for the US in the 1936 Berlin Olympics-just as predicted.
Olympic Games
Berlin, Germany, (1936); National Collegiate Gymnastics Alumni Association (NCGAA) Honorary Men's Olympic Team along with Lou Bordo, Frank Cumiskey, Hal Frey, Paul Fina, et al., (1940 & 1944).
National AAU Championships: Gold-AA, (1942, '43, & '44); Gold-FX, (1942-1945); Gold-PH, (1943); Gold-V, (1942); Gold-R, (1938); Gold-PB, (1936, 1942-T, '43); Gold-HB, (1940-'43); Pitt won fifteen national titles that included at least one win on every event.
General
Pitt probably enrolled at the U. of Iowa as a result of a long friendship with Eugene Wettstein, later Eugene changed his last name to Wettstone, Captain of the varsity gymnastics team.  They were both members of the Swiss Turn Verein gym club of Union City, NJ as was Coach Baumgartner at an earlier time.
Pitt received his early training under Frank Cumiskey, 1928 and 1932 Olympian. In his day, Artie was considered perfectly proportioned for a gymnast at 5 ft., 4 in. and 125 lbs. with light legs and powerful shoulders.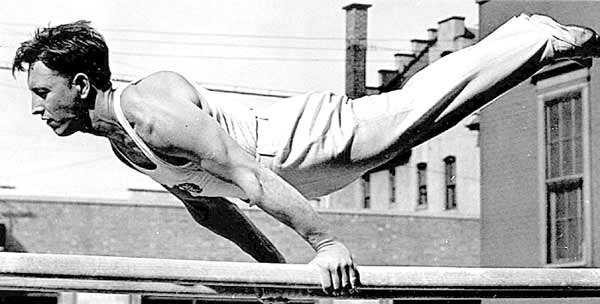 Personal
Writing as late as 2001, Pitt described himself as a sheet-metal worker who played golf and went bowling.
Commentary
Prior to television, most athletes held a full-time job to support their families.  They usually trained in the evenings and weekends and saved vacation time for traveling to competitions. They raised money for travel by doing exhibitions at schools and, on one memorable occasion, a midget auto race, performing during a break between races while Girl Scouts passed coffee cans for donations that were used for travel expenses. Television, economics, marketing, and other factors changed most of this older style of working, training, and competing. Today, clinics and training camps are numerous, and gyms have cropped up throughout the US.  Training and working have combined to a degree, and with more time in the gym, better equipment, and safety devices for learning, the high level medals are starting to arrive on US shores.
Family
m. Ilsa. Four children. Seven grandchildren. Nine great grandchildren.
Sources: Courtesy of A. Bruce Frederick, noted author of Who's Who and Who Was Who in American Gymnastics, Jerry Wright, author of Gymnastics Who's Who, 2005, Personal resumes from Mr. Pitt, and Herman Schmidt for his "Greatest Gymnast in History" article. Introduction, commentary, and formatting by Larry Banner, Web Manager.