McCAIN, Stephen
Inducted: 2009
Always the kid performing on the jungle gym during recess in elementary school, Stephen McCain had a fearless curiosity for what he could do with his body. He immediately fell in love with gymnastics after his mom enrolled him in a local gym after witnessing the U.S Olympic Team's success in 1984.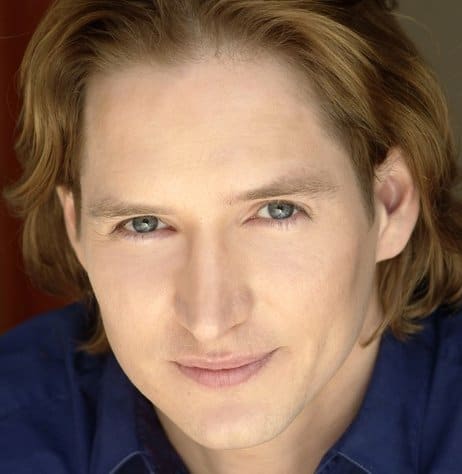 Stephen immediately began setting extremely high goals for himself and made the decision every day to make sacrifices in his life for the sport of gymnastics. His work paid off and he started competing internationally by the age of 14.
Olympic Games
Team member, (2000); Alternate, (2004).
McCain was a team member of the U.S. World Championships: Team member, (1994), (1996), (1999); Silver Team, (2001). In 2001, he placed 4th in Floor Exercise and made the All Around finals.
Pan American Games: Gold-Team, (1995); Silver-Team, (1999).
At the U.S. Senior National Championships: Silver-AA, (2000); Bronze-AA & PB, (2001); Bronze: AA, PB, & HB, (2003); Bronze-PH, (2004). A graduate of UCLA, McCain maintains a gymnastics website, "American Gymnast," with former national team member Jay Thornton. Stephen was heavily recruited by the country's top NCAA gymnastics programs and accepted a scholarship to UCLA.
NCAA Championships
Gold-HB, (1993). In his freshman year, McCain became an All-American, made the U.S. Elite Senior National Team; however, unexpectedly, UCLA dropped the men's gymnastics program due to Title IX. McCain decided to concentrate his focus on the Olympics and education but the demise of the program proved too hard to overcome and he missed the 1996 Olympics.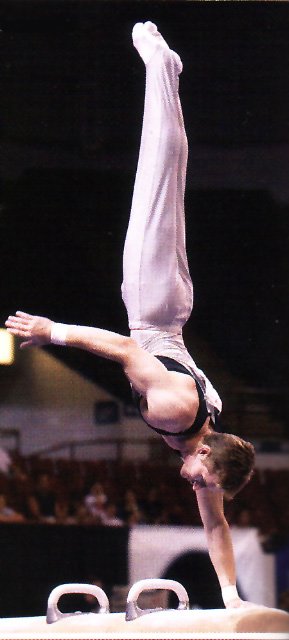 After missing the 1996 Olympics in Atlanta, McCain was devastated and decided he needed more than physical talent and hard work to accomplish his goals. He needed a mental framework that would allow him to relax and control his thoughts and emotions under any circumstance. He began studying Yoga, Meditation, Hypno-Therapy, Visualization, Sports Psychology, and Neurological Conditioning. He also decided he needed to resume his training at the United States Olympic Training Center in Colorado Springs, Colorado.
By 2000, McCain had mastered his work and achieved his life long goal of making an Olympic Team. Two weeks later, in the best shape of his life, he crashed on a dismount while training for the Games in Sydney, Australia. After almost being pulled from his spot on the team, McCain overcame two severely sprained ankles and helped lead the U.S. team to the Olympic Finals, while also making the All-Around finals.
A year later in 2001, McCain as the Team Captain for the World Championship Team, led the team to an unprecedented silver medal; the first Team Medal in 27 years for the U.S. Men's team. In 2002 and 2003, McCain suffered from a shoulder and knee injury that both required surgery. During his rehabilitation and downtime, he decided to enroll in the University of Colorado and earned a degree with top honors in Business/Finance graduating Summa Cum Laude.
In 2005, after returning from the Olympics, Stephen was asked to perform the gymnastics for the lead character in the Motion Picture Film, "The Peaceful Warrior." After 21 years of gymnastics, Stephen McCain has competed on every continent in the world with the exception of Antarctica.
Among his numerous National and International honors include 2 Olympic Teams, 4 World Championships Teams, and 2 Pan American Teams. His tenure on the U.S. Senior Elite National Team lasted for 13 consecutive years. Stephen McCain is currently in an intensive study at the prestigious Playhouse West in Hollywood, California, where he studies technique, improvisation, voice, and script writing.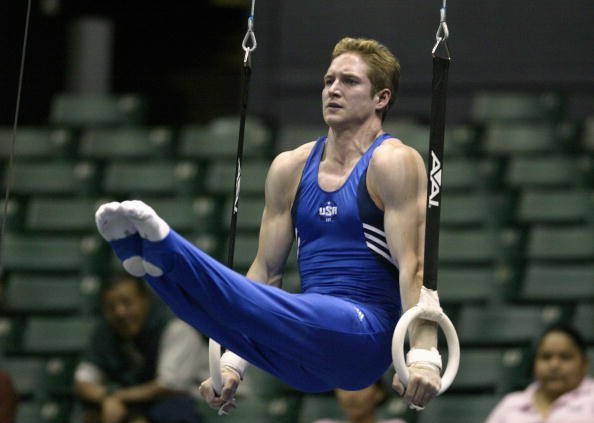 Sources: Data and photos collected from public sources (Wikipedia and Google) by 2008-2010 Web Manager Jerry Wright, author of Gymnastics Who's Who-2010. Editing by Dr. Larry Banner, 1993 GHOF Inductee & 1894-2007 Web Manager.