HUGHES, Eric
Inducted: 1973 Born: Victoria, British Columbia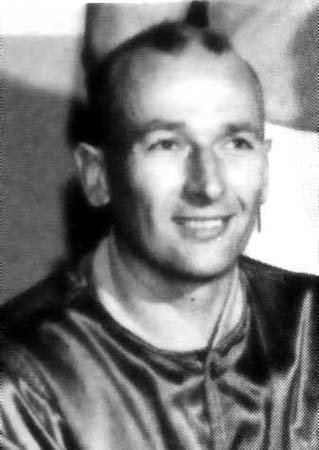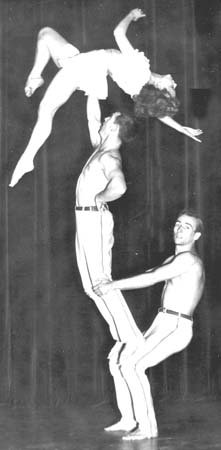 Eric Hughes is another of many in the gymnastic world who has served our sport well.  His efforts and contributions have helped bring U.S. Gymnastics to the winner's podium, but few, I suspect, in today's gymnasiums know about his contributions. Few of today's gymnasts realize that the early efforts of our U.S. Gymnastic Hall of Fame Honorees are directly related to the shiny, some quite new, Olympic Games and World Championship medals that adorn the walls of the individuals who earned them. I trust as our current best gymnasts, men and women, read some of these biographies, they will reflect on the tremendous amount of work and dedication that has gone before them to aide their achievements in world competitions.
Getting Started: Eric Hughes started as a high school gymnast with enough skill to win a silver medal in the AA in the British Columbia Province Championships. From high school, he matriculated to the University of Illinois, (1940), and after his freshman year, he competed for the U. of Illinois NCAA Champions Gymnastic Team, (1941).  He was called for military service after which he returned to UI where he lettered at in track and cross-country while a part of the 1946 UI NCAA Championship T&F Team that will have a reunion in 2007. Education: B.S. (1947) & M.S. (1948) at the University of Illinois & Ed.D, at University of Washington, (1955). Eric was a mid-semester graduate and received some course credit for the experiences he had in pilot training. Military Service: Eric served in the Canadian Air Force, as Pilot Officer, the equivalent American rank of Second Lieutenant, (1943-'45). University Coaching: Hughes was the Head Coach of the University of Washington Gymnastics Club Team, (1950-'54), and continued as Head Coach when the Huskies gained Division I NCAA status, (1955). The Husky Gymnastic Club competed abroad and even won the National Open Championships of Australia and New Zealand. His competition record was W-109 against only L-17 won a percent winning average of about 83%. Eric coached three Pac. Ten Team champions and 33 Pac Ten individual event champions. His teams won the NAAU team title in 1968 and 1969 and placed 2nd in the NCAA Championships of 1965. In the process of coaching winning teams, Eric also produced six NCAA individual event champions plus three AA Champions. In 1969, he hosted the NCAA national Championship Meet. International Coaching: Hughes was named coach of the U.S. Gymnastics Teams that competed in Czechoslovakia, Poland, and Russia, (1961); he was Manager of the U.S. Olympic Team, Munich, Germany, (1972). Contributions: Hughes has authored two gymnastics books: Gymnastics for Men and Gymnastics for Girls, and, in retirement, has been a fervent fundraiser for the U. of Washington Club Men's Gymnastic Team since the university's NCAA status ended in 1981. The club continues to compete in many major competitions including meets with Division I teams, and the club has traveled to foreign countries to compete; e.g., Costa Rica & Japan. His contributions also include serving as Secretary, Vice-president, and President of the NACGC, (1971-'73). Honors: Eric was named Western Coach of The Year, (1963 & '65), and received the Honor Coach Award, (1979). This last award is generally considered the highest award a gymnastics coach can receive. It reads, "In recognition of . . . service in coaching a developing gymnastics for over twenty-five years . . ." General: Eric Hughes worked at one time as a professional trampoline performer and hand-balancer. His professional group was called the Aristocrats and included his wife, Beverly, Joe Calvetti, and himself. He is the bottom man in the photo. Family: Children: Debbie Youngblood, Kip Hughes, & Kim Durnford. Grandchildren: Justine Durnford, Sarah Durnford, Preston Hughes, & Tori Hughes. Great Grandchildren: Emmika Durnford.
Sources: Primary source information courtesy of Jerry Wright, author of Gymnastics Who's Who, 2005 with additional information provided by interviews and correspondence through the courtesy of Dr. Eric Hughes.  Introduction, commentary, and formatting by Dr. Larry Banner, Web Manager.