Inducted: 2010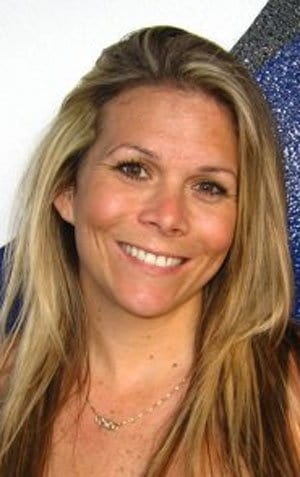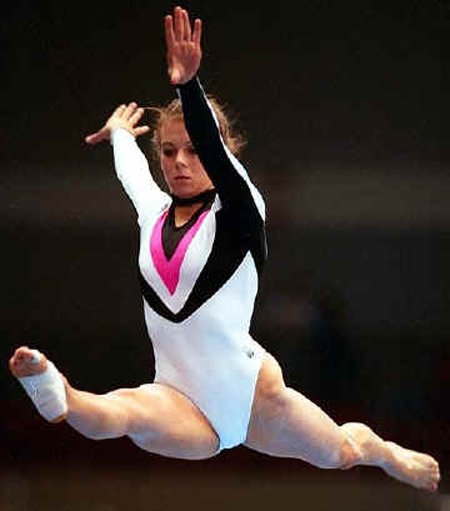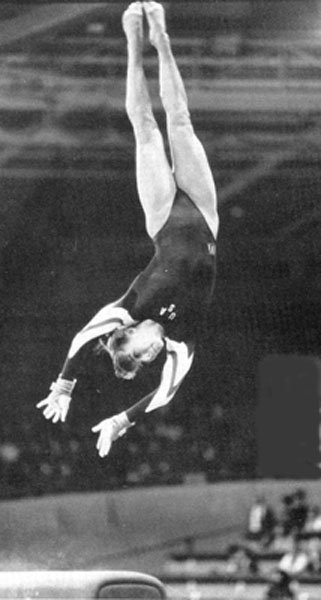 Wendy Bruce-Martin is raising a family, pursuing a degree in sports psychology and helping young gymnasts and their parents realize that having fun is the secret to big-time success. She is an example of a person used to doing the impossible, successfully.
Starting Out:  Bruce, who still uses her maiden name, Bruce-Martin, trained with Brown's Gymnastics. She is now married and a mother of two.  World Championships: Team Member-Team Bronze, Barcelona, Spain, (1992); Team Member-4th place, Stuttgart, Germany, (1989). Wendy became a World Champion when she and Li Jing won the International Mixed Pairs Competition in 1989. Additional Competitions: Wendy's accomplishments during her seven-year international gymnastics career included: winning the team title at the USA-Japan event in the Dodge Challenge. (1992); first in the all-around, vault and balance beam at the  USA-German Democratic Republic dual meet of the Pyramid Challenge, (1992); tying for fourth in the all-around at the USA-USSR event in the  McDonald's Challenge, (1989); winning the gold medal on the vault, uneven bars and floor exercise and finishing second in the all-around and balance beam, Belgium International Gym Masters,(1989); Reese's Championships-4th UB, 4th BB, (1995); 1994-U.S. Nationals-18th AA, 4th V; 1992– U.S. Olympic Trials-6th AA, U.S. Nationals-4th V, 3rd UB, U.S. Classic-1st AA, U.S. vs. Japan-1st Team, 1st UB, 1st V, Buckeye-2nd AA, International Mixed Pairs 4th AA; 1991-U.S. Nationals-6th V, 6th UB, 5th BB, U.S. Classic-32nd AA;  1990-U.S. Challenge-3rd AA, 1989– World Championships Team Trials-2nd AA, World Championships-11th AA, World Team Trials-1st AA, U.S. Challenge-2nd AA, U.S. Nationals- 4th BB, U.S. Challenge-2nd AA, U.S. Nationals-4th BB, U.S. Classic-6th AA; 1988- U.S. Nationals-21st AA.   National Competitions: Bruce-Martin competed in five U.S. national championships, winning an uneven bars bronze medal in 1992 and finishing fifth in the all-around in both 1989 and 1991. She also won the all-around and vault, and placed second on the uneven bars and floor, at the 1992 U.S. Classic. She was sixth in the all-around at the 1992 U.S. Olympic Trials.  Education: Bruce-Martin is a graduate of Seminole Community College. She dropped out of school in 10th grade later earning a GED. "When I was training in gymnastics my attention was so focused that everything other than gymnastics was not important. Now, I'm going to be the first in my family to graduate from college," she said. "When I was younger, all I focused on was training. Now, I love school and I want to finish. I want a fulfilling career." After school was completed, I never gave schooling another thought. But after the Olympics I was stuck. I had spent so much energy training for one goal that I did not have a plan for what I was going to do after I had reached that goal." Wendy recently won the Houghton-Mifflin College Success National Essay Contest and is receiving excellent marks in her classes.  "I am attending school to finish what I started fifteen years ago," she wrote in the essay.  Bruce hopes to have a career in sports psychology. Professional: Wendy works as a gymnastics coach, a fitness professional, and speaker. She is an inspirational speaker on women's and sports topics, including mental toughness training. Family:  Husband-Dennis Martin, Daughters-Cameron and Samantha.
SOURCES: [email protected]: . Head and shoulders photo from Wendy's Facebook profile, by permission.  Other photos taken from public sources (Google), by 2008-2010 Web Manager Jerry Wright, author of Gymnastics Who's Who-2010.  Editing by Dr. Larry Banner, 1993 GHOF Inductee & 1894-2007 Web Manager.