Swafford, Paul
Inducted: 2012
Born:  New York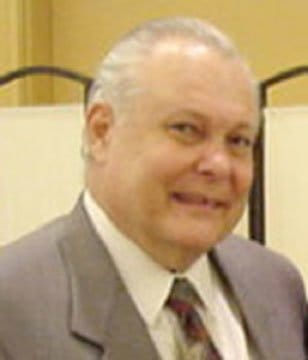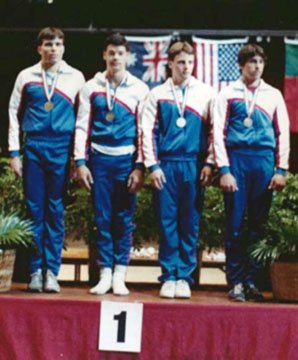 Kansas City Trampoline Club athletes, coached by Paul Swafford, have competed in:  Australia, Belarus, Canada, Czech Republic, Denmark, France, Germany, Great Britain, Italy, Japan, Netherlands, New Zealand, Portugal, Russia, South Africa, Sweden, Switzerland, and, of course, the USA.
Coaching:  Swafford has coached 114 national champions: 47 senior elite, 19 junior elite, 46 level 10, and 1 level 9 and 1 level 8 age group athletes.  He has been the national team coach for both the World Championships and World Games seven times, and was the first coach to coach  the  USA to a 1988 gold medal team performance (double mini tramp-Birmingham, Alabama).  Swafford coached Karl Heger, who won 18 national and two World titles, set three World records, and competed in 11 World Championships as well as world-record holder John Sturdivan.  Coach Swafford has seen the world as a National Team Coach (inc1uding: 1982-1986-1988-1990-1992), visiting:  France (1986), Switzerland (1980), Germany (1990), Italy, Belgium (World Diving Championships), Canada, Mexico, Australia, Belarus, Czech Republic, Denmark, Japan, Portugal (1994), Netherlands, New Zealand (1992), Russia, South Africa and Sweden.  Personal: Paul is a native of New York and a resident of Lee's Summit, MO. He founded the Kansas City Trampoline Club in 1972, and had 10 athletes named to World Championship teams and 33 to the World Age Group Competition.  Swafford earned a Bachelor of Science degree from Central Missouri State University and a Master of Education from the University of Missouri.  Honors: Swafford has been the recipient of the Milton Davis Award as senior elite Coach of the Year-four times.   He also served as an FIT international trampoline judge for multiple World Championships (1976-1980-1982),  and World Games (1981-1989-1994),  as well as the head of delegation to the first World Games and the U. S. representative to the FIT Congress (1976-1980-1982-1986).  Swafford was inducted into the USA Gymnastics Hall of Fame in 2012.   Competition:  Swafford was an NCAA swimmer, diver and trampolinist. Family: Wife-Mary (also a trampoline and tumbling coach and a FIG Brevet judge) and daughters-Casey and Wendy.
Sources:  Data and photos provided by Paul Swafford.  Editing by Jerry Wright,
author of  Gymnastics Who's Who-2010.  Editing by Dr. Larry Banner, 1993 GHOF Inductee & 1894-2007 Web Manager, Ph.D. & Ed.D.  (Team Photo I.D.: Karl Heger, Jon Beck, Terry Butler, Tim Bilicic (not pictured-alternate Tim Hess and Coach Paul Swafford).