SOFFE-SYLVESTER, Sue
Inducted: 2001
Born: Umtali, Rhodesia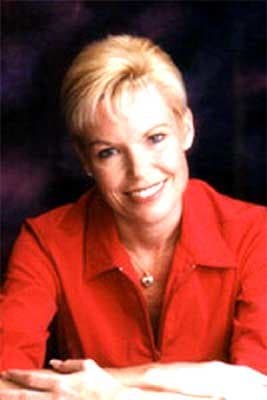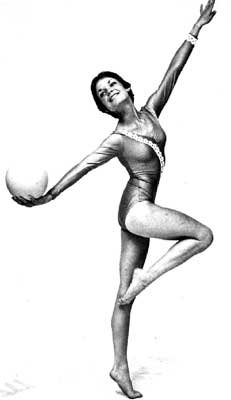 Go heels overhead and the next thing you know is that you become a promising national and or international artistic gymnastic champion.  Start with artistic gymnastics, but turn a heel just a little wrong and rise to become a rhythmic gymnastics champion. That describes Sue Soffee in a nutshell. After a great start in artistic gymnastics, she had a serious ankle injury, but found she could safely perform rhythmic gymnastics. Alla Svirsky, 1997 USGHOF Inductee, became her primary trainer and provided encouragement as Soffe ventured into the budding world of rhythmic gymnastics in 1974, and her successes were unprecedented.
Getting Started: Sue Soffe-Sylvester came to California with her parents and brother, (1967). Her parents left Germany about the time WWII ended. Many German families sought refuge from the potential threat posed by the Soviets as well as the allied armies as they moved into Germany at the end of WWII. These families often headed toward Africa. That probably explains her birth in the town or city of Umtali. When Rhodesia became Zimbabwe in 1980, all or almost all of the city's names were changed. Sue prefers Umtali, the name of the city at the time she was born. Sue Soffe didn't begin her gymnastics until the family arrived in the U.S., eventually settling in Woodland Hills in California where she received her first training. As noted, her first gymnastics was artistic coached by Fritz Reiter of Gymnastics Olympica, and she competed in both Class I and Class II.  A severe ankle injury required a change in plan, so she moved to the other side of the gym to become a great rhythmic gymnast under the guidance of Alla Svirsky, 1997 USGHOF Inductee. World Maple Leaf Rhythmic Gymnastics Invitational: Team member, Toronto, Canada, (1976). This competition marked the first time the U.S. ever participated in an international rhythmic gymnastics competition; therefore, Sue Soffe was a charter member of the U.S. international rhythmic competition teams club. USGF Modern Rhythmic Gymnastics Championships: Gold-AA, rope, hoop, ball, & ribbon, the four individual events of rhythmic gymnastics. Rhythmic Gymnastics World Championships: Team member-Basel, Switzerland, (1977). Prior to this competition, the finalized team appeared along with selected U.S. artistic gymnasts on the program with the visiting Romanian team in Washington, D.C. and in Madison Square Garden in New York according to an article published by The International Gymnast in June of '78. "The New York Times gave the following review of this exhibition program: 'Perhaps the most captivating performance was the rhythmic gymnastics of an American, 17 year old Sue Soffe of Agoura, California, who in neon-bright leotards danced elegantly around her props of rope, ball, hoop, and ribbon.'" At the Basel World Championships, Sue did not place as high as she wanted, partly due to a hoop which did not meet the specifications cited in the Code of Points. After these Games, Sue was invited to participate in an exhibition of the best contestants from 12 nations; the exhibition was held in Sindelfingen, Germany. Jose Goehler, the International Editor of IG wrote as follows: " . . . I myself and the 4,000 spectators in the superb new sports hall were fascinated by the little, nice American Sue Soffe, who showed an exercise with the ball which would very well have deserved a 9.3 score. Sue Soffe radiates her personality, performs in a playful and serene way with perfect technique to throw and catch the ball, she hops and jumps and has a sense of rhythmics.  By her fascinating example she could promote this sport in the USA in much the same way as did Cathy Rigby for Olympic artistic gymnastics;" Team member-London, England, (1979); Team member, Munich, West Germany, (1981). There was no Rhythmic Gymnastics Championships in 1980 since this competition was held every odd year, (1903-'13), every four years, (1922-'38 & 1950-'78). Then 1980 was skipped and then the championships went back to a two-year schedule, (1983-'89) finally settling on a yearly schedule, (1991-'09). The championships are scheduled for Stuttgart, Germany in 2007 and London, England in 2009, again skipping a year. There were no international world competitions from 1915 through 1919 and 1942 due to WWI & WWII, respectively.  National Rhythmic Gymnastics Championships: Silver-Artistic Team, New Orleans with Fritz Feiter, Coach, (1973). Ms. Sylvester won the national championship six times; however, we are unable to list the individual event medals she won. It appears likely that she placed in the top three in one or more of the individual events. Suffice it to write that Sue was the nation's best rhythmic performer. No male or female rhythmic or artistic gymnast has matched this record of six consecutive national championships. Sue writes that she represented the U.S. in a competition in Corbeill Esonnes, France, (1980) and in the Four Continents Championships where she took the Silver Medal in the AA, Rio De Janeiro, Argentina, (1980). She is unable to remember the individual medals acquired during these competitions. Sue Soffee also represented the U.S. in the Brotherhood Cup in Japan where she believes she won Bronze in the clubs event. Suffering from chronic pain due to a back and hip injury, Ms. Sylvester retired from competition at age 23. She then traveled the world extensively before returning to Southern California where she worked in the real estate field. She married, and she and her husband own Reptile Rentals, a business that supplies animals for the entertainment industry. Family: (m) Jules Sylvester. Children: Justin and Jonathan.
Sources: Interviews with Ms. Soffe-Syvester by Jerry Wright, author of Gymnastics Who's Who, 2005, who also provided photos and some commentary, , International Gymnast article "Profiles in Modern Rhythmic Gymnastics: Sue Soffe," June 1978, plus bits of public domain data. For more information about the work her husband, Jules does, browse [email protected]/. Introduction, some commentary, and formatting by Dr. Larry Banner, Web Manager.