Inducted: 2011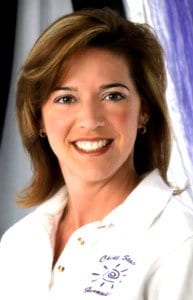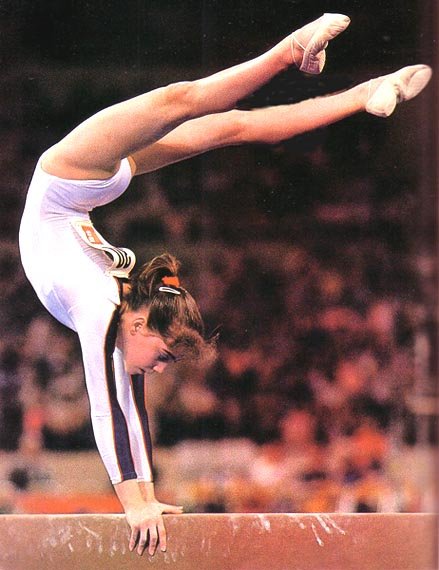 Chelle enjoyed a side career of wanderlust as she moved from gym to gym in order to learn from a variety of coaches.  Prior to training at Karolyi's gym, she trained with Russians Anna and Leo Belder in PA. After 2 years with Karolyi, she trained at several different gyms in Houston, but ended up back with Karolyi.  After the '88 Olympics she returned to Belder's gym and then moved to SCATS, then back to Karolyi's gym and then to Cypress Academy.
Chelle began a very serious gymnastics career at the tender age of 9 when she moved to Houston, TX to train at Karolyi's gym.  Chelle began competing nationally at the age of 12 and internationally at the age of 13. She burst onto the elite scene in 1988 by winning a Bronze Medal at the American Cup and by earning a spot on the U. S. Olympic Team.
Olympic Games: Seoul, South Korea, (1988), 4th Team.  Other International Competitions:  1991: Gold- FX, Gold-Team, Silver AA-Pan American Games in Havana, Cuba; also competed in both the McDonalds International Mixed Pairs and the American Cup.  1991 International Challenge: USA-Romania, Houston, Texas; Gold-Vault; 1989: French International: 4th AA;  1987: placed 5th on UB at the Chunichi Cup, Tokyo, Japan. 1990: Golden Sands: Varna, Bulgaria; Silver-AA, Silver-Beam; 1990: Pyramid Challenge USA-GDR, Memphis Tenn; 8th AA, Silver-BB; 1989: World Championships, Stuttgart, FRG; 4th Team; 1988 American Cup: Fairfax, West Virginia; Bronze-AA, Gold-Floor; 1988 USA-USSR: Phoenix, Arizona; Silver-Team, Gold-Floor; National Competitions: 1991: Bronze-UB at the U.S. National Championships.  1990: US Championships: Denver, Colorado; 11th AA, Bronze-UB, 4th BB; 1989: US Championships: Bloomington, MN; 5th AA, Gold-UB, Bronze-FX; 1988: US Championships: Houston, Texas; 4th AA, Gold-UB, Bronze-FX; 1992: NCA National Champion Cheerleader; 1988: Olympic Trials: Salt Lake City, Utah; 4th AA; 1987: Junior Nationals Silver-AA; Collegiate Competitions: 1995: Big Eight Gold-UB while representing the University of Oklahoma. Personal: After retiring from competition, Chelle earned her Brevet Judging Card, with her first international judging assignment being the 1998 International 3-on-3 competition.  She has since coached in Dallas, performed in various shows and exhibitions, eventually enjoying a long standing role in Walt Disney World's Cirque de Soleil.   She was recently the owner/operator of the Chelle Stack's Gymnastics Academy in Winter Park, Florida.  Family: Parents: Frank and Carrol Stack; brother Paul.
Sources:  Data and photos obtained from the public domain (Google and Wikipedia) by 2008-2012 Web Manager Jerry Wright, author of Gymnastics Who's Who-2010.  Editing by Dr. Larry Banner, 1993 GHOF Inductee & 1894-2007 Web Manager, Ph.D. & Ed.D