GARRISON, Kelly
Inducted: 1999
Born: Altus, Oklahoma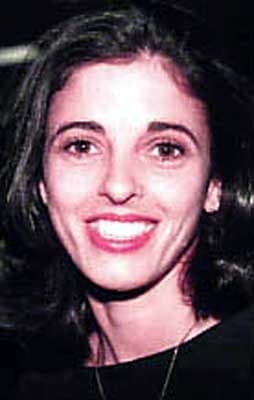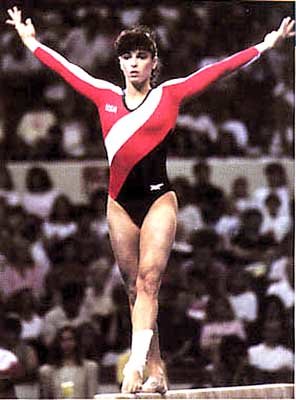 Kelly Garrison learned to perform well on the four events of women's gymnastics, and she was a "quick study". She began gymnastics in 1974, and by the time she reached college, she was a full-fledged champion. She was on the national team and won USGF National titles before she entered college. Her talents included creating and performing high-risk moves, brilliantly conceived choreography, and, of course, the outstanding ability to perform well under pressure. Kelly appears to be a product of the women's gymnastics revolution in America after TV found that millions of people world-wide loved to watch gymnastics whether they could do a forward roll or not, and Kelly could probably invent several forward rolls without even using the floor.
Kelly competed under the name Kelly Garrison-Steves. As a collegiate competitor at the University of Oklahoma, Kelly was coached by Becky Switzer who provided Kelly with a positive mindset by telling her that she should " . . . never really idolize another gymnast or you won't reach her level; rather, you need to strive to be the one others idolize." Such advise helped Kelly's talents blossom in short order. In addition to being the first collegiate female gymnast to make an Olympic Team, she was the only married lady on the 1988 U.S. Olympic Gymnastic Team. Olympic Games: Team Captain, Seoul, Korea, (1988); World Championships: Team member, Budapest, Hungary, (1983); Team member, Montreal, Canada, (1985); Rotterdam, Netherlands, (1987). Kelly was a member of the U.S. National Team for eight years. NCAA Championships: Gold-AA, (1987); Gold-AA, UB, & BB, (1988). Kelly scored the first perfect 10 on the BB in NCAA competition. To be fair there were perfect 10's scored at an earlier time in the Vault and UB events, but they were in other meets of much less stature than the NCAA Championships. World Cup: Team member, 1986. USAG National Championships: Gold-BB, (1980, '85, & '88).  Big Eight Conference Championships: Gold-AA, V, UB, BB, & FX, (1987 & 1988). Kelly was a very creative gymnast and choreographer and is credited with having four skills named after her according to USA Gymnastics. She may best be known for the invention of a BB mount internationally known as a "Garrison". It consists of a Round-off to the beat board and a back salto (flip) with a full twist landing with perfect balance onto a four inches wide beam. The move is rated a "super E" and is seldom if ever performed in competition. In addition, two additional skills bear her name on the BB and one in the FX event. Personal: Garrison has been working as an entrepreneur. She is available as an inspirational speaker, clinician, choreographer, and gymnastic consultant. USA Gymnastics reports that she has created a Drug Awareness/Self-Esteem Program.  It is aimed toward elementary and middle students in the U.S. Family: (m) Tom Funderburk, who is a sales representative for the Callaway Golf Co. Children: Ryan Funderburk who, at one year of age in 2007, is the delight of the family. Kelly is expecting a second child in October 2007.
Sources: Detailed information courtesy of Jerry Wright, author of Gymnastics Who's Who, 2005 with a significant contribution by Abie Grossfeld, 1979 HOF Inductee, and A. Bruce Frederick, author of Roots of American Gymnastics, 3rd Edition. In addition, Kelly was interviewed and courtesously submitted additional information. Introduction and formatting by Dr. Larry Banner, Web Manager.