CHACE (Boyle-May), Kim
Inducted: 1996
Born: 1957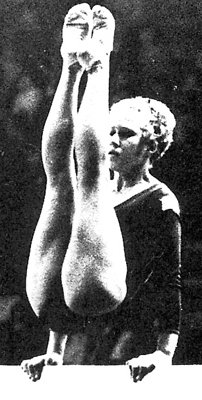 It has been written that Kim Chace's greatest attributes were strength and flexibility. These are necessary for a world-class gymnast, for sure; however, in Kim's life, these attributes appear to have worked well for her on a mental plane as well.  After competing in the Munich Olympics, Kim retired from training for about a year and a half.  She was able to use her physical and mental strength to come back and make the next Games in Montreal. During her preparation for the Montreal trials, she became a figurative "ground zero" for media regarding her eligibility as an amateur. The U.S. Olympic Committee was called in to investigate, and she was cleared of all allegations. Kim's inner strength prevailed throughout the ordeal. She made the team after a long lay-off. Unfortunately, while it probably didn't affect Kim, she made an Olympic Team traveling to the Games under the cloud of an African protest boycott, once again bringing political issues to the venues of amateur athletes who did not make national policy or create political crises.
Olympic Games: Team member, Munich, Germany, (1972); Team member, Montreal, Canada, (1976). World Gymnastic Championships: Team member, Ljubljana, Yugoslavia. Pan American Games: Gold-Team, BB; Silver-FX, Bronze-AA & BB, Cali, Columbia, (1971). U.S. National Championships: Gold-BB at age 15.
Sources: Photo and information courtesy of Jerry Wright author of Gymnastics Who's Who, 2005, , and , (Public Domain Competition Results). Commentary and formatting by Larry Banner, Web Manager.