GULACK, George (1905-1987)
Inducted: 1959 – Among Original class of Honorees
Born: Latvia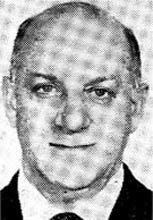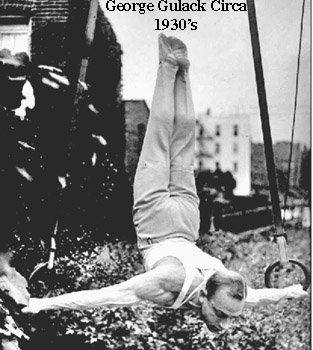 George's acquired Olympic Gold on the rings at the 1932 Olympic Games, Los Angeles, USA. He began training at age 11 and was Latvia's AA champion at an early age.  He immigrated to America, New York City at age 15 or 16.
Olympic Games: Gold-R, Los Angeles, CA, USA, (1932); AAU National Championships: Gold-R, (1928 & 1935); Honors: Assumed Chairmanship of both the US Olympic Gymnastic Committee (USOGC) and the Amateur Athletic Union (AAU) after the death of Roy Moore in 1957.  U.S. Olympic Committee member, (1934-1958); Chair, National AAU gymnastics Technical Committee, (1936-1958); Manager, U.S. Olympic Gymnastics team, London, England, (1948); Elected to Executive Committee Federation Internacional de Gymnastic (FIG) and served as Vice-president, (1964-'72). The FIG recognized the United States Gymnastic Federation (USGF) as the governing body for gymnastics in the U.S. in 1970. Later the USGF was renamed U.S.A. Gymnastics; Personal: George was a decisive person, once safely guiding an international team competitor whose passport had been sent ahead of the team, travel from West Berlin to Helsinki, Finland safely crossing the East Berlin and East Germany during the height of the Cold War.  As a judge at the 1960 Olympics, he earned the respect of the American team members and coaches for his vigorous endeavors to ensure fair scoring. He was primarily responsible for the U.S. adoption of the FIG Code of Points and served as translator for various rules changes.  His dictum, "To compete on an equal basis, we must prepare on an equal basis."  Accordingly, he was a champion of promoting the All-Around and preached mastery of compulsory exercises developed by the FIG.  He organized the first set of international judging courses for North and South America as requested by the FIG.  Eventually, he joined the new Federation and worked to develop some of its programs. Family: Wife, Fay, accompanied him on official trips internationally and was a judge at the World Championships, Moscow, USSR, (1958). She was also the manager of the U.S. Women's Olympic Gymnastics team, (1964).
Sources: Thanks to A. B. Frederick, author of Who's Who and Was Who in American Gymnastics, and editing by Abie Grossfeld, 1979 HOF Honoree. Introduction, commentary, and formatting by Larry Banner, Web Manager.