WETTSTONE, Eugene
Inducted: 1963 1913 – 2013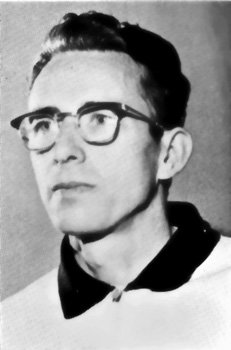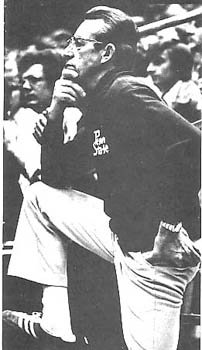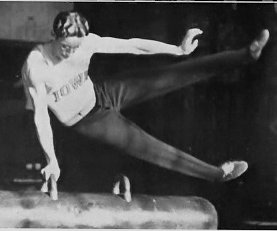 One of the 1st recipients of the National Gymnastics Governing Board's "Master of Sport" Award and considered the "Dean of Collegiate Gymnastics Coaches", Wettstone gave the sport of gymnastics amazing gifts of safety, visibility, and affection that transferred to his many protégés.
Olympic Games: Coach, London, England, (1948), Melbourne, Australia, (1956); Team Manager, (1976); NCAA: Coach, Gold-Team for a total of nine NCAA Division I Championships. Thirty-seven of Gene's gymnasts won individual event gold medals during his career at Penn State University. National AAU Championships: Coach, Gold-Team, a total of four times; Athlete: Big Ten Championships: Gene competed under name "Wettstein" and won Gold-AA & PH, (1935 & '37), Eastern Intercollegiate Gymnastic League: Bronze-AA, 1937; Coaching: Gene coached at Penn State U. for 38 years and earned the rank of Professor Emeritus. He strongly supported the effort for an independent gymnastics federation. He was Head Coach of the U.S. National Team, (1970-'76); Wettstone coached numerous gymnasts who became Head Coaches, among them Harold Frey, Bill Meade, and Armando Vega.  Bill Meade's Southern Illinois team took the NCAA team gold and Hal Frey's team at UC Berkeley took the silver at the NCAA Championships, (1966); Judging: Olympic Games, (1952 & '68). Education: B.S. & M.S. at U. of Iowa. Service & Awards: Past President of the National Association of Collegiate Gymnastics Coaches known today as the Collegiate Gymnastics Association, Coach of the Year, Helms Hall of Fame; Served on Olympic Committee for 20 years and 18 years on the NCAA Gymnastics Committee. Gene was national AAU Vice-Chairperson, (1948-'56). General: Gene Wettstone had a profound affect on the sport of gymnastics.  When his teams competed at home, the gym was nearly if not completely full. At a home meet against Southern Connecticut State University, the audience was estimated to be approximately 8,000, probably a record for the time. Gene is now 90 years and going strong.  The increased success of today's USA Gymnastic Teams and individuals is, in great part, an inheritance to the lives of the young and strong that compete in today's world.
Source: Courtesy of A. Bruce Frederick, author of Who's Who and Was Who in American Gymnastics and Jerry Wright, author of Gymnastics Who's Who, 2005. Thanks are due Abie Grossfeld for his editing services and suggestions. Introduction, commentary, and formatting by Larry Banner, Web Manager.