PRICE, Ben
Inducted: 1959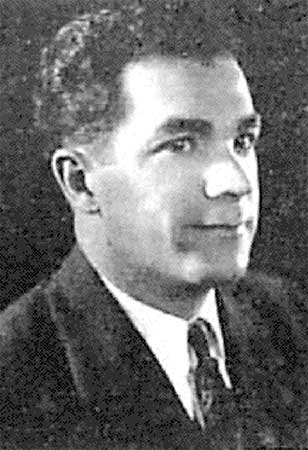 Ben Price was a name that was constantly being discussed at gym meets, judges' meetings, and among the many Olympians to come out of Southern California during the '50's and '60's. I recall being part of a squad of gymnastics invited to the LAAC for a luncheon being held annually in his honor. If we stop to think outside the box, he must be credited with being the father of gymnastics on a much wider scale. To write that, I direct you to read the list of names of the national champions and Olympians that benefited directly or indirectly from his expertise. Coach Price, you were before my time, but herein we acknowledge and appreciate what you did for us. Thank your for your passion and dedication.
Ben Price has been credited with being the "Father of Gymnastics in Southern California." Coach: U.S. Olympic Team Assistant Coach, Los Angeles, California-USA*. Price was an Instructor at the Los Angeles Athletic Club, (1923-1935).  During this time he coached the Los Angeles Athletic Club (LAAC) to the National AAU Team Championship in 1925.  In view of these credits it has been possible to determine that he can be credited with coaching as many as 10 Olympians and 19 National AAU individual event National Champions. Price was held in such high regard in Southern California that for many years the area hosted what was known as the "Ben Price Memorial Invitational Gymnastics Meet," that attracted the very best gymnasts in the area and across the U.S. Head Gymnastics Coach Jerry Todd hosted it at Pasadena City College for many years. Individual National Champions that were coached by Price follows: Paul Krempel (1960 USGHOF Inductee), J.D. Gleason, David Sharpe, E.V. Klinker, Leonard Stern, Randall Bryden, Phil Ehrenberg, and Leo Vandendaele.   Olympians coached by Price follow: Paul Krempel (1920, 1928), Phil Ehrenberg (1932), Glenn Berry (1928), Dick Bishop (1932), Ed Carmichael (1932), Dallas Bixler (1932), Ken Griffin (1936), George Roth (1932), and Ed Gross (1932).
Sources: * The 1940-41 AAU Annual credits Ben as having been an Assistant Coach for the 1932 U.S. Men's Olympic Team and an Instructor at the L.A Athletic Club. Data researched by Jerry Wright, author of Gymnastics Who's Who, 2005. Jerry also provided Price's photo. Introduction, commentary, and formatting by Dr. Larry Banner, Web Manager.