HENNESSY, Leigh
Inducted: 2007
Born: Lafayette, IN-USA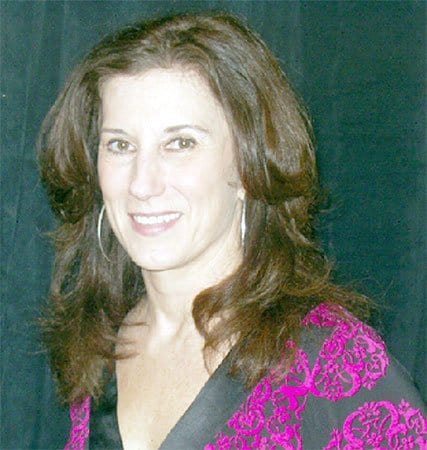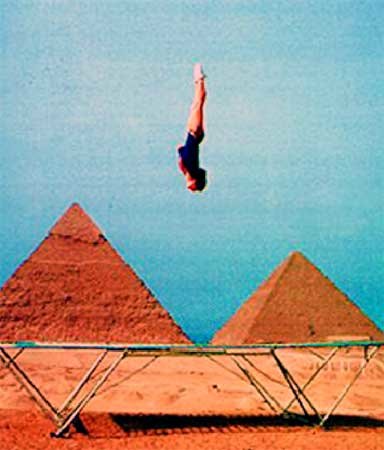 Leigh Hennessy and her father, Jeff Hennessy, will be the only father and daughter combination in the Hall of Fame. Beyond her trampoline skills, Leigh is a master of movement, and this almost savant talent has served her well after her competition years were completed.  Even though she has achieved celebrity status for her work in the movie industry, she was accessible and glad to help with her father's biography for this web site. She is very appreciative of the fact that she and her father are able to share in the honor of being Inductees into the U.S. Gymnastics Hall of Fame.
Leigh Hennessy is a two-time double mini-trampoline world champion, (1976 & 1978) and won a silver medal in synchronized trampoline at the World Trampoline Championships, (1976). She was the first athlete, male or female, to win all three trampoline events (individual, synchronized and double mini) at the U.S. National Championships. The International Trampoline Federation honored Leigh in 1982 for her contribution to the sport of trampoline. From 1978-92, she was listed in the Guinness Book of World Records with the highest double mini-trampoline score in international competition. Hennessy graduated summa cum laude from the University of Southwestern Louisiana with a bachelor's degree in speech and audiology, (1980), and earned her master's degree with honors in communication two years later. She currently performs as a movie stuntwoman and a former writer for Glenn Sundby Publications.
Leigh was the first DMT World Champion in history, winning the crown in 1976 and 1978.  In individual trampoline, she took the 8th place at the 1978 World Trampoline Championships, 11th place at the 1980 World Championships, the 31st place at the 1982 Worlds, and 61st place at the 1994 World Championships after she made a spectacular comeback to the world elite.  Leigh Hennessy also won the silver medal in synchronized trampoline in 1976, 5th place in 1980, and 7th place in 1982.   In the team event, she took the 5th place in 1982 and 12th place in 1994.
Raised in Lafayette, Louisiana – due west of New Orleans in the heart of Cajun Country – Leigh never dreamed that big-budget feature films were in her future. On the road less traveled, she eventually found her calling. On her journey, Leigh built an impressive list of credits. Her most recent role includes the opening scenes of The Guardian, starring Kevin Costner and Ashton Kutcher. She plays a drowning woman saved by Coast Guard hero, Ben Randall, played by Costner.
Having earned the reputation as the go-to girl for the most dangerous stunts on film, such as performing 90 foot high falls in both Charlie's Angels movies doubling Lucy Liu, Leigh is also recognized for her ability to handle the most physically demanding acting roles.  Among Leigh's earliest credits are GI Jane and Bad Boys, where she doubled Demi Moore and Tea Leoni, respectively. GI Jane was brutally demanding, but Leigh jokes that shaving her head was the scariest thing she's ever done for work. At her induction, she referred themeatically about the danger of performing stunts without always first being able to rehearse. She also related a stunt in which she had to make a fall from height passing through an 8 ft. X 8 ft. square cut in plywood to hit the foam pit and remain unhurt. She reflected that after all is said and done, " There are some things just don't make sense at all".
Her funniest stunt, however, was doubling Jennifer Tung, the one-breasted "Whoa" in the wacky movie, Kung-Pow: Enter the Fist.
In stark contrast to her rugged appearance in GI Jane, her first job on camera was as a sports model for Ralph Lauren Sportswear posing on a trampoline for World-renowned fashion photographer, Bruce Weber. At the time, she didn't even know who Bruce Weber was. Once she figured it out, she realized what a privilege it was for her.
Since then, Leigh has worked on numerous notable productions such as Mighty Joe Young, Charlie's Angels I & II, Teaching Mrs. Tingle, episodes of CSI, Cold Case and Crossing Jordan. She has also appeared in several national television commercials, including a recently aired Hyundai spot. Little did anyone, even Leigh,  know that her sports training, especially her work on the trampoline, would lead her to performing in Hollywood movies.
Both of her parents were school teachers, so it's no wonder that she excelled in school, succeeded in sports, and developed a love for the arts. Her father, Jeff, a 1992 USGHOF Inductee, taught at the University of Southwestern Louisiana (now University of Louisiana) where he pioneered the sport of trampoline. He was her first trampoline coach and gave her the fearlessness she needed to shine. The first acrobatic move he taught her was to balance on one foot in his hand. She was still in diapers. His biography on this site suggested that Jeff Hennessy took his daughter "bouncing" rather than for a stroll in the park when she was just a youngster. She holds a spot in the Guiness Book of World Records for winning the most US National Championships for Women. On the path to L.A., Leigh got a Masters Degree, taught Jr. High School special education and worked briefly on Capital Hill in Washington, D.C. before finding her new passion. In Los Angeles, Leigh's career carries on. She continues to work in the entertainment industry in one capacity or another.
She performs improvisational acting on weekends at Bang! Studio, writes articles and essays and has also co-written her first television treatment which has interest from several networks.  Leigh Hennessey is a member of the World Acrobatics Society's Gallery of Legends, was named Southern AAU Athlete of the Year, and received the Lifetime Achievement award from the International Trampoline Federation.
Leigh was nominated for a 2007 Taurus World Stunt Award in the Best Specialty Stunt category. She was nominated for her work in the opening scenes of The Guardian with Kevin Costner where she played a drowning victim in the Bering Sea who gets rescued by Costner's character, Ben Randall.
Sources: Interview with Ms. Hennessy plus data courtesy of Jerry Wright, author of Gymnastics Who's Who, 2005. Watch for his next book in 2010. Credit portrait photo to Larry Banner and credit Glenn Sundby for the photo of Leigh in Egypt. Glenn's photo is probably the most stunning photo on the web site. Also, credit information available at , , and . Introduction, commentary, and formatting by Dr. Larry Banner, Web Manager.