JOHNSON, Brandy
Inducted: 2000 Born: Tallahassee, Florida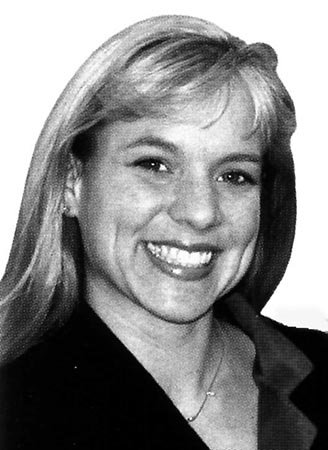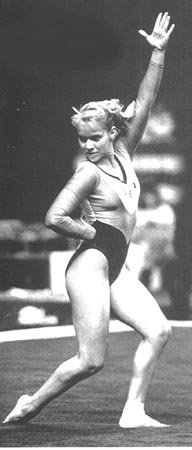 Brandy Johnson was not only a highly successful national level competitor and national champion she was an American Olympian.  Johnson also is one of those very special people who realize that an individual's success is largely dependent upon the help and sacrifices of others.  Because of this realization, Brandy has dedicated her post-competitive years to helping others to realize their dreams.  Brandy Johnson's Global Gymnastics Academy, in Clermont, FL., is a result of this dedication.  It is at this club that Brandy now helps the next generation fulfill their dreams of national and international success, in the great sport of gymnastics.
Olympic Games: Team member, highest AA finisher for the USA team, Seoul, South Korea, (1988). World Championships: Silver-Vault, 7th AA, highest AA performance by an American Woman up to that time, Stuttgart, Germany, (1989). .  International Competitions: Chunichi Cup: Silver-BB, (1987); USA vs. USSR: Gold-AA, (1989); Cotbus Cup: Gold-AA, (1989); American Cup: Gold-AA, (1989); World Cup: 5th AA, 6th UB, 7th BB and 8th FX, (1990).   USAG National Championships: Silver-FX, Bronze-Vault, 6th AA (1988); Gold-AA, Vault, BB, FX (1989); Gold-V & FX, Bronze-AA, (1990). HONORS: In 1989 Brandy was nominated for the prestigious Sullivan Award and was inducted into the USAG Hall of Fame in 2000. PERSONAL: Brandy began her gymnastics career at Brown's Gymnastics Club in Florida under coaches Kevin Brown and Jeff Wood.  Just prior to the 1988 Olympic trials Brandy moved to Houston, TX to be coached by Bela and Marta Karolyi, USGHOF Coaching Team Inductees, (2000).  In 1989 she moved back to Brown's.  She was on the U.S. Senior National Team 1987-1991.  Following the 1990 World Cup, at age 17, she announced her retirement and her engagement to Bill Scharpf-a former professional water-skier.  Despite an unsuccessful comeback attempt for the 1992 Barcelona Olympics Brandy continued her comeback.  She competed in the 1991 Professional Championships against the likes of Natalia Yurchenko and Aurelia Dobre.  Brandy made her first big impression on the U.S. gymnastics scene by winning the AA, Vault, FX and BB at the 1986 U.S. Junior Olympics (two years later she was on the Olympic Team).  In 1990 Brandy appeared on Disney's Mickey Mouse Club. Brandy and her husband have also performed as stunt doubles in movies and several TV episodes. Brandy began coaching at Brown's Gymnastics Metro (later named Orlando Metro) and eventually opened a separate Brown's facility in Clemont, FL.  Then, as previously mentioned, she and her husband opened Brandy Johnson's Global Gymnastics Academy, in Clermont, FL.   In 1994 she earned her level 8 Judging license and has improved on that over the years to the point where she was selected to judge the 1998 Professional Championships. Brandy subsequently brought over 20 years of gymnastics experience to share with her staff and students as a coach. By opening her own club she was able to realize a life long dream to open her own gymnastics school and give back to the sport that she loves so much. Family: (m) Bill Scharpf. Brandy and her husband, Bill, are the proud parents of Sydney, born August 2000.
Source: Jerry Wright, author of Gymnastics Who's Who, 2005, who courteously provided the introduction, data, personal information, and photos, and www.usa-gymnastics.com/. Formatting by Dr. Larry Banner, Web Manager.