LOBER, Abraham "Abe" (1889-1990)
Inducted: 1963
Born: Kiev, Ukraine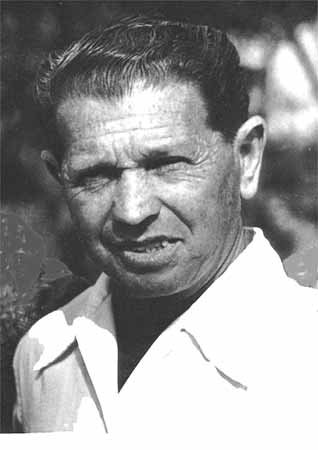 Abe's parents, Abe and six of his seven siblings emigrated from Russia to America before the 1917 revolution in Russia. They arrived at the well-known Ellis Island debarkation terminal where Abe was initially placed in an orphanage until the financial situation of the family improved. The family reassembled and quickly moved to Philadelphia.
Abe chose the pacifist way of life largely, as his youngest son relates, because his mother bopped his ears to keep him in school. Mom's methods worked, and he learned his lesson, not only finishing prep school but also eventually graduating from Temple University, (1916) while most of his brothers became pugilists (circa 1925).
His first job was as a physical education teacher at my Alma Mater, Van Nuys High School in the San Fernando Valley portion of Los Angeles.
Later, he went to teach at Star King Middle School in California finally settling down teaching ball-room dancing and gymnastics at LeConte Jr. High, another Alma Mater of mine, until his retirement. His beginning pay was $.50 per day.
As a teacher, Abe was known as a master of discipline, but as times changed, he changed with them. With the state making changes in the rules governing "corporeal punishment, teachers were convened and members of the Board of Education laid down the new rules-no more swats for punishments; i.e., physical punishment could no longer be administered by a teacher or administrator.
Judge
Abe had an avocation judging gymnastic meet throughout the West.  He judged local, junior college, AAU, and even a national meet when the championship was held in California. He maintained an impeccable reputation for his accuracy and fairness in his judging role. Regardless of the dress code of the decade, he was always dressed in a distinguished suit with tie.
His judging career began in 1921 and continued uninterrupted until 1963 when he retired.
Honors
Abe Lober was an active member of the Southern California Gymnastics Judging Association and served in several capacities during his long tenure. He received several Awards for service and longevity. He was truly deserving of the accolades given him. It is with great honor that I am able to relate some of his life and his judging accomplishments that took him all the way to the U.S. Gymnastics Hall of Fame.
General
Abe Lober judged many of the gymnastic meets during my time in high school, junior college, and UCLA, and he was quick to listen to any question an athlete might have. His responses were always worth serious consideration, and I, and numerous other athletes, judges, and coaches, must send him a belated, "Thank you, Abe."
Family
(m) Anne Rothman (d).
Children: David who was a professional dancer and danced on Broadway and continues to teach dance, and Robert who became an astronomer at Chaffey College, the oldest junior college in the state of California. He now weaves and makes furniture even though his dad, Abe, only had a screwdriver when Robert was growing up.