JOCHIM, Alfred (1902-1987)
Inducted: 1959 – Among Original class of Honorees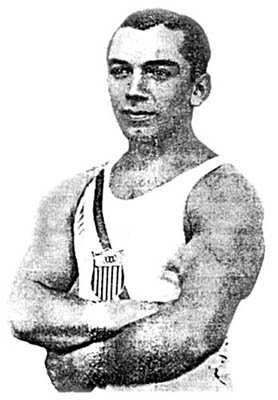 Al "Dutch" Jochim was America's top gymnast for almost 20 years. He competed in four Olympics, the only US gymnast to accomplish this feat. He won more national championships than any other male athlete during his time.
Olympic Games: Paris, France, (1924); Amsterdam, Netherlands, (1928); Silver-Team & V, Los Angeles, CA, USA, (1932); Berlin, Germany, (1936).
National AAU Championships: AA-Gold, (1925-1930 & 1933); FX-Gold, (1923 & 1928-1934); PH-Gold, (1926-1928 & 1933); R-Gold, (1929); V-Gold, (1930-1934); PB-Gold, (1926, 1928-'29, 1931, 1933, & 1934); Gold-HB, (1926, 1928-1930). All told, Jochim won 35 national titles.
Service/Honors
Al Jochim was instrumental in making The Swiss Turn Verein of Hudson County, New Jersey the most powerful gymnastics team in America.  Five other gymnasts from this club made Olympic Teams. His legacy to gymnasts appears to be the ethic of practice.  He trained five days a week with driving intensity.  Those about him could not help but be influenced by his tenacity and enthusiasm.
Personal
Designated a "Centurion" by noted gymnastic historian A. Bruce Frederick who defined, in part, the term as " . . . those who command our attention." Al was said to have a very relaxed personality, and that he could have been an actor.  He was already an accomplished artist and was an illustrator for national compulsory exercises. Jochim was honored by being selected to carry the Stars and Stripes of the American Flag at the opening ceremonies of the Games in Berlin.
One might suspect that discussions about who would receive such an honor hinged not only on his strong Olympic credentials, but also on his relaxed disposition and, therefore, his correctly presumed ability to proudly carry the American flag without wavering past the main viewing stand in which the Chancellor of Germany remained seated. Hypothetical? Perhaps, but the past is the future as is the present the past.  "Dutch" had to be my kind of man, gymnast or not.
Sources: Courtesy of A. Bruce Frederick, author of Who's Who and Was Who in American Gymnastics, Jerry Wright, author of Gymnastics Who's Who, 1005, and the private archives and editing of Abie Grossfeld, 1979 HOF Honoree. Introduction, commentary, and formatting by Larry Banner, Web Manager.