MITCHELL, Russell "Rusty"
Inducted: 1985
Born: Phoenix, AZ 1942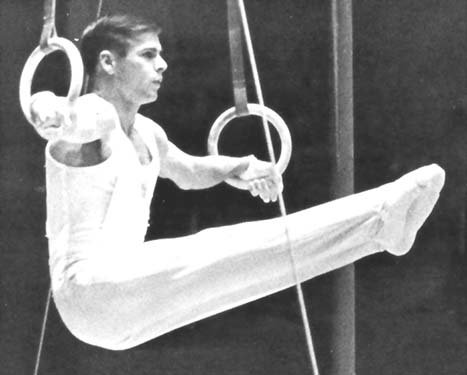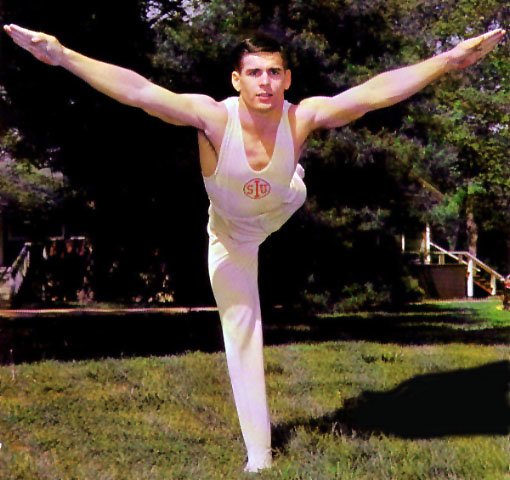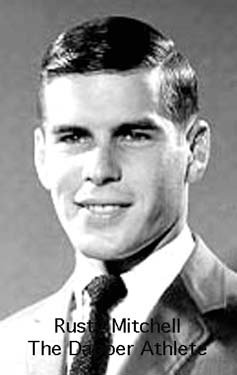 Rusty Mitchell started his gymnastics at Baldwin High School in California coached by John Draghi, 1994 Gymnastics Hall of Fame Inductee. Bill Roy, winner of numerous SPAAU tumbling championships created a school act featuring inspirational messages after retiring from competition. His act used stand up comedy, tumbling, and ventriloquism. Bill gave a show for the student body at Baldwin HS, and, after the show, Coach Draghi introduced Mr. Roy to Rusty and suggested they make a beginning to advanced movie on tumbling during the upcoming summer. Rusty was fascinated by Bill Roy's tumbling and quickly agreed. Throughout the following summer, with camera rolling, Rusty, Bill, and Coach Draghi laid out the mats on fields and in the gym. Roy and John coached and Roy would throw his voice so it appeared to come from the ceiling or a tree or wherever. "What are you doing down THERE?" he would call out. "Where's THAT coming from?" Throughout the summer, they trained and filmed whenever possible. Rusty made pass after pass working and learning. Rusty's training was filled with laughs, twists, and somersaults from one end of the mats to the other.  When they professed to have the film finished, of course Rusty wanted to see it; however, Bill and John laughed, and told Rusty, "Sorry buddy! There's no film in the camera. We just wanted to get you as good as we know you can be." Today, Rusty says he learned more that day about tumbling than he learned in any other single day of his life.
Olympic Games: Team member, Tokyo, Japan, (1964). In these games, Rusty used a double-back to end his first FX pass. It may have been the first double-back to be used in Olympic FX competition, but, in any case, it was the first to be executed perfectly by dropping out to a full and steady stand. In addition, his last pass was a round-off, flip-flop, layout, punch front to a perfect stand. This was a first in Olympic FX competition. NCAA Competition: Gold-TU, Albuquerque, NM, (1962); Silver-TU, Bronze-FX, Pittsburgh, Pennsylvania, (1963); Gold-TU, the last year TU was an NCAA event, & FX; Silver-PB, Los Angeles, CA, USA, (1964). The Los Angeles competition changed Rusty's outlook regarding competition. Competing for Southern Illinois University, under Head Coach Bill Meade, 1974 Hall of Fame Honoree, Rusty goofed a routine, but when he saw the expression on Meade's face, he vowed to always stay in the game. His next routine was the rings, and he completed the best routine of his life. It was a philosophy adaptation that made him a great American gymnast and a great coach. Rusty was named All American 10 times while SIU won one NCAA team title, finished 2nd twice and was undefeated in dual meet competition. National AAU Championships: Gold-TU, New York, NY, (1964). USGF Championships: Gold-AA, FX, & TU, (1965 & '66). Coaching: Rusty Mitchell coached at the University of New Mexico for 33 years retiring as an Assistant Professor after compiling an almost endless string of achievements with his varsity men's gymnastic team. His dual meet record was 243 wins vs. 98 losses for a 71.3 winning percentage. His team won 11 Western Athletic Conference team championships out of a possible 18. He produced 16 NCAA individual event champions and 53 All Americans. The University of New Mexico placed in the nation's top 12 in 23 of his 32 years. By team or individual, the Lobos were represented at every NCAA Championship meet between 1967 and 1999. During the 1995 and 1996 season, the UNM was ranked #1 in the country during the regular season. This includes the 11 of 12 weeks that UNM was ranked #1 in 1995. Rusty was twice selected as Assistant Coach for the U.S. Olympic Men's Gymnastic Team, Mexico City, (1968) & Munich, Germany, (1972).  He was also selected Assistant Coach for the U.S. Team at the World University Games, Moscow, USSR, (1973) and Chief of Mission for the Men's World Championships Gymnastic Team, Varna, Bulgaria, (1974). In Varna, there were 29 people including gymnasts, coaches, judges, and other officials gathered for entrance to the country; however, Rusty had been give only $203 for entrance visas, and the price of the visas were reportedly changed just before their arrival. A minor Bulgarian official decreed that the team was not going to be allowed into Bulgaria since they couldn't pay the fee increase. Whether their increased fees were official or involved some airport personnel corruption will never be known; nevertheless, Rusty, as Head of the Mission, made it plain to the authorities that the team would stage a 1960's type "sit-in" at the airport that was sure to bring about an international incident. The American World Championship delegation members supported Rusty, and the airport authority in charge quickly believed him when all 29 members began settling down for the long haul. The airport official hailed the highest Bulgarian official available who approved their admission to the country with the proviso that they would pay the additional fee when they exited the country. A notation was attached to the bottom of their tickets to show they owed $5.00 each on departure. Once in the country, the innovative Americans found that a simple pair of scissors would erase the notation, and the team left for home after the competition without incident or extra fees. How and exactly who was involved in the visa notation disappearance caper isn't really important. It remains one of the great Bulgarian unsolved mysteries. Rusty Mitchell traveled the world representing the U.S. in gymnastics from Japan to Puerto Rico to Australia in one important capacity or another. Rusty was Head Coach for the U.S. at the Team World Invitational, Riga, USSR, (1971); Head Coach for the U.S. team at the COPA Gimnastica, Mexico City, Mexico, (1975); Coached the UNM vs. Romania National Team, Albuquerque, New Mexico, (1976); Coached at least 13 additional national and international U.S. and collegiate teams between 1977 and 1993. Formal Education: B.S., (1964) and M.S., (1966) from Southern Illinois University. Informal Education: Rusty's gymnastic skills didn't necessarily begin in a gym. Once he started to learn some tumbling moves or a minor move on one of the apparatus, he began working out with the high school team after school where he competed in high school meets on Tuesdays and Thursdays. On the weekend, Coach Draghi would take him to various levels of AAU meets in the Los Angeles area. Rusty tells about how in his first novice level AAU meet he " . . . stuck his first (FX) handspring and then flat froze in time. He couldn't remember what to do next. Just standing there, he felt humiliated and thought the feeling would be forever." Don Faber, the great NCAA FX Champion from UCLA was the Head Judge for the event. He walked over and told Rusty " . . . to relax. We're going to give you another chance at the end of the event."  It was the break Rusty needed. He did great once he relaxed. Rusty went to school for early workouts or to watch films with Coach Draghi. In the Fall and Spring, they would go out to the track and tumble into the sawdust pit. Like other Olympians to be, he would go to Lincoln or Los Angeles High School in the evenings they were open to work out with all the Olympians and top college gymnasts in the L.A. area. He learned from Jack Beckner, his brother, Dick, Bill Tom, Charlie Simms, and a host of others. Those were the days when gymnasts of quality didn't have personal coaches, private gyms, today's safety devices, and summer camps. Many started in park sand pits and the sawdust pits in the T&F infield. Considering the environment in which they toiled, American gymnasts did well here and abroad. Honors: In 1984 when the U.S. Team won Gold in Los Angeles, Rusty was honored with his election as a Vice-President of U.S.A. Gymnastics and placed in charge of all U.S. Men's gymnastics; Named Mountain Pacific Sports Federation Coach of the Year; Midwest Coach of the Year; National Honor Coach for his 30+ years of service to the sport of gymnastics; Inducted into the University of New Mexico Hall of Fame, (1995); Inducted as a charter inductee into the SIU Hall of Fame, (1978); Inducted into the NACGCA & Amateur Athletic Foundation Hall of Fame, (1985); Captained the Southern Illinois Men's Gymnastic Team, (1962-'64); Chosen "Most Outstanding Gymnast", Southern Illinois University plus a number of additional awards of achievement and distinction. Rusty Mitchell was chosen for about every award the University of New Mexico could offer.  Service: Mitchell served on the U.S. Olympic Committee, the National Association of College Gymnastics Coaches, the National High School Rules Committee, the National Collegiate Sport Council, and was a representative to the USGF Board of Directors and their men's Program Committee. Personal: In the early '60's, a ground roots movement began to replace the AAU as the national governing body for gymnastics in the U.S.  In 1964, as one of the nation's top gymnasts, Rusty chose to support the USGF as the new governing body for gymnastics, replacing the AAU. He received strong edicts from the AAU and was accused of accepting money from commercials in which he didn't participate; however, he followed the principles in which he believed and participated in the first USGF National Championships. He was actually threatened with expulsion or disbarment from the sport, and he was told that he couldn't compete in the '64 Olympic Team qualification meets or final trials unless he swore not to compete in the USGF meets; however, he continued to take heed of his principles, finally finding success at helping to remove the AAU. It wasn't the first time his career was on the line (think about Varna, Bulgaria); however, it was no fault of his. It was just circumstances. Rusty and I were teammates in Tokyo, and as Captain of the 1964 Olympic Gymnastics Team in Tokyo, I encouraged hard work in the gym, but also encouraged the team members to sample the culture when time was available. The purpose, in so doing, was to develop trust, spirit, and rapport among the team members. This was the philosophy that prevailed in Rome, (1960) when the team performed so well. In any case, Rusty and two friends took a taxi ride toward a major shopping area I had visited. The taxi took a left turn too fast, and the car rolled 360 degrees landing on its wheels. There was some interesting discussion about whether the taxi fare should be paid; however, just as things were heating up, Avery Brundage, the U.S. Olympic Committee Chairperson, pulled up, said, "Jump in" and drove them away. Brundage probably didn't realize he was driving a unique and, thankfully, uninjured threesome. His car was loaded with one of America's great gymnasts, the fastest man in the world, and one of the strongest men in the world, at least at the Tokyo Olympics. Family: (m) Shayleen Brown. Children: Rusty & Mary Nicole-"Nikki", & Chad. Grandchildren: Carter & Duncan Mitchell, and Taylor & Chase by Nikki and her husband.
Sources: Personal interviews, documentation, & photos from Mitchell and others of the 1964 team. Details of Mitchell's competition record, honors, and additional photos courtesy of Jerry Wright, author of Who's Who in Gymnastics, 2005. Introduction, commentary, and formatting by Dr. Larry Banner, Web Manager.