RANCK-BONNIWELL, Roberta  "Bobby"
Inducted:  1988
Born: Philadelphia, Pennsylvania
DOD: 12/19/1981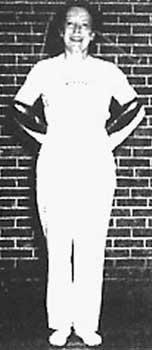 "The Babe Didrikson" of Philadelphia
Excerpts: A Tribute To Roberta Ranck Bonniwell
written By her cousin Margaret R. Eppihimer: 
"Roberta Ranck Bonniwell is the daughter of the late Mr. And Mrs. Marcus D. Ranck and the wife of the late Judge Eugene C. Bonniwell of Philadelphia. Since her early high school days in West Philadelphia she has had a keen interest in sports and soon her gymnastic excellence was to prove itself as she championed in many endeavors. Not only was she an attractive gymnast, but she was also affiliated with Philadelphia's Turners where she trained hundreds of young women in gymnastics and prepared them for competition in the Olympic Games in countries around the world. The Olympic Gymnast Team in Berlin in 1936 included women for the first time in its competition, undoubtedly due to the hard work and perseverance of Roberta Bonniwell, one of our own clan . . . Roberta made friends all over the world. She has sipped tea with Lady Astor, became a close friend with Helen Turner, granddaughter of the former Lady Peel, curtsied to the King and Queen of England at a garden party there, and visited and entertained royalty." Modesty prevailed when Ranck helped the first class of women enter into the Hall of Fame in 1974. She didn't submit any papers, so she wasn't inducted for another 14 years.
Olympic Games: In 1936, the Philadelphia newspapers frequently pictured Roberta Ranck's gorgeous physique with copious articles about her gymnastic and T&F achievements; however, while Roberta vigorously trained to make the Berlin games team, she suffered a torn left knee cartilage and was physically unable to make the team.  Although it is speculation based on the reports of the time, Roberta would probably have been a serious contender for the 1940 Games that were cancelled due to WWII.  National AAU Championships: Gold-AA, America's first national champion, PB, & V, (1931); Gold-V, (1933); Gold-IC, (1944); Silver-IC, (1945); Silver-IC, (1946, '47, & '48); Gold-T & F Women's Javelin, (1952), Gold-IC, (1950 & '51). Middle Atlantic AAU Championships: Gold-IC, Bronze-PB, (1943 & '44); Gold-IC; Gold- IC, (1948). Honors: Acclaimed the outstanding woman gymnast of her time, in the United States, (1936). Coach: Roberta chaperoned the U.S. Women's Olympic Team, London, England, (1948) and in Melbourne, Australia, (1956); She chaperoned and was the first Head Coach of an Olympic Women's Gymnastic Team, Helsinki, Finland, (1952) General: Within a short time after the '51 or '52 gymnastics and T&F seasons, Roberta was diagnosed with multiple sclerosis; however, she continued to train until 1956. In addition to her medal winning performances in gymnastics and T&F, Roberta Ranck was a proficient performer in swimming and diving. This writer suggests her multitude of sports talents and successes inspired her comparison to the great multi-sport athlete Babe Didrikson. As a member of the renowned Philadelphia Turners she was credited with training hundreds of young women in gymnastics in preparing them for competitions in international contests around the world. Her students included Clara Schroth, Pearl Perkins, and Marion Twining, all of whom became national champions and Olympians with the exception of Pearl Perkins who was honored by being designated an "Honorary 1944 Olympian" by the National Collegiate Gymnastics Alumni Association. Ranck-Bonniwell met Miss Pauline "Paulie" Ruppeldt at the Philadelphia Turners, and they became best friends.  Roberta Ranck-Bonniwell's family has expressed that they are " . . . deeply indebted to 'Paulie' for her patience and care which enabled Roberta to continue to enjoy the comforts and independence of her lovely home in spite of her paralysis. As a victim of MS, Roberta displayed indomitable courage and spirit of victory over circumstances. Roberta, we (the family) salute you." This writer has found Roberta to be a person of emotional and physical courage, and deserves a salute from all of us in the gymnastics world. It is we who have profited from her life's contributions on so many levels.  Family: Survived by her brother, John "Jack" Ranck, et al. of the Ranck clan.