SCHIER, Karl Kurt (Schwenzfeier)
Inducted: 1982 Born: Philadelphia, Pennsylvania October 5, 1933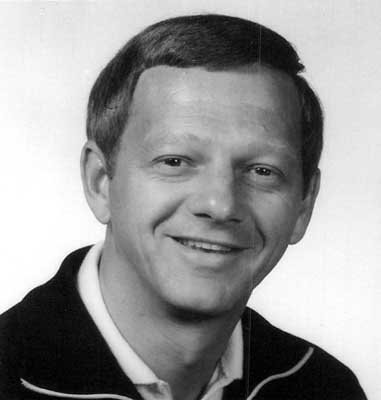 Before his legal name change in 1982, I knew this outstanding gymnast as Karl Schwenzfeier. I was highly respectful of his AA gymnastics abilities. His reputation was one of pushing himself to the limit in training and performing consistently in the top competitions. He was also another gymnast adroit at various sports. In 1991, he took a racquet in hand and competes in Senior Tennis Leagues in Florida and Maryland. It is with pride that some of his military exploits are included herein. His USAF medals and accompanying citations are proof of his courageous character. I am familiar with such citations having done research and implementation for the DOD and U.S. Forces Command. I have read many combat awards, including my own father's. I'm extremely proud to commend Karl as a friend who has served his country in an outstanding manner in gymnastics and in numerous additional roles.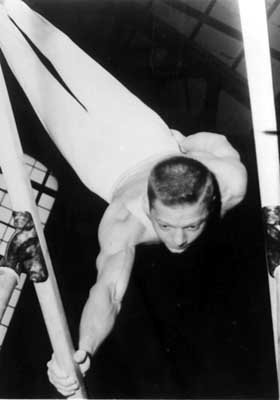 Olympic Games: Melbourne, Australia [A], 1956.
Olympic Note
The 1956 "Final Olympic Trials" were held at Penn State U. in April. They were held in conjunction with the NAAU Championships justified by the fact that the USOC Fund would realize a financial benefit.
The AA top nine were told to attend a meeting with officials immediately after the competition and then informed an additional trial would take place in Los Angeles since the hiatus to the Olympic gymnastic competition was about seven months since the Olympic competition was scheduled to began in December during the final week of the Olympics.
They were also informed that the nine men would be considered the "Olympic Squad" rather than the "Olympic Team." Karl placed 2nd at the PST and was expected to be on the final team. In Los Angeles, officials used two competitions to determine the seven who would travel to Melbourne.
The additional trials were held in L.A.'s Lincoln HS where special Olympic quality equipment had been imported. To avoid tumbling on the hardwood floor at Lincoln HS, FX was held as the last event and done on the Lincoln HS football field. On the rough terrain, Karl suffered an ankle injury on his dismount; nevertheless, he continued to compete and scored well enough to make the final seven.
Karl went to Melbourne with hopes that his ankle would improve since it was made clear to the athletes that the competitive team was not yet finalized, so competition among the seven continued in Melbourne. Karl's ankle didn't respond as quickly as hoped, so he officially became the designated alternate. The competing team members did well during the Olympic competition "proven", accordingly to Jerry Hardy (See "Sources"), by the fact that only Japan and the U.S improved on their team scores over the past Olympiads, and individuals placed higher in the various events than in any other Olympic competition.
This appears true since John "Jack" Beckner placed 7th on the LH & HB, but it is true only if Hardy was referring to post WWII Olympics. Prior to WWII several American gymnasts had won Olympic medals including Dallas Bixler and George Gulack.
Competition History:
Karl began training for the Olympics with returning WWII veteran Coach Robert Young, (1946).  Karl was the Captain of the Olney HS Gymnastics Team when they won the Philadelphia All City Team Championship, (1951). He was Captain of Penn State University's team, (1955) and a team member when Penn. S. won two Gold and 1 Silver NCAA Team medals, (1953, '54, & '55).
National AAU Championships: Gold-AA [T] & Bronze-PH & PB, (1955); Silver-AA, (1956).
NCAA Championships: Gold-Team, (1953 & '54); Silver-FR & PB, (1954); Gold-AA; Silver-Team & PB; Bronze-FX & PH, (1955). The 1955 Gold Medals in AA at the EIGL, NCAA, & NAAU competitions were touted as the first "Triple Crown" ever at that time.
Education: B.S., Penn State U., (1956); M.Ed., U. of Colorado, (1974).
Military Service: Karl was commissioned via ROTC as a 2nd Lt., USAF, (1956); graduated from USAF Jet Engine Pilot Training School with a Formation Flying Award, (1958). He flew combat ready Air Refueling KC-135's in Strategic Air Command Squadrons for six years. In 1964, he began tenure as Head Gymnastics Coach at the USAF Academy that would span 12 years (4 NCAA Top 8 Teams).  While there he was awarded two Air Force Commendation Medals. In 1968, he volunteered for duty in Vietnam flying U-10's in an Air Commando Squadron. During that year, he flew 162 combat missions and was awarded 8 Air Medals, the Bronze Star, and the Distinguished Flying Cross. Karl retired from the USAF as a Lt. Colonel, (1976).
Pan American Games: Head Coach of USA's Men's Gold Medal Gymnastics Team, Mexico City, Mexico, (1975);
Coaching:
Schier then began another tenure as Head Gymnastics Coach at Penn State University for 15 years. At Penn St. U. he coached 14 Top Ten Teams and retired again at the rank of Assistant Professor from Penn State, (1991).
Karl was head coach of the USA Olympic Team that won the first individual medal (Peter Korman, Bronze-FX) in 44 years, Montreal, Canada, (1976);
Head coach of the USA's University World Games, Sofia, Bulgaria, (1977);
Coached the USA team at the Romanian Invitational, Bucharest, Romania, (1979);
Coach of the USA team at the Hapoel Games, Tel Aviv, Israel, (1981);
Coach of National Sports Festival Team, (1982). While at PSU he coached several individual Olympians and NCAA Champions.
During his retirement in Florida he coached Mark Sohn (PSU 4 time NCAA PH Champion) to the World Championships PH finals, Paris, France, (1993), and Brisbane, Australia, (1994).
Honors/Contributions: Karl began to acquire honors early being named First Trumpet in the Philadelphia All City Elementary School Orchestra and President of a youth church group and a YMCA youth group;
Selected "Best All Around Jr. and Sr. Summer Camper";
President of his Jr. High School; and later served as Chief Justice, PSU Student Court System;
President of the National Association of College Gymnastics Coaches (NACG);
Military and NCAA representative to the USAG Governing Council.
He was Founder and Chairman, NCAA All American Selection Committee; Secretary, Olympic Gymnastics Committee, & Secretary/Editor, NCAA Gymnastics Rules Committee.
He was a recipient of CO Gymnastics Association and NACGC Awards for Outstanding Service. While at the USAFA and PSU he hosted the National Jr. Olympics, USGF Nationals, and several NCAA Championships and foreign team events. He also served 10 years as Chairman for a PA Congressman's Military Academies Appointment Committee.
Karl was the recipient of the Honor Coach Award (1990) that reads as follows: "In recognition of his service in coaching and developing gymnastics for over twenty-five years Karl Schier has gained the respect of his associates in the gymnastics world by his inspiring example and accomplishments."
The recipient of this award is selected each year by the Honor Coach Award Committee by secret ballot and is considered by many to be the most prestigious of all gymnastics coaches' awards."
Family: m. Patricia Ann Corman. Children: Kris Karl (d) & Kurt Karl, Captain, PSU Gymnastics, (1989). Grandchildren: Alik Altyn.
Sources: Interviews and correspondence with Karl Schier, Olympic Committee Quadrennial, 1956, "Gymnastics" by Jerry Hardy, p. 133-138. Interviews with the editing team of Abie Grossfeld, Bruce Davis, and Mr. Jerry Wright, author of Gymnastics Who's Who, 2005.  Introduction, commentary, and formatting by Larry Banner, Ed.D. Web Manager.