MOORE, Roy E. (1875 – 1957)
Inducted: 1959 – Among Original class of Honorees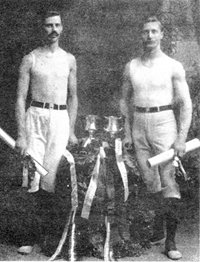 THE EARLY YEARS
Roy E. Moore (Left) & John F.
Bissinger at Frankfort, Germany, 1908
Often thought of as "The Father of American Gymnastics, Moore was the first honoree of USA Gymnastics, and a Vice President of FIG.
Roy Moore took up gymnastics in his mid-twenties and competed for the New York Turners. His fifty years in gymnastics began in 1907 when he won the first of five national titles on the pommel horse, then known as a side horse. He won again in 1908, 1909, 1912 & 1913. He is credited with devising the pommel horse element known even today by Americans as a "Moore".

Only Frank Cumiskey, with seven national titles on the horse exceeded his record. Moore's specialization in pommel horse work was probably due to his physical build (long and lean) and the fact that he had started so late in life. He learned the basics from teammate John Bissinger, Jr. who was elected to the national Hall of Fame posthuminously in 1992. Bissinger and Moore took part in the Frankfurt, Germany Turnfest in 1908 and both made the coveted prize list in the "Zwolfkampf," an event requiring a gymnast to perform  compulsory and optional exercises on apparatus and in selected track and field events.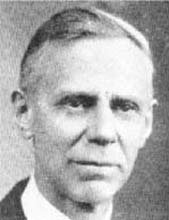 THE PRIME YEARS
Moore (Circa 1945)
Moore is an original Hall of Fame honoree elected in 1959 two years after his death. He can rightfully be called the first honoree since the Hall of Fame was initiated originally to honor his life in gymnastics. In 1920, he became Chairman of the National AAU Gymnastic Committee and held this position until his death in 1957. Moore was instrumental in arranging for the United States' participation in the 1920 Olympics (Amsterdam). He served as Coach/Manager of the 1920, 1924, 1928 and 1932 US Olympic Teams. He later became the US representative to the International Gymnastics Federation (FIG) and was shortly thereafter elected to the Vice Presidency of the FIG, a position he held until his death. He was a Fifty Year  (Lifetime) member of both the New York Turners and the 23rd St. YMCA. Jerry Hardy, a historian and writer who worked with Moore for many years described him as "First, last and always a gentleman of firm character, vitally interested in the youth and manhood of our country, devoted to gymnastics and all amateur sport and beloved by who knew him." (Excerpt from the 1957 AAU Handbook) Moore owned and operated a soap and soap dispenser business in New York City giving freely of his time and resources to the sport he loved.*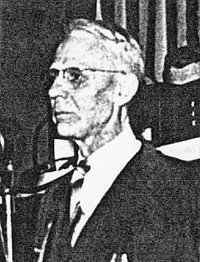 THE AUTUMN YEARS
Moore (Circa 1952)
Writer's Anecdote: In 1954, as a high school senior, I asked my coach, Barney Quinn, how people got on Olympic Teams.  He tossed me an AAU Handbook and told me write and find out.  I did write – directly to Mr. Moore.  Within a week, I received a reply.  The first part was a bit formal, but at the bottom of the letter, Mr. Moore handwrote a personal message.  In essence, it told me that I was correct to try to learn all the six Olympic events.  In addition, he suggested that I contact a Mr. Erwin Volze (1960 Gymnastics Hall of Fame honoree) who was the coach of the Los Angeles Turners and lived in my area.  He wrote that it took about six years to reach the Olympic potential level, and that, above all to remember the little print on the Hankbook cover that signified gymnastics was an "artistic" sport" and not a series of circus stunts.  Six years later, 1960, I was the number six man on the Olympic Team and in Rome finished highest scorer in the all-around for the U.S.  His suggestion about six years and artistic were on the money.  Yes, he gave his time and resources to all, the young and naïve, the old and the wise. Thank you, Mr. Moore.
* My gratitude to A. Bruce Frederick, Ph.D. for use of information from Who's Who and Was Who in American Gymnastics plus the photos he so generously shared.