CHENCINSKI, Linda
Inducted: 1989 Born: Long Island, New York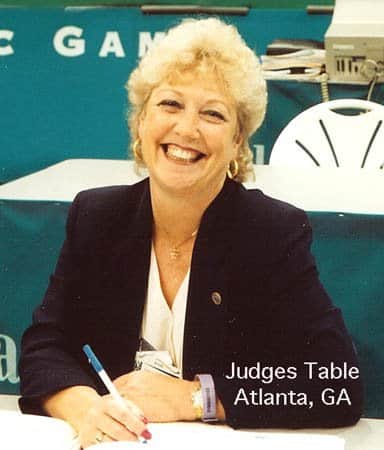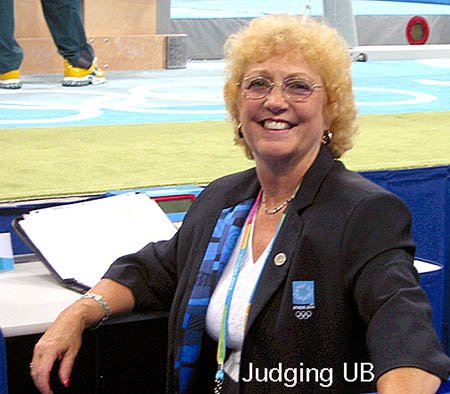 It is a distinct pleasure to write about as well as interview Linda Chencinski. After writing over 170 GHOF Inductees' bios, Linda's career seems to have made as great a positive impact on women's gymnastics as any other inductee. Lest we forget, the AAU controlled women's gymnastics for a long time, and all of the controllers were men. Margaret Brown contributed to the forming of the first Women's Technical Committee, and Linda Chencinski has molded it a into a viable entity causing the art of judging women's gymnastics to become more true to its mission; i.e., judging is the act of determining just which athlete performs best, second best, etc. in any given competition on any given event. Not only has she mastered the skills necessary to carry out the mission, she has encouraged, trained, and provided an exemplary example of how fair judging should be maintained. The USA gymnastic program is indeed indebted to her for her dedication, time, and probably the expenses needed for her to accomplish the goals she set out to complete. Without her spirit and determination, women's gymnastics would probably be years behind where it is now. It is with great pleasure that I am able to present to you one of the world's foremost gymnastics contributors.
Linda Chencinski got her start in gymnastics in junior high school and competed throughout her years at Queens College in New York. She also competed in AAU meets through the Jr. National level. When she was first getting started in gymnastics, she met a very dedicated gentleman who was promoting the sport by teaching high school teachers gymnastics basics. Naturally, Linda learned a lot from these early experiences. As Linda writes, "Luckily, I became one of the demonstrators for most of the workshops, and we became friends." About 25 years later, circumstances allowed Linda to introduce her friend and his wife to square dancing, and " . . . they greatly enjoyed it." One good turn deserves another, right! Education: BA, Queens College of the City University of NY, (1972); MA, Adelphi University, Garden City, LI (1973). Gymnastic Employment: USGF National Compulsory Coordinator, (1986-'89); FIG-WTC Technical Assistant to President Jackie Fie, (1992-'04). Coaching Gymnastics: Linda started her formal coaching career at the Lutheran Metropolitan Athletic Club, (1968-'71); Central Queens YMCA Women's Gymnastic Head Coach, (1968-'73); Queens College Gymnastics Coach & Graduate Instructor, (1972-'74); Eastern Queens YMCA Gymnastics Coordinator & Head Gymnastics Coach, (1973-'75); Owner & Head Coach, Cherry Lane Gymnastics School, (1975-'82) & Tumblebugs, Inc., (1984-'89; Bethpage-Melville Gymnastics Club Coordinator, (1991). Positions/Service: As early as 1969, Linda Chencinski began walking the service and judging gymnastic trail that others had followed. Her hard work and dedication made the trail to the medal stand wider and smoother. She began to hold various gymnastic positions that allowed her to have a positive impact on women's gymnastics. AAU Junior Olympic Gymnastics Regional Coordinator, (1969-'75); AAU Junior Olympic Gymnastics Regional Coordinator, (1973); President of Northeastern Regional YMCA Gymnastics, (1971-'74); Metropolitan AAU Chairperson, Women's Gymnastics, (1972-'74); New York State-USGF Technical Director & Chairperson, (1973-'74); USGF Regional Chairperson, (1974-'75); Judges Certification, Inc., (1976-'91); Chairperson of the USGF National Women's Program Committee, (1976-'84); USGF Executive Committee Board of Directors, (1983-'85); USGF Technical Chairperson-Region VI, (1985-'91); NAWGJ-State Board of Officials, (1993); USAG Technical delegate to FIG-POR, (1998); USAG National Membership Director (Women) and a member of the Board of Directors, (1996-'00). Gymnastic Judge: By 1970, Linda Chencinski became a nationally rated judge, but that is was just the first rung on the ladder to become the best.  FIG Internationally rated Women's Gymnastics Official, (1971); Brevet level judge, (1977); Scientific Technical Collaborator, (1986); Brevet Category I, (1988-'04); Brevet Category Expert, (1993). International Judges Course Instructor: International Brevet Course Lecturer, South Africa, (1993); International Brevet Course Assistant, USA, (1993); Expert Leader-IX Cycle Intercontinental Judges Course, USA, (1996); International Brevet Course Lecturer, Tel Aviv, (1997); National Judges Course Lecturer, USA, (1997); Continental Judges Course Lecturer, USA, (1997); X Cycle FIG Intercontinental Judges Course Assistant, NED, (2001); International Brevet Course, Cairo, (2001). Olympic Judge: Barcelona, Spain-STC Vault, (1992); Atlanta, GA, USA Assistant Technical Director, (1996); Athens, GRE, (2004). World Championships Judge: STC-UB, Indianapolis, IN, USA, (1991); EXP-Vault, Sabae, Japan, (1995); EXP-Vault, Puerto Rico, (1996); USA Judge, Lusanne, SWI, (1997); EXP VT, BEL, (2001); EXP A-2 VT, Ghent, BEL, (2001); Technical Director, Anaheim, USA, (2003). Pan American Games Judge: STC-UB, Indianapolis, IN, (1987); EXP Vault, Argentina, (1995). Honors: Recipient of the "FIG Honorary Judges' Diploma" which is a service award given to judges who have a minimum of five brevet cycles and eight FIG competitions without sanctions or warnings, (2002); Named by the FIG as one of seven judges to be named as "The Best of the Best" as a result of the WTC Judging Analysis Xth cycle for the 2001-2004 period, (2006). Linda was the only American judge named, and she considers it a real honor.  General: Linda Chencinski not only prepared herself well for the world of gymnastic judging, she trained numerous others on an international scale, and, in addition, prepared, wrote, edited, illustrated and published at least seven or eight gymnastics articles and documents that focused on the technical elements and rules of judging all the competitive events. In addition, she produced videos, tapes, and records in the double digits for study and learning by athletes as well as the judging corps of the world. Just before Linda left to judge at the Athens Olympic Games, an article appeared on the web that reminded us of some problems surrounding the subjective nature of judging athletic performances in diving, figure skating, and, of course, gymnastics. Readers were reminded of the Winter Games judging fiasco in Salt Lake City where Marie-Reine LeGougne made headlines as the judge who was pressured into voting for the Russian pairs team who stumbled but consequently received the highest score. After the battle of public and official opinion caused the banning of LeGougne for three years and revamped the pairs judging process, the two skating pairs were awarded dual gold medals.  The article related, "Linda Chencinski doesn't want to become the next LeGougne." Linda was the lone American who will judge women's gymnastics. She was quoted as saying, " We've worked very hard to keep gymnastics a fair sport. It's hard for any one person to have a tremendous influence." This writer will guarantee that the judging was as fair as possible with Linda Chencinski in the mix. I find no USGHOF Inductee who has worked harder to make wrongs right and share what is right with the gymnastic world. Gymnastics is a fortunate sport to have persons like Linda representing us in determining who is best and who is not. We owe Linda a debt of gratitude.
Sources: Resume and interviews courteously provided by Ms. Chencinski, , www.fig-gymnastics.com/, plus information provided by Jerry Wright, author of Gymnastics Who's Who, 2005 . Introduction, commentary, and formatting by Dr. Larry Banner, Web Manager.