SUNDBY, Glenn (1921-2008)
Inducted: 1968 Born: 1921, Minneapolis, MN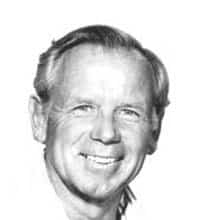 Affectionately known as "Mr. Handstand", Glenn was the father of competitive gymnastics information distribution.
Los Angeles City High School Championships– University High School- Bronze, PB, 1939 (Van Dixon, Coach). Contributions: Produced the first 6 issues of Acrobat in 1948 followed by a short-lived Acrochat.  The first issue of the acclaimed Modern Gymnast followed in 1957, complimentary and widely circulated throughout the gymnastics community.  Glenn did the layouts, edited, and published these first issues single handedly.  He continued to produce numerous articles, magazines, and gymnastic photographs for forty years. Glenn initiated the Muscle Beach Alumni Association, producing its newsletters and marvelous 1988 calendar. In 1962, he attended the meeting that founded the USGF, and became its first men's Vice-president.  This was the culmination of several years of work begun in 1959 by gymnastic coaches Hal Frey, Paul Fina, and Charlie Pond.   In 1995, Glenn was a member of a group that formed what would become the World Acrobatic Society, (Website: www:worldacro.com), and he was appointed as a Board Member. He produced the beautiful ACRO Magazine for the Society as well as becoming the group's Newsletter editor. Honors: Glenn was designated a "Centurion" by gymnastic historian, A. B. Frederick, Ph.D. Frederick who described a "Centurion" as " . . . those who command our attention"; Fredericks also wrote that Glenn " . . . was an early supported of the present NGB providing its first voice via the MG; Inducted into the World Acrobatic Society Gallery of Honor in 2000; Awarded the first "Charles Pond Service Award", Las Vegas, NV, 2005.  Personal: Appeared in Ripley's Believe It or Not as first person to walk down the 898 steps of the Washington Monument on his hands. Glenn was an accomplished professional acrobat who appeared worldwide and in a Broadway musical during a two year run. Also, he toured for five years with the "Spike Jones" band. Currently prominent in a movement to restore Santa Monica's "Muscle Beach", considered by many to be the birthplace of the modern physical fitness movement. Notable alumni of the "Golden Years" of Muscle Beach are Jack LaLanne, Joe Gold, Vic Tanny, Leo Stern, et al.  Currently promoting "Muscle Beach" as an historical site for CA and the return of an active sports and fitness program for the new generation. Email:
Source: Sundby's personal resume, interviews plus courtesy of A. Bruce Frederick, author of Who's Who and Who Was in American Gymnastics. Also, appreciation is extended to Ms. Pamala Pond for providing valuable biographical information about Glenn. Introduction, commentary, and formatting by Larry Banner, Web Manager.