WHEELER, George (1914-1990)
Inducted: 1959 – Among Original class of Honorees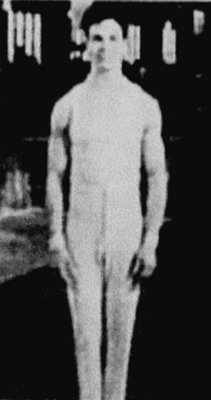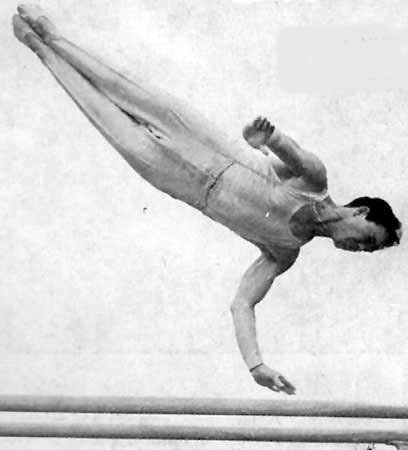 "George Wheeler was credited with a very scientific mind that allowed him to delve deeply into the science of gymnastics through a thorough study of fundamental principles.  This combined with many hours of practice made him a national champion of almost unparalleled success," writes Jerry Wright.
Olympic Games: Berlin, Germany, Team member, (1936). National AAU Championships: These championships were held once per year to determine the best in the US in the six or seven (FR) gymnastic events and the AA. Between the events and the AA, George Wheeler became the U.S. Champion 25 times, a stupendous feat. Unbelievable? Please count them as follows: Gold-AA, (1937-'41); Gold-FX, (1937-'41); Gold-PH, (1938-'40); Gold-V, (1937-'41); Gold-PB, (1937-'41); Gold-HB, (1938 & 1941). Total equals 25. Development: Jerry Wright writes, "Wheeler began his gymnastics training at age 6 at the South Side Turners and the R.U.P. Community House, Pittsburgh, Pa.  His grandfather, Professor Henry Etling, was his instructor and guide." Education: Bachelors and Masters degree, University of Pittsburgh. Wright continues by stating that Wheeler was a high school teacher of German and science and was also proficient in Russian. Personal: Wheeler's successes caused a revival in gymnastics interest in the Pittsburgh area; membership in clubs increased greatly, old gymnasiums were renovated and new equipment provided and resulted in Pittsburgh hosting its first National AAU Championships, according to Wright. Honors: Had there been a 1940 Olympic Games, George would most likely have been a team member based on his 1940 & 1941 AAU AA Championships and the fact that he was unable to defend his 1941 title since he was serving our country in the military, (1942-'45). The national Collegiate Gymnastics Alumni Association (NCGAA) selected 10 male and 8 women as the US's "Honorary 1944 Olympic Teams."  George Wheeler was selected as an Honorary Member along with gymnastic greats Frank Cumiskey, Hal Frey, Paul Fina, Joe Koyts, et al.  George " . . . was years ahead of his time," writes gymnastic historian, A. B. Frederick, Ph.D. Frederick also described Wheeler as a "Centurion" described by Frederick as " . . . those who command our attention".  Any gymnast whose performances may be compared to those of George Wheeler is being highly complimented since he was thought, according to Frederick, to be an extremely artistic performer. George retired from competition at the height of his career even though many people believe he would have continued to be a champion well into the next gymnastic era.
Sources: Courtesy of Abie Grossfeld, 1979 HOF Honoree, A. Bruce Frederick, author of Who's Who and Was Who in American Gymnastics, Jerry Wright, author of Gymnastics Who's Who, 2005, and the NCGAA Newsletter, April, 2002. Commentary and formatting by Larry Banner, Web Manager.