Inducted: 1965 Born: Blairstown, Iowa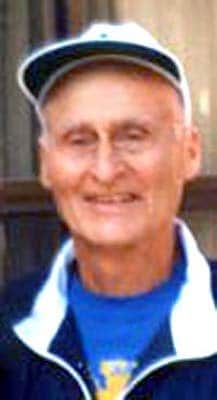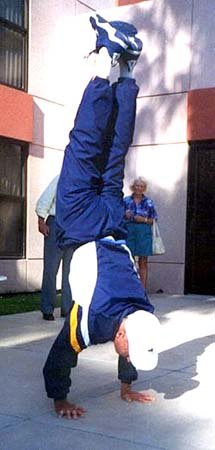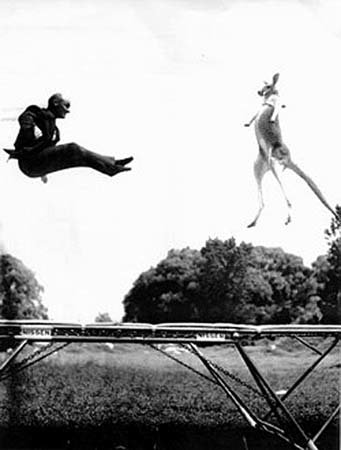 George Nissen revolutionized gymnastic competition in numerous ways. In 1958, he attended the World Gymnastics Championships in Moscow, and, at an opportune moment, he asked me to help him inspect the Soviet equipment in detail. We measured and drew, and in the process George said he got a lot of ideas for building better equipment than was currently being used in the U.S.  Within only a few years, various championships across the U.S. were performing on Nissen apparatus that was equal to or exceeded international standards. George is, however, more renowned for bringing trampoline into college, national competitions, and making it a worldwide sport. He is generally credited with inventing the folding trampoline along with his coach, Larry Griswold as early as 1934. He then worked hard to popularize the apparatus as a competitive event. It wasn't until 2000 that he finally saw his life-long dream come to fruition with the introduction of the trampoline as an official part of the Olympic Games. He was truly a "mover" and a "shaker" in the worlds of business and trampoline.
Competitor: George Nissen was the Big Ten tumbling champion, (1937), competing for the University of Iowa. In some peoples' opinion, it was a time when the EIGL was essentially, in a sense, the National Championship in that gymnasts from different regions in the U.S. competed in EIGL Championships. George won Gold, (1935, '36, & '37). He did not win in National AAU competition that determined the official U.S. champion. He was unable to defeat Chuck Keeney and Frank Wells who won the National AAU Championships, (1935, '36, & '37). Longevity: In much later years, George was almost as famous for his display at the annual Coaches Award Banquet of a press to a handstand until he was about 80, then kicking up to a handstand until about 85, then he proceeded to kick up to a headstand that he still did in 2006. (In Photo George is reportedly close to 90 years young). Mr. Jack Palance showed his stamina and strength at an Academy Awards ceremony, but while his moves were impressive for his age, George Nissen's feats were more impressive, frankly, for any senior age group. Businessman: After graduating from Iowa, Nissen and two friends formed an acrobatic act, The Three Leonardos.  The trio toured the United States and Mexico performing at fairs and carnivals.  It was in Mexico that he heard the word Trampolin, which means diving board, springboard, or ski jump in Spanish. He decided to use the name "Trampoline" for his bouncing apparatus.  In 1941, he and Larry Griswold opened Griswold-Nissen Trampoline & Tumbling Company in Cedar Rapids, Iowa. During WWII, his trampoline was used to train pilots by getting them used to orienting themselves in the air. Between approximately 1957 and 1960, Nissen imported Alder and Eisenhut equipment from Switzerland. It was the equipment used in the 1956 Olympic Games. Nissen called that equipment "Gymport." Robert F. Bollinger's biography states that he " . . . became a part of George Nissen's trampoline act . . ." He later became a GHOF Inductee, (2006). At one time the Nissen Equipment Company produced some of the finest gymnastics equipment in the world, with George owning several revolutionary patents. His generosity was legendary as a benefactor to the colleges, having a truck loaded with a full set of new or virtually new equipment available for use at almost any major competition at no charge.  Honors/General: Nissen has continuously had an influence on gymnastics and trampolining.  In 1971, along with Griswold, he founded the United States Tumbling and Trampoline Association (USTA). He has been honored by the sports of both trampoline and gymnastics.  The USTA holds the Griswold-Nissen Cup for outstanding trampolinists.  There is also an international trampoline competition held in Switzerland called the Nissen Cup. Frederick writes that       " . . . his real gift to the world, along with Charlie Pond's as well, was to make the sport of gymnastics safer." Every major gymnastics champion world-wide will be familiar with three things CHALK, TWISTING BELT, AND TRAMPOLINE." A. Bruce Frederick selected George Nissen as an American Gymnastics Centurion. Frederick explains that a " . . . Roman Centurion commanded 100 men. An American Gymnastics Centurion is one who commands our attention.  Gymnastic Centurions have had the greatest impact on gymnastics in the United States. Their accomplishments, performances, and records are unique and provide a standard for the field." Having worked with George those few days in Moscow, it is not surprising to me that he has received such an honorable designation. Contributor:  George Nissen initiated the Nissen Award with the idea it would be close to the equivalent of football's Heisman Trophy. The difference is that only a senior may receive the Nissen Award whereas any class student may receive the Heissman Trophy. Since 1966, college gymnastics' highest honor, the Nissen Award, has been presented annually to that year's outstanding senior collegiate gymnast. From 1966 through 1989 the award nominations, selection, and presentation process was managed by the Nissen Company.  IBM sponsored the award in 1990. USA Gymnastics, our current national governing body for gymnastics, sponsored the award from 1991-1997. In 1998, Dr. Robert W. Emery, the 1969 winner, agreed to help the C.G.A. finance the redesigning of the award and established an endowment that would indefinitely cover the annual expenses associated with it.  The award is now known as the Nissen-Emery Award. The award presentation is held annually at the NCAA Gymnastics Championships. It is inscribed with the following motto: "The true champion seeks excellence physically, mentally, socially, and morally".  It seems fair to conclude this short biography of George P. Nissen by writing that he would constitute an outstanding candidate for the award. Manufacturer: After importing gymnastics equipment into the United States, Nissen produced his own complete line of "portable" gymnastics equipment. The line featured a welded prefabricated base, the safe rod-cable design with interchangable parts, double safety ball-bearing lift cup and t-handle locks and a nickel-coating rather than painted surface. Large American arenas could now host exhibitions and meets featuring top gymnasts in the world such as Olga Korbut and Nadia Comaneci without installing floor plates or ceiling hangs. Nissen utilized nylon rather than canvas to make trampoline beds. He created Spaceball, a game with a ball played entirely on a trampoline. He invented the double mini-trampoline. His mat designs were revolutionary utilizing ethafoam instead of horse hair as a mat filler. His roll-fold mats and panelite mat designs with velcro attachments made linking gymnastics mats together in any formation a small task. The roll-fold floor exercise mat with a transportation system made the floor exercise mat the best on the market. Portable transporters that could be used on multiple pieces of apparatus made moving equipment a much easier task. Holding numerous patents, Nissen produced the best gymnastics equipment in the world. Other Sports: Nissen owned a women's professional basketball team called the Cornettes. George Nissen endorsed and promoted Acrosports for many years and helped bring the sport of hand balancing to the public's eye. He was a man of many talents, and the world of gymnastics is fortunate that he was always a part of our world
Sources: Primary research courtesy of Jerry Wright, author of Gymnastics Who's Who, 2005 with major contributions by A. Bruce Frederick, author of Roots, 3rd Ed., Abie Grossfeld, 1979 GHOF Inductee, and www.wikipedia.com. Detailed information about Nissen's revolutionary trampoline and mat production ideas courtesy of Bruce Davis, author of numerous articles and essays in the field of gymnastics. Introduction, commentary, and formatting by Dr. Larry Banner, Web Manager.