Thor, Dave
Inducted: 1999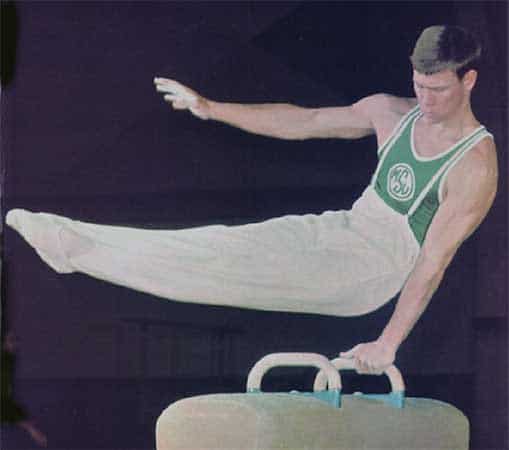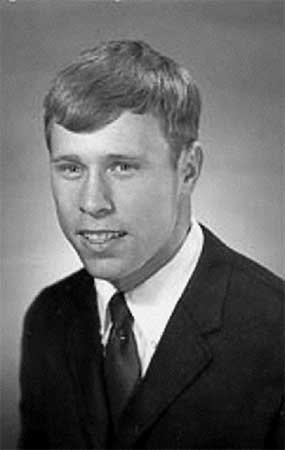 Getting Started: Dave Thor began his rise to the elite level as an AA gymnast by learning to tumble and work the high bar in middle school and continued his development at Reseda High School in the San Fernando Valley, a part of the sprawling Los Angeles, California area. The "Valley" and nearby Los Angeles was a gymnastics hotbed during the '50's & 60's hosting many of the best gymnasts in the U.S. at the time.  Dave took full advantage of learning from them as well as his school coaches, winning the 1964 L.A. City High School high point trophy. This writer learned his gymnastics in the "Valley" setting a few years before Dave reached his peak; however, I, Dr. Larry Banner, was privileged to meet him at a gym to watch and work out as well as to get his help with a back layout dismount on the PBs. Had my wife not been expecting our first born in the summer of '68, we may have been teammates in Mexico. On one occasion, Dave courteously accepted my invitation to a gymnastic exhibition along with Kathy Rigby, et al. in a fund raising event for athletics in the early years of the U. of California, Irvine where I coached for a few years. One could not ask to have the acquaintance of a finer athlete or person.
Education & Coaching: Dave matriculated to Michigan State University under coach George Szypula, 1970 GHOF Inductee, where his talents were improved and refined. Graduating from MSU, Dave earned a Master's degree at Southern Connecticut State University while serving as Assistant Gymnastics Coach, and working with Head Coach, Abie Grossfeld (1970-'71).  He later went to Temple University as the Head Gymnastics Coach (1973-'76). Dave had progressed rapidly at MSU and participated in the 1966 World Championship Training Camp for the USA team, but he did not make the competing team.  In spite of this, the USGF recognized his potential and sponsored his trip to Dortmund, Germany as an observer to learn what it took to compete at a world championship level. 1968 Olympic Games: Team member & Tie for 4th-PH in Mexico City, (1968).  Dave was actually in a four-way tie for 4th place after the compulsory and optional exercises on the PH.  However, only six gymnasts were allowed to participate in the final competition for the event medal on any single event. The gymnasts with the highest AA score were allowed to compete, and though Dave had the highest AA score on the U.S. team, among the four who tied for 4th place, he had the lowest AA score and was disallowed from competing in the finals by rule. The competition format is different now, but in the '60s, it seemed unfair to use the AA score to decide who will compete when there are ties for inclusion in single event finals. Since optional routines are used in the finals, it seems more reasonable to take the person or persons with the highest optional exercise score on the event in the team competition and dismiss lower scoring athletes based on their performance on the event in question. If this seems as fair to you as it does to me, then Dave Thor almost became the first American to compete in an Olympic gymnastics event final competition in many years. There was a wide consensus that Dave could well have been the Olympic PH Champion and/or the first gymnastic Olympic medal winner in many years.  This notion has its genesis in the fact that Dave's optional exercise may have been the best, and it would have been used in the finals. The rules of the day for breaking ties, however, kept him out of the event finals, a great disappointment for him and a bad break for the U.S. Please note that Dave's bio has an addendum at the end of this bio. See Dave Perform: What follows is a link to Dave's 1968 optional Olympic PH routine: Pan American Games: Gold-Team, Bronze-AA, PH and HB, (1967).  Additional International Competitions: South African Cup; Silver-AA, PH, SR & V, (1970). USA vs. Canada-5th AA, (1966); World University Games alternate in Tokyo (1967); World Cup-USA vs. Canada, Yugoslavia, Finland, & Japan, Long Beach, CA, (1969); Cup of Americas in Mexico City vs. Cuba, Mexico and Canada etc.-Gold-AA, FX, PH, & PB plus Silver-V & HB, (1969).  Dave participated by invitation in the "World's Best Gymnastic Exhibition" at the Basel, Switzerland Gymnaestrada, (1969). USA vs. Bulgaria @ Waukegan, Illinois 1st AA, (1970). World Cup; USA vs Canada, Yugoslavia, Finland, & Japan, (1966). Cup of the Americas: USA vs Cuba, Mexico, & Canada; Gold-AA, FX, PH, & PB; Silver-V & HB, (1969). USGF National Championships-6th AA, 4th PH, (1966); Gold-FX & PH, Bronze-AA, (1969); NCAA Championships: Bronze-AA, (1966); Silver-PH, Bronze-AA, (1968), Big Ten Conference Championships: Gold-AA, FX and PH, Silver-HB, (1966); Gold-AA, Bronze-PH, (1967); Gold-AA and V, Silver-FX and HB, Bronze-PH, (1968). Honors: Dave was selected to receive the 1968 Nissen Award presented annually since 1966 to each year's outstanding senior collegiate gymnast. It is considered the highest and most coveted gymnastic award and is inscribed with the following motto: "The true champion seeks excellence physically, mentally, socially, and morally." Had Dave Thor been a competing senior in 1966, he could easily have been the model on which the inscription is based. Family: (wife) Sandi, (son) Greg, & (granddaughter) Jade. Judging and UTUBE Addendum: Dave Thor stated quite rightly that he was proud and honored to have been able to compete on the same level with the likes of Kenmotsu (his choice for Gold) and Cerar.  I always tried to fashion my double leg circles and scissors after those of Larry Banner.  Growing up, I really didn't see anybody who had such amplitude.  Larry, with the top AA score on the 1960 U.S. Olympic Team, related to me that after the finals in Rome, Soviet Captains Boris Shakhlin and Yuri Titov, athletes with whom he became friends in Moscow in 1958, came to Larry and recommended that the U.S. should be more involved in international judging since his 1960 PH score was in actual truth changed from a 9.8 to a 9.5 by a cadre of East Block judges.  Dave complemented Larry by stating that he was convincingly world class.  Larry also pointed out judging inconsistencies were prominent for Doris Brause Fuchs in the 1966 World Championships where she was scored 9.6 and the gymnastic wise crowd stopped the meet for over an hour with their hooting, stomping, throwing various materials, etc. Bruce Davis witnessed their protests and their antics worked since her score was revised to 9.8. See Doris' bio on this site since there's some interesting stuff for the best woman gymnast of the time. Here's a UTUBE link to Doris's routine: /. Doris worked out at Southern Connecticut and I saw that she was way ahead of her time, doing free-hip handstands, difficult shoots, and giants on the High Bar before the UB were even built to accommodate her abilities.
Source: Interviews and conversations with Dave Thor plus contributions by Jerry Wright, author of Gymnastics Who's Who, 2005 who also courteously provided data and photos. Bruce Davis and Steve Hug were important contributor as well.  Introduction, commentary, and formatting by Dr. Larry Banner, Web Manager.