WALLER, Chris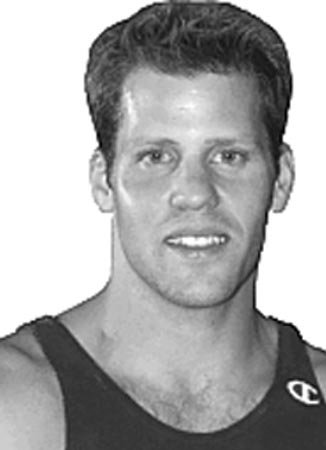 Chris Waller is another great American gymnast who barely avoided a near crippling condition in his youth, but character, spirit, and dedication did not allow him to give up. It is obvious from his accomplishments that once he tasted the satisfaction of perfectly executing a gymnastic move or combination of moves that he wanted more. In getting more he became an American hero in numerous gyms around the world, and played a major role in bringing the U.S. into the world of international gymnastics greatness. He was an athlete, a coach, a person who served, and gymnastics aficionados should be aware of this wonderful man and his sports contributions.
Getting Started: Chris Waller first became interested in gymnastics by watching the '76 Olympics on TV with his family. He was most impressed, as only a seven year-old can be, with Nadia Comaneci. His real beginning was about two years later at a local YMCA where he and a friend learned what they could from photos, films, and line drawings. Today, he says that this method of learning was an early advantage since he was not witness to imperfect execution of the various movements he learned; i.e., the illustrations and pictures were always perfect. Eventually, he enrolled in the American Academy of Gymnastics and came under the tutelage of Leonard Isaacs and the road to greatness lay before him, but the road became bumpy in high school. He was diagnosed with a defective heart valve that required surgery. His determination and spirit still led him to become an Illinois State High School Champion, and he continued to be an elite gymnast with a 5% deficient heart valve. Olympic Games: AA finalist & 5th on PH only .1 of a point from the gold medal, Barcelona, Spain, (1992). World Championships: Team member, Indianapolis, Indiana-USA, (1991) Finalist-PH, Paris, France, (1993). Additional International Competitions: Reese's Cup-Bronze-AA, 5th FX and HB, 4th SR; (1996), Reese's Cup-Bronze-PH and SR, 4th HB, 5th PB, (1995); Chunichi Cup-(1993); Tokyo Cup-Bronze-PH, (1993); Hilton Challenge-Bronze-Team, (1993); Reebox International Mixed Pairs-Silver-AA, (1993); American Cup-6th AA, (1993); Tokyo Cup-5th FX and SR, 7th HB, (1992); Chunichi Cup-8th AA, (1992); American Cup-5th AA, (1992); Pre-Olympics-Silver-Team, 4th HB, (1991); International Mixed Pairs-Gold-AA, (1991); Goodwill Games-Silver-Team, Bronze-PH and SR, 4th AA, (1990). USAG Championships: Gold-AA, competing for UCLA; Gold-PH, (1991, '92 & '93). Pan American Games: Gold-Team, Mar del Plata, Argentina, (1995). NCAA Championships: Gold-Team, (1987); Bronze-Team, (1988); Gold-PH, (1989); Gold-HB, Bronze-Team, (1990). Coaching: Waller, who graduated from UCLA in 1991, has in excess of 15 years of coaching experience. He served as an Assistant Gymnastics Coach at UCLA helping to lead the Bruin Women's team to their second NCAA championships, (1987) and, as the Head Coach at All-Olympians Gymnastic Center, he coached former UCLA star Mohini Bhardwaj to a top 10 finish at the U.S. Classic, (2002) and the 2004 U.S. Olympic Team. Service: Member of the USAG Gymnastic Board of Executive Committee; Chairperson of the USAG Athlete's Council; Member of the 2000 Olympic Team Selection Committee. Honors: Selected Southern California Level 7 Male Coach of the Year, (2002), and Waller won either a U.S. or NCAA national title every year, (1989-1993). Family: (m) Cindy Olkoski, a former gymnast and cheerleader who also graduated from UCLA. Cindy and Chris worked together in a commercial for Levi's clothing and were in a commercial for Levi's shorts prints, (1994). The Wallers currently (2007) own and operate Waller's GymJam Academy and a GymJam summer gymnastics camp. Children: Alexandra and Lilia. Siblings: Two older brothers, Rolf, an avid skier and Kurt, a gymnast at No. Illinois, U.
Sources: Interviews with Mr. Waller who courteously vetted this short bio. General information, photos, and data shared by Jerry Wright, author of Gymnastics Who's Who, 2005. For more information about the Wallers' Academy and Camp, browse to or . Introduction, commentary, and formatting by Dr. Larry Banner, Web Manager.