The floor exercise is a part of competitive gymnastics for both men and women. Artistic gymnastics is characterized by a variety of acrobatics, including floor exercise, balance beam, and uneven bars, parallel bar, high beam, vault, and rings, as well as feats in strength, agility, grace, and gracefulness. Floor exercise is one of the two events that can be performed in Olympic competitions by male and female gymnasts.
What is the Gymnastics Floor Routine?
The floor exercise is part of a complete artistic gymnastics program. The balance beam and uneven bars are the other events in the women's competition. The other events in the men's competition are the parallel bars, pommel horse, and still rings.
A floor exercise is one that involves gymnasts performing a variety of athletic feats and tumbling, interspersed with choreography. Judges are looking for versatility in floor space use, changes in direction and level, dance elements command of music, theatrics and dance elements, command over music, height and distance of jumping or tumbling maneuvers. The floor routine must not exceed 90 seconds in length and cover the entire area. All floor routines must be performed by judges with a minimum of leaps and turns.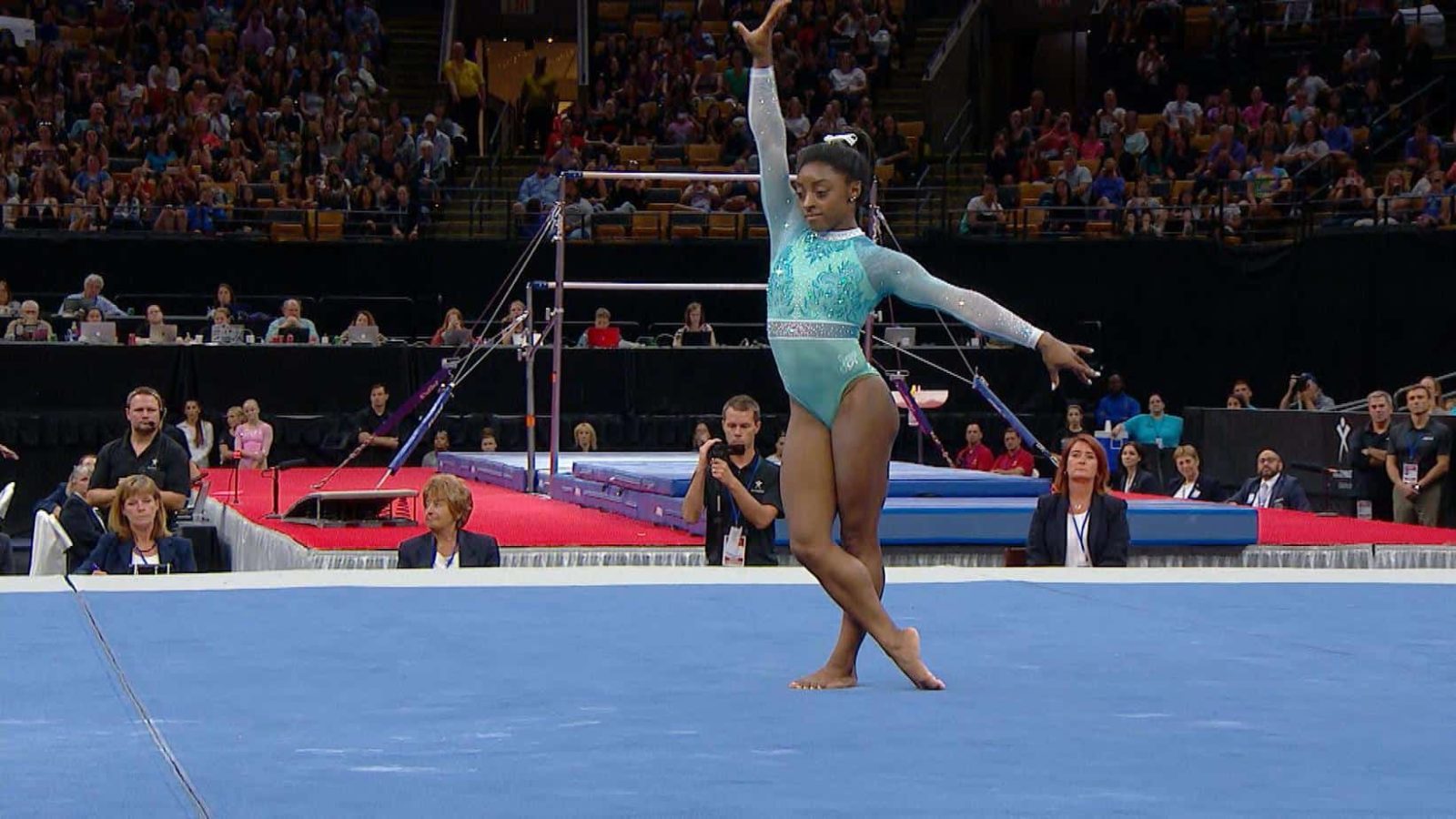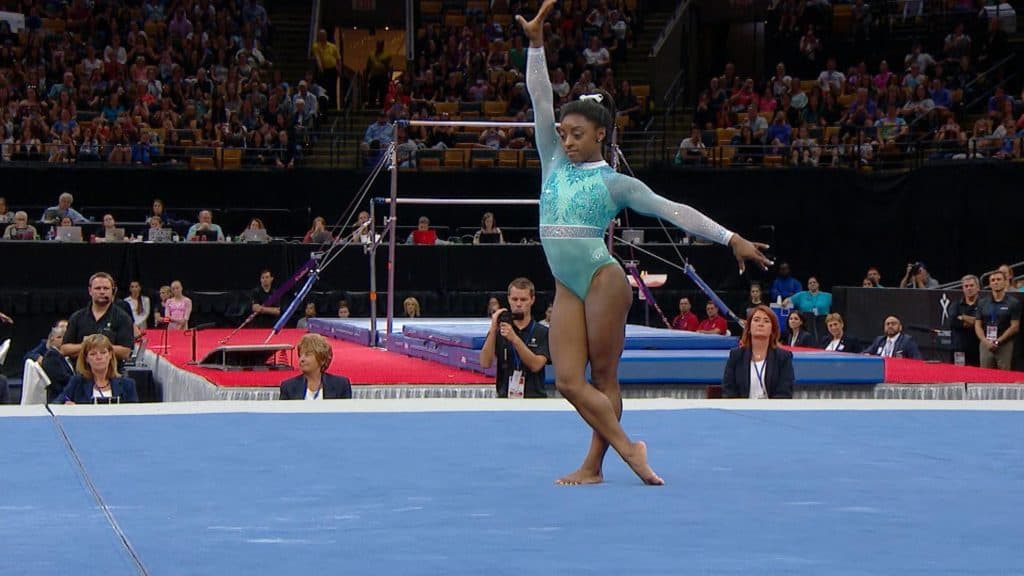 For floor exercise, the apparatus measures 1,200 cm x 1,200 cm (+- 3cm). Some gymnastics floors include springs that allow for higher jumps, while others do not. A spring floor is common in most competitive circumstances.
What Gymnasts Do
Each skill is assigned a difficulty rating between A and J. Gymnasts are credited for their eight most difficult skills. At least three must include acrobatics and three must include dance.
Tumbling backward
To build momentum for the main skill, backward tumbling starts with roundoff. This is basically a powerful cartwheel in that both feet land simultaneously.
There are a few types of most common passes:
Double backs are short for double backflips. There are three possible positions for flips: tuck with your knees bent, pike with your legs straight and your hips bent, or layout with your body straight. In gymnastics parlance "double back" is the tucked version. Other positions are "double pike" or "double layout."
Plain double backs can be seen (D), full-twisting triple backs (E), and double-twisting triple backs, a.k.a. Double-doubles (H) are named after Daniela Silivas; and a triple twisting double back, also known as. Triple-double (J) is named after Simone Biles. Full-twisting doublebacks can be full ins (when the twist happens in the first flip), or full-outs. However, they all count for scoring purposes.
There are two types of double pike: the plain double pike, (D), and the full-twisting single pike (E).
Double layouts include the double layout (F); half-twisting dual layout or Biles (G), named after Simone Biles; and full-twisting dual layout or Moors. (I) is named for Victoria Moors. Jade Carey from the United States has been practicing a triple-twisting double layout that is extremely difficult. If she succeeds in Tokyo, it will be named after her.
Twists refer to a single back layout that has one to three twists. These are the tumbling passes that you will see in isolation, and not as part of combination passes (which we'll get at later), and include double twists, two and a quarter twists, D, and sometimes a front flip. Triple twists (E) are also known as triple fulls, and occasionally three-and-a half twists.
Forward Tumbling
Because it is easier to generate momentum with roundoff, back handspring, and a back handspring than with a front handspring, gymnasts prefer backward tumbling. However, some gymnasts excel at forwarding tumbling.
Back handspring is a key tumbling move that involves a backward flip to a handstand position and then a forward turn back to your original standing position.
Passes include:
The double front (E) is tucked, half-twisting doublefront (F), named after Lilia Podkopayeva, and the piked doublefront (F), named after Brenna Dowell.
The double Arabian (E), is a double front where the gymnast begins as if she's doing backflips but then immediately performs a half-turn. This is more popular than the regular double-front because it's equally worth it, but allows the gymnast to build momentum with a roundoff or back handspring. Only a few gymnasts can do the piked Arabian or Dos Santos (F) named after Daiane Dos Santos.
Front twists such as a front triple full (D).
Combination Passes
Two skills can be done in one tumbling move by gymnasts to increase their difficulty score.
Direct connections can be made in rapid succession. Direct connections can be made with roundoff or handspring, or both. They are called Skill 1 through Skill 2.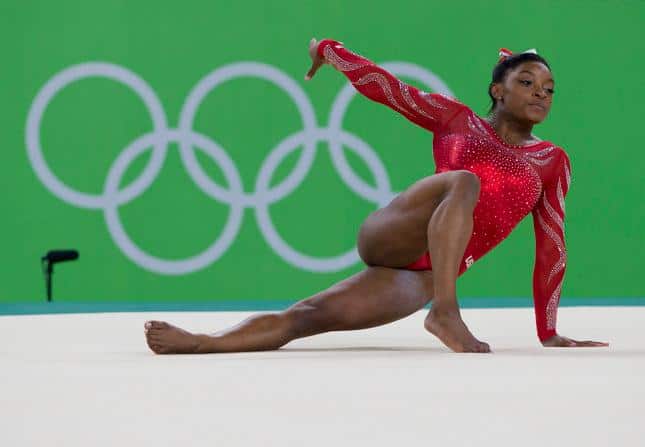 Each combination earns either a 0.1- or 0.2 bonus, depending on how difficult the skills are and whether the connection was direct or indirect. A direct connection between two C-rated skills, such as a one and-a-half turn + front full, is worth 0. An indirect connection between a C skill or an E skill, like a one and-a-half twist through double Arabian, is worth 0.
Turns
Although floor routines don't have to include pirouettes (although you will still see many of them), they can be modified by changing leg positions and the number of rotations. For connecting two turns, gymnasts may earn a 0.1 difficulty bonus. The gymnast should use the entire floor area for her routine, and to fall from one corner to the next.
If someone refers to a "turn", it is likely that it is the simplest. Double turns and full turns are too easy to be of any value at the Olympic level. However, some gymnasts can do triple (C), or quadruple (E), named after Elena Gomez.
L turns are performed with the non-supporting leg horizontal and form a 90-degree angle to the supporting leg. Most common is the double-L turn (D).
Y turns are performed with the nonsupporting leg straight up, creating a 180-degree turn with the supporting leg. Double-Y turns (D) are more common than triple-Y turns (E), named after Aliya Mustafina).
Do you remember those awkward, wobbly turns on the beam when the gymnast spins in an upright position and one leg extended to his side? They can also be done on the floor. They're also on the floor. They are something that everyone does.
Jumps and Leaps
Jumps start from one foot and move forward. Leaps, on the other hand, take off from one foot and fly forward. Jumps jump from both feet and only move up and down. Because leaps are more common, they have higher difficulty levels and routines must include at least two.
Common leaps include full-twisting split jump (C), sometimes called a tour jete half, switch leap (B), which is similar to a split leap but the gymnast changes the direction of her legs midair. And switch ring leap, C, which is a switch leap that has the rear leg bent up, back arched, and the head was thrown back.
Because gymnasts are eligible for a 0.1 difficulty bonus if they do a jump right after landing a pass, jumps are often used.
Choreography
Some gymnasts incorporate acrobatics and break-dancing moves in their choreography, such as Claudia Fragapane from Britain. It doesn't count towards the difficulty score, but it is there for the artistry of performance value.
How to Score Gymnastics Floor Routine
The Code of Points is a rule book published by the International Gymnastics Federation (FIG), which outlines the points values for various skills in international competition.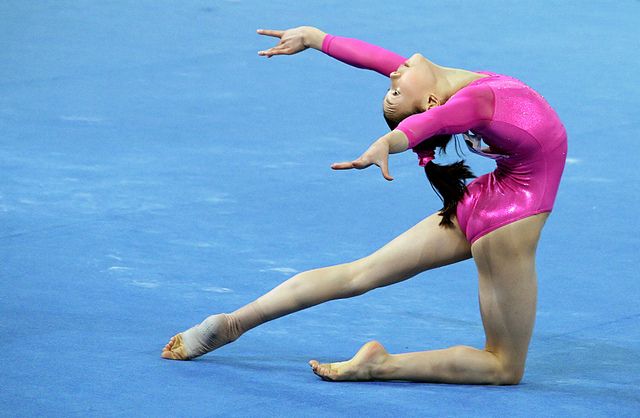 The final score of a gymnast is calculated using a start score. This means that the gymnast starts with the highest score possible and then points are deducted for any elements that were missing from their routine. These deductions are made by a technical committee of judges.
FIG used to have a maximum score of 10 in the past. You've probably heard the phrase "a perfect 10," but FIG changed its scoring system in 2006 to account for the difficulty of routines and skills. Today, the total score of a gymnast's routine consists of two scores: Difficulty Score and Execution Score.
The Difficulty score is the sum of the total difficulty (DV) of the skills, plus the connection (CV) or compositional requirements (CR). The D Panel is composed of two judges. The D Panel consists of two judges. Each judge determines their Difficulty Score independently. Then, the two judges must reach a consensus.
The Execution Score reflects the execution and artistic performance. Six judges from the E Panel determine the Execution Score. The base score is 10, with deductions for mistakes in execution, technique, or artistry being subtracted from this baseline. Judges determine the scores for each routine. The highest and lowest scores are dropped and the average of four scores is the final Execution Score.
Before you start creating or executing a routine for yourself, make sure you are familiar with the Code of Points. This code relates to the level of competition you are competing against and the organization in which you compete. This will ensure that your routine achieves maximum points within your skill range, and meets all requirements.
F.A.Q.
What are the routines in gymnastics?
A routine is a regular one. Choreographed to music, should not last more than 90 seconds It should be. It should cover the entire floor and contain a variety of movements such as leaps and turns. The majority of gymnasts have four tumble passes. This requires strength and stamina.
What is required in a gymnastics floor routine?
These components must be included in a floor routine: A dance passage that includes at least two distinct leaps or hops; One acrobatic line, with two different saltos (which are flips or rolls); a forward, sideways, or backward salto; salto with double somersault; salto with 360-degree twist; and dismount.