Inducted: 2014 Lifetime Achievement Honoree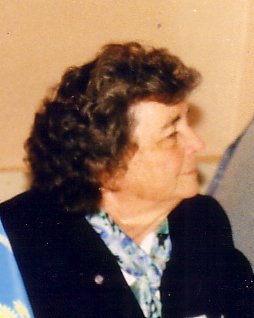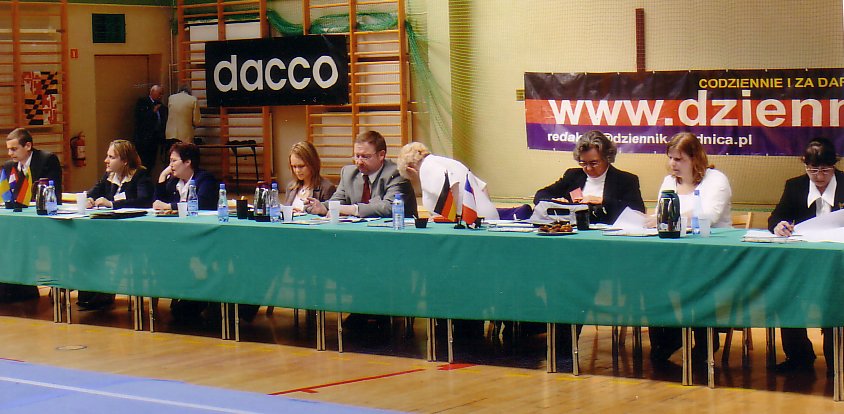 Photo: Jola is under the WWW letters; judges table in Poland.
If you have been involved in Acrobatics for any period of time, over the last 25 years, you are familiar with Jola Jones. If you are new to Acrobatics, you will soon come to realize Jola Jones is without a doubt one of the most respected and hardest working professional members of the USA Acrobatics Program. Her enthusiasm is contagious and she continues to go above and beyond any assigned task or job, not to mention most of the time on her own watch and dime. She has dedicated a lifetime of service to the sport of gymnastics and has made a considerable impact upon our sport.
Judging: Jola Jones has been involved in gymnastics for 39 years. Jola started as a volunteer in artistic gymnastics in 1970 and became an artistic judge in 1979.
In 1985 she became an acro judge and in 1990 a tumbling and trampoline judge. She has been judging all three disciplines ever since, giving Jola over 30 years of judging experience.
In artistic gymnastics she was the Judges' Assigner for six years in the 1990's and also a judges' trainer during that time. She was also a National Judging Clinician for Acro from 1992 until 2012.
She held the highest international rating for an Acro judge (Brevet Category 1) from 1990 until 2012.  She has also been a national rated judge in artistic gymnastics and a category 1 rated judge for Tumbling and Trampoline.
She has judged every Acrobatic Gymnastics Junior Olympic Nationals, National Championships, and National Elite Qualifier and over 40 international competitions. She has judged almost every National Championships for Tumbling and Trampoline and three times internationally.
INTERNATIONAL JUDGING ASSIGNMENTS:
Ms. Jones has made a total of 30 visits to these countries– Belgium, England, France, Germany, Japan, Taiwan, Poland, Portugal, Russia, Scotland, South Africa, and Switzerland.  1991- Volkov Invitational in Moscow, Russia.  1993- Sofia, Bulgaria- World Cup,  1994- Beijing, China- World Championships,  1995- Germany- Junior World Championships,  1997- Manchester, England- World Championships,  2001- Akita, Japan- World Games,  2004- Lievin, France- World Championships,  2006- Puurs, Belgium- World Cup,  2006- Coimbra, Portugal- World Championships,  2007- Puurs, Belgium- World Cup Finals;  2008- Glasgow, Scotland- World Championships,  2008- Kaohsuing, Taiwan- World Games Trials, 2010- Wroclaw, Poland- World Championships,  2012- The US hosted World Championships for the first time. It was held in Florida, and Jones judged difficulty for the Age Group Championships.
Jola served as National Technical Chair from 1990 until Acro joined USA Gymnastics in 2001. As Technical Chair she was responsible for the Rules and Policies and Specifications. In 2001 she became the Acrobatic Gymnastics National Program Committee Chair and retained that position until 2005.
When the organization was IFSA, Jola was a member of the International Judges' Committee from 1995 until 2000 when Acro became part of FIG.
Honors:   USA Gymnastics Hall of Fame- 2014. In 2004 Jola received the USA Gymnastics Star Service Award for Sports Acrobatics. The Star Service Award is given for outstanding volunteer service and dedication to the acrobatic gymnastics program. In 2007, Jola was the first ever recipient of the Janet Von Bargen Award, an award which was created to recognize Acro judges that go above and beyond the call of duty.
Family:  Husband-Rodney (very supportative of Jola's Sports Acro judging career), three children, Donald, Kenneth and  daughter Sydney (a gymnast for 20 years and responsible for getting her mom involved in the sport). 
Sources:  USA Gymnastics; ; Personal interview with Ms. Jones; research and formatting by Jerry Wright, Author of Gymnastics Who's Who-2010.  Wikipedia; Photos supplied by Jola Jones.