HallreMarks [HallreMarks Archive]
This section will feature informal articles, thoughts, and works by individuals who have experienced much in the world of gymnastics. We hope that you will enjoy the themes implicit in each presentation, and you will find an idea or two to help guide your interest in our great sport. So, enjoy this first story and all to come.
Gymnastics Hall of Fame Honorees WHERE ARE THEY NOW?
By
Jerry Wright,
Author of Gymnastics Who's Who, 2005.
In the recent past Americans who served in WWII have become universally known as the "Greatest Generation." Some of the most successful male gymnasts in the U.S. had their competitive careers interrupted by the war and have consequently earned the right to be called by that name also.
Bill BONSALL: Penn State U. Gymnast, Olympian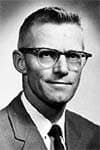 The first coach of the West Virginia University men's gymnastics program, Bill Bonsall served 31 years as the Mountaineer mentor.
He attended Penn State, where he was a member of the 1943 EIGL championship team.
Following his freshman campaign, Bonsall enlisted in the U.S. Army and was among the forces that landed at Normandy on D-Day.
He was captured by German forces September 5, 1944, at Dinant, Belgium. Bonsall was held there until he made a daring escape to Warsaw, Poland, via Russia, on January 31, 1945.
Later, Bill was a member of the 1948 U.S. Olympic Team. Bill is retired and living in Morgantown, WV.
---
VINCENT D'AUTORIO: AAU National Competitor, Olympian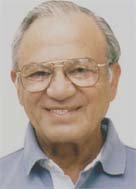 Mr. D'Autorio is retired and living in Florida, enjoying the good life. "Vinnie" was a member of the Olympic Team in 1948 and 1952 and was named an Honorary Olympic Team member for 1944 by a select group of Hall of Fame gymnasts on behalf of the Collegiate Gymnastics Magazine in 2002.
At the 1952 Olympics in Helsinki, at age 36, he was, at least at one time, the oldest American on record to make a U.S. Olympic Gymnastics Team. Vinnie enjoyed a long and illustrious career in the sport. He was at his peak and ready to make the 1940 Olympic team but the Games were cancelled due to WWII. Vinny then served in the U.S. Army and was stationed in the South Pacific from 1942-1945. Shortly after returningfrom the service he placed 3nd in the AA at the AAU Nationals in 1946.
He was a national level competitor from 1942 to 1954. Mr. D'Autorio was selected to the Hall of Fame in 1971. He is now 'mostly retired' and living in Florida. DOB: 10-1-1915.
---
HUBIE DUNN: Southern Illinois University, Gymnast, Coach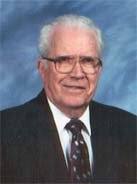 As a competitor Hubie competed at So. Illinois U., captain of the 1942-43 team that was cited as the top team in the mid-west that year. Hubie himself was recognized in the 1944 AAU annual as one of the top college gymnasts in 1943.
Between 1941-1943 he was Ozark AAU champion in tumbling, Central Assoc. AAU champion on PB & V, NW AAU champion in AA and Midwest AAU champion on PB and in tumbling.
Hubie was in the U.S. Navy from 1943 until after "D-Day." He was on the Destroyer USS Shubrick during the "D-Day' invasion.
Hubie Dunn was elected to the US Hall of Fame 1973.
DOB: 11-01-1921. Hubie is retired and living in DeKalb, Illinois.
---
PAUL FINA: University of Illinois, National Champion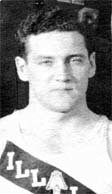 Paul Fina had the misfortune of being one of the nation's best gymnasts during the WWII period and consequently did not have a real opportunity to demonstrate his superior abilities on the world stage.
Because of this the NCGAA Magazine, with the aid of several legends in the sport, named Paul as an Honorary Olympic Team member for both 1940 and 1944.
In 1940 Paul was NCAA All Around champion and in 1941 he placed 2nd on PB and 3rd on HB. Paul competed at the University of Illinois.
In AAU competition he was even more prominent as in1940 he placed 1st in the AA and HB in the Central States Meet and 2nd on PH and PB and later that year placed 3rd at Nationals. Paul was inducted into the USA Hall of Fame in 1973.
Paul is retired and living in the Chicago, Illinois area.
---
JOE GIALLOMBARDO: U. of Illinois, Gymnast, National Champion

Mr. Giallombardo is the men's NCAA co-record holder in number of individual event championships won in a career with 7 (Tumb-38,39,40; AA-38,39,40; FR-38). In addition Joe captured five Big Ten individual event titles (AA-38,39; Tumb-38,39,40). Mr. G. may very well have been a contender for the 1940 Olympic Team had their been an opportunity (Joe says probably not-because of still rings-his weakness). He served in the Navy during WW II.
Mr. G. was inducted into the Illinois High School Gymnastics Coaches Hall of Fame, The Greater Cleveland Sports Hall of Fame, and he received a special Olympic Judges Diploma at the 20th World Games in Dallas, Texas. The ultimate award in gymnastics, the Helms Hall of Fame Award, was given to Joe in 1966.
Joe is retired and living in Northern Illinois but is contemplating a move to Texas. B: 1-8-17.
---
ERIC HUGHES: U. of Illinois, Gymnast, Coach.

Eric was in the RCAF during WWII (Royal Canadian Air Force) as a pilot of twin engine aircraft. Although they were trained to fly and drop bombs on the enemy and wanted to do his part to win the war, he never got to do this and reports that, "as I grew older I realized how fortunate I was, not only for my own safety but for the fact that I didn't have to kill a lot of my fellow human beings. I was stationed at various air fields in Canada, one on the north coast of B. C., on the alert for Japanese submarines."
Hughes was the head coach at U. of Washington from 1950 until 1980 (1950 to 1955 it was a club team). While there he compiled a record of W-109, L-17, his teams won the NAAU team title in 1968 and 1965. Eric is living in Seattle, Washington.
---
JOE KOTYS: Gymnast, Kent State U., Olympian.

It is significant that Joe Kotys won 6 NCAA Individual event titles in his four years at Kent State University but it is almost overwhelming to consider he did this as a sole representative of a small school.
Joe competed at a very high level from 1942 to 1956. Making the Olympic team in 48, & 52 (A). Joe served in the U.S. Air Force during WWII from 1940 to 1944 and was a gunner on a B-17 Flying Fortress doing 22 missions. He was inducted into the USAG Hall of Fame in 1978. He is retired and living in Florida.
---
NEWT LOKEN: U. of Minnesota, Gymnast, Honorary Olympian, Coach, Hall of Fame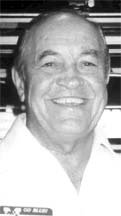 During 36 years as head coach at the U. of Mich. He had a record of 250-72-1 (.776). 12 Big Ten titles, 2 NCAA titles, 71 individual Big Ten individual event winners and 21 NCAA individual event winners.
As a competitor Newt competed at U. Minnesota, was Captain of the team and was Big Ten AA , FR and PB champion as well as NCAA AA, and HB champion.
He was also an All American Cheerleader and on the diving team. In 2002 he was named an Honorary Member of the 1944 U.S. Olympic Team by a group of Olympians and Hall of Famers for the NCGAA Magazine.
During WWII he was in the U.S. Navy and served on the USS Price William, an Aircraft Carrier.
Newt is almost retired (still lending moral support to Wolverine gymnastics) and living in Ann Arbor. DOB: 2-27-19.
---
TONY ROSSI: Gymnast, Coach, Athletic Trainer, Hall of Fame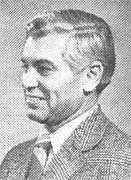 Tony Rossi enjoyed fine career as a member of the Univ. of Northern Colorado faculty from 1949-83.
During that time, he served as men's gymnastics coach and athletic trainer. A prisoner-of-war during World War II, he created a gymnastics program to keep his fellow prisoners physically strong and mentally alert.
He was named the U.S. Olympic Committee's Trainer of the Year in 1954 and he served on the Olympic Committee from 1956-60. Inducted into the UNC Hall of Fame in 1995, and into the USAG Hall of Fame in 1974.
Tony is retired and living in Colorado.
---
COURTNEY SHANKEN: University of Chicago, Gymnast, Hall of Fame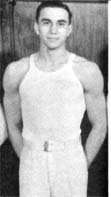 Courtney was the NCAA individual all-around and rope climb champion in 1941. He led Chicago to a national third-place team finish in 1941, and to a fifth place finish in 1940 and 1942. Shanken, who also competed in baseball at Chicago, was elected to the USA Gymnastics Hall of Fame in 1975.
Courtney reports that due to WWII and the cancellation of the Olympic Games he decided to play baseball at U. of Chicago rather than pursue a gymnastics career that might have led to a berth on the Olympic Gymnastics Team.
Nevertheless, he still managed to win the NCAA vault title in 1940, 1st in the NCAA All Around, vault and rope climb and placed 3rd on the HB in 1941 (won 7 medals); won the vault title for the 3rd year in a row, placed 3rd in the AA and the pommel horse, in the 1942 NCAA; and placed 2nd in the AA and 4th in vault at the 1942 Big Ten Finals.
Courtney served in the U.S. Air Force from 1942 to 1945.
---
ED SCROBE: AAU Gymnast, Olympian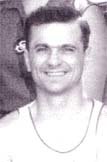 Ed Scrobe entered his first novice meet at age 15 and won several junior meets before entering the military. During WW II he served 3 years with the 10th Mountain Infantry Ski Troops in Italy, during WWII, and saw lots of action.
He made the 1948 and 1952 Olympic Teams and was the leading American scorer in both meets. Ed was also a member of the U.S. Team that toured Japan in 1950. Because he missed competition during the war years Ed was selected as an Honorary Olympic Team member for 1944 by a group of Hall of Famers, as a result of a special project conducted by the NCGAA Magazine.
Mr. Scrobe was inducted into the Hall of Fame in 1980. He is retired and living in Connecticut. Ed was born in NY City on January 26, 1923.
---
GEORGE SZYPULA: Temple University, Gymnast, Coach, Judge, Hall of Fame.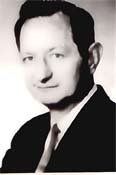 Had there been a 1944 Olympics George would have been a serious contender. World War II took away that opportunity. In his try for the 48 Olympic team he placed 9th and 8 were selected.
George saw active duty for 3 years in the U.S. Army in Europe during WW II.
He coached at MSU for 42 years, during which time he produced 48 Big Ten and 18 NCAA individual champions. His teams won the Big Ten and NCAA titles in 1958 and 1968.
George is a much honored member of the profession. USAG Hall of Fame-1970, Temple University Hall of Fame-1975, National Polish-American Hall of Fame-1985 and Northeast High School Hall of Fame-1994. George is credited with founding the USA Hall of Fame.
George apparently will never retire and apparently will never leave East Lansing.
---
BILL TOM: Cal. State-Los Angeles, Gymnast, National Champion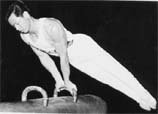 Bill started gymnastics in his senior year at Los Angeles Poly Tech. HS. After his first year in college, WWII took him into military service. He later competed for Cal.State-LA.
After the military service he was 1949 National Champion on Vault and placed in FX and PH, and he was Southern California AA champion. (He was also a champion diver; So. Calif. Junior College champion and placed 5th in NAAU). In NAAU and U.S. Olympic trials in 1956 he placed 3rd on Vault and FX.
Bill was, and still is, a world class age-group badminton player and, now in his eighties, still competes world-wide in international and national senior tournaments.
Bill is retired and living in California.
---
JOHN VAN AALTEN: Gymnast, Coach, Hall of Fame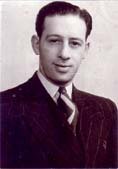 Due to circumstances beyond his control, John Van Aalten was denied an opportunity to compete in two Olympic Games, in which he qualified to participate.
In 1936, at age 20, John qualified to represent the Netherlands in the Berlin Olympics. Due to the political climate at the time, the Netherlands Gymnastics Federation decided not to send the team to the games. The coach of the team was to be Arthur Gander, the founder of the FIG.
In 1940 John again qualified for the Dutch Olympic Team. The Games were to be held in Tokyo but were rescheduled to Helsinki due to Japanese aggression in Asia. Finally, the Games were cancelled.
John was born 5-15-1915 in Amsterdam, Netherlands. In 1948 he immigrated to the U.S.
During WWII he served 3 years with the Dutch Brigade serving with the English Army. His involvement with the American YMCA program lasted for three decades. The West Side "Y" won seven national YMCA titles in 8 years under Van Aalten's coaching and included such gymnasts as Abie Grossfeld. John is now residing in Flushing, NY.