WILSON, Blaine Carew
Inducted: 2014
Born: Columbus Ohio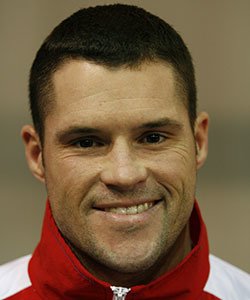 An unprecedented five-time All-Around National Champion, Wilson was a part of the U.S. Gymnastics Team from the 1996 Olympics in Atlanta, GA. to 2005. Blaine was a member of the 2004 Olympic Silver Medal Men's Gymnastics Team in Athens, Greece. During his career, Blaine won over 100 national and international medals, including five consecutive U.S. All-Around titles. Blaine was coached by Peter Kormann, 1976 Olympic bronze medalist, and by Miles Avery, at Ohio State. His favorite event was still rings. Wilson later served on the Ohio State University coaching staff 2000-05, 2007-11; helping guide the Buckeyes to their third national championship in 2001 along with three Top 3 finishes (2002, '03 and '05). He was on staff when the Buckeyes won Big Ten Conference titles in 2002 and '05.
Olympic Games: Silver-Team, Athens (2004). U.S. Olympic Team Member, Sydney (2000), and Atlanta (1996). Other International Competitions: World Championships: Silver-Team, 6th SR, 6th PB (2003), 4th AA (1999), 10th AA (1997); Team Member (1995). Pacific Alliance Championships: Gold-AA, Silver-PB (2000); Goodwill Games: Bronze-AA, 4th SR (1998); American Cup: Gold-AA (2003), Gold-AA (2001), Gold-AA (1999), Gold-AA (1998), Gold-AA (1997); USA vs. Canada-Gold-Team, Silver-V and HB, Bronze-SR (2008); Li Ning Cup-Bejing-Bronze-SR (2002); Sino-American Meet-Beijing (2002); 10th International French Competition-Paris (2001); Pontiac International Team Competition-Richmond (1999). National Championships: USAG Nationals: Gold-SR, Silver-V, Bronze-AA, FX (2003); Gold-SR, HB, Silver-AA, PB, Bronze-V (2002); Gold-AA, FX, SR, V (2000); Gold-AA, FX, SR, V, Bronze-PH, PB (1999); Gold-AA, PB (1998); Gold-AA, PB, SR, V (1997); Gold-AA, V (1996). Winter Cup: Gold-AA, PB, SR (2004); Gold-AA, PB (2001); Gold-AA, SR, FX (1999). NCAA Championships: Gold-AA, R, V, Silver-PB (1997); Gold-AA, PB, V, Team (helped OSU to NCAA Team Title-1996); Silver-SR (1995); Silver-FX (1994). Big Ten Conference: Gold-AA, FX, PH, SR, HB; Silver-PB (1997); Gold-AA, HB (1996); Gold-AA, PB, V (1995).
HONORS:Ohio State University Athletics Hall of Fame inductee (2004); Jesse Owens Award-Big Ten Conference Male Athlete of the Year (1997); James E. Sullivan Award Nominee (1997); Nissen-Emery Award winner (1997-Presented annually to most outstanding NCAA senior male gymnast); Ohio State University Male Athlete of the Year (1996, 1997); Big Ten Gymnast of the Year (1995, 1996, 1997); Big Ten Freshman of the Year (1994).
MEDIA EXPOSURE: Blaine has been featured in People, Rolling Stone, Sports Illustrated, Vanity Fair, Premiere, January 2005 cover of Men's Fitness, Inside Gymnastics, USA Gymnastics, and International Gymnastics Magazine. USA Today has covered Blaine's career with several feature articles in the last three years, along with The New York Times, Chicago Tribune, Columbus Dispatch and many others. ESPN and Sports Illustrated websites have also featured Blaine. NBC Nightly News has done two feature segments on Blaine and his gymnastics career. Guest appearances on television series Saved By The Bell.
FAMILY: Wife-Aliane, daughter-Wakaya, son-Jackson.
Sources: Wikipedia, USA Gymnastics. Gymn Forum. Gymnastics Who's Who-2010 by Jerry Wright. Formatting by Jerry Wright, assistant web manger; photos obtained from the public domain.